Local
Craigslist May Not Be The Best Place to Buy Patriots Tickets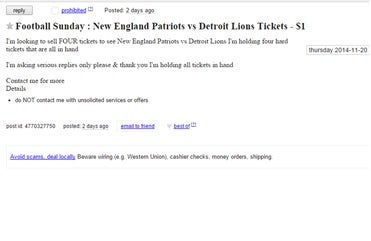 In case you were wondering, you should never by NFL tickets on Craigslist. Ever.
Kyle Hoffecker learned this the hard way.
"Being from out of town I had not done due diligence on the correct look of the tickets,'' Hoffecker told Boston.com. The 32-year old said he bought tickets on Craigslist from someone who went by "Calvin'' to see the Patriots play the Detroit Lions Sunday at 1 p.m. Hoffecker emailed Calvin and the pair exchanged cell phone numbers.
Hoffecker said he met Calvin on Thursday near the Verizon store on 899 Boylston Street. Hoffecker said he handed Calvin, a 5'10-ish black male in a maroon down jacket, $700 for four tickets and a parking pass. He thought the tickets looked kind of funny. "They looked like concert tickets, not NFL tickets,'' Hoffecker said. The lower level midfield tickets Hoffecker bought say they cost $131.50 a piece. On the NFL's website, these seats should cost around $220.
The tickets:
Hoffecker said he asked Calvin why they looked different than other NFL tickets Hoffecker had seen before. "He gave me a long answer and said he bought them directly at the box office,'' Hoffecker said. To be honest, Hoffecker said he wasn't actually that sure what NFL tickets looked like. "I should have checked ahead of time, but I looked em' over and agreed on 700. He walked off on foot,'' Hoffecker said.
Hoffecker said he instantly had a bad feeling about them, and after a quick Google search, realized the tickets were fake.
Hoffecker said he then filed a report with the Boston Police Department, but said they told him not to expect much.
The Boston Police Department could not immediately be reached for contact.
"I'm kind of screwed,'' Hoffecker said.
Yeah, he really is.
Unfortunately, these kinds of Craigslist scams aren't rare.
In March, dozens fell victim to a similar Patriots ticket scam in which 51 people purchased counterfeit tickets to a game. Where did they get them? Craigslist. Some of them said they paid up to $400 per seat.
In 2010, more than 50 people were turned away from a Patriots game against the Ravens due to their fake tickets, which they all purchased on Craigslist.
Some tips not to get scammed:
Don't buy NFL tickets (or any tickets) off Craigslist. There have been enough scamming stories at this point to just steer clear of the site and buy your tickets off the NFL's secure ticket exchange.
If the price seems too good to be true — like in Hoffecker's case — it probably is.
Oh, and trust your gut. If the paper quality seems off, or if there are discernible rips, tears, smudges, or scissor marks, DO NOT BUY THE TICKETS.
Otherwise, you'll find yourself out $700.