Local
'Barack Obama, Formerly of Somerville' Wishes Gov. Deval Patrick Well on Live Radio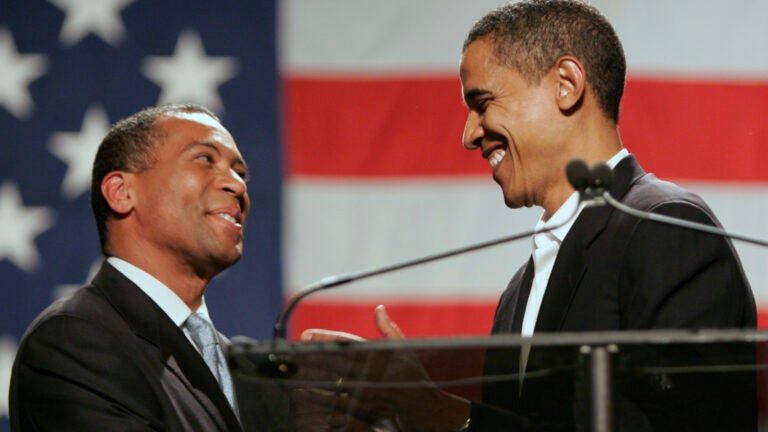 "Barack Obama, formerly of Somerville'' called in WGBH's "Ask the Governor'' segment to offer good wishes to outgoing Gov. Deval Patrick on Thursday .
As they normally do on the segment, the governor and hosts Jim Braude and Margery Eagan took calls from the public.
"Governor, this is Barack Obama, formerly of Somerville,'' the caller, confirmed as President Obama, said. "I've got a few complaints about service in and around the neighborhood, but I've moved down South since that time.''
"You're kidding, Mr. President. Who is this impersonator? You're very good,'' Patrick said.
[fragment number=0]
"I want to find out how it is that you got Massachusetts so strong and moving in the right direction,'' Obama said.
Patrick proceeded to tease Obama about his pronunciation of Massachusetts, and after some friendly joking, Obama lauded Patrick's tenure.
"I just wanted to call in and let my dear friend know how proud I am,'' Obama said. "Deval, you've done good, man.''
Among Patrick's accomplishments, Obama mentioned increased health care access, student education, clean energy, and even the Boston Red Sox's two championships.
"Should I take credit for that, too?'' Patrick said.
The hosts didn't let Obama off unscathed, though.
"Mr. President, you paid all those parking tickets in Somerville, correct?'' referring to 17 parking tickets Obama received when he lived in Cambridge and Somerville while attending Harvard Law School.
Obama has long championed Patrick's tenure as governor and his future in politics. "Deval would make a great president or vice president,'' Obama said back in March.
Thursday's episode marked the final time Patrick will appear on WGBH's "Ask the Governor'' segment. Charlie Baker takes over as governor in January.