Local
Mass. State Police: Armed Experts of Tugging at Heartstrings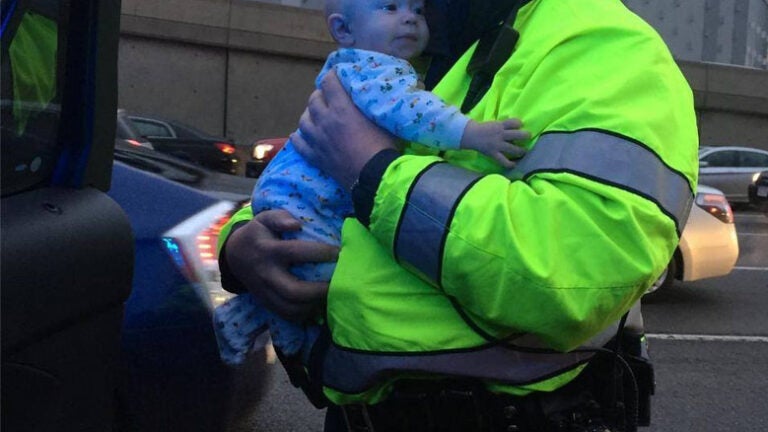 Social media aids police work in many ways these days: providing the public with the most recent traffic and crime updates, spreading amber alerts, detailing drug seizures, calling for the public's help in identifying suspects… and sharing the occasional adorable baby or puppy picture.
Yes, that's right— infants and animals who have the right to remain cute. That theme has been a big part of the Massachusetts State Police's social media effort, and the department's most liked and shared posts often include one of those two. In recent months their internet presence has become as charmingly entertaining as it is insightful.
State Police social media specialist Trooper Dustin Fitch told Boston.com: "By far our K-9, Mounted Unit and anything 'cute or funny' certainly gets more views, comments, shares, etc. They typically show the humanity to the story and show that Troopers, furry or not, are just regular people (or dogs) too.'' He also says the department is the "most followed state law enforcement agency on social media in the nation.'' Apparently it pays to be cute.
Their Facebook page hit its 150,000 fan mark on December 22, and followed up the milestone celebration with this precious image, taken at a disabled vehicle stop. The post gained almost 20,000 likes in under 18 hours:
[fragment number=0]
In honor of the heart-melting cuteness that keeps social media users updated on the oldest law enforcement agency in the country, here are some of our State Police's most 'aww'-some social media posts from this year.
Another Trooper-with-a-baby post, complete with Curious George stuffed animal:
[fragment number=1]
The casual "we just saved a puppy from traffic'' photo-op:
[fragment number=2]
A peek into the audience at a Former Massachusetts State Police Association service:
[fragment number=3]
An impressive, albeit late, baby Halloween costume idea:
[fragment number=4]
Some Photoshop magic:
[fragment number=5]
One trooper getting down and dirty to help a disabled veteran with a flat tire:
[fragment number=6]
A pre-school version of their finger-printing process:
[fragment number=7]
Presenting a local family with toys and an award from the Cops for Kids with Cancer Foundation:
[fragment number=8]
And of course, the police dogs:
[fragment number=9]
[fragment number=10]
[fragment number=11]
[fragment number=12]
[fragment number=13]
Possibly the most touching puppy post was Mass. State Police Lt. Joseph King's open letter to his K-9 partner, Kallie, after losing her to cancer in May. "I sat down on the floor next to Kallie while the doctor administered the medicine,'' King wrote. "Kallie laid down, put her head on my lap, and went to sleep, forever.'' The tear-jerking letter, entitled "Good girl, Kallie. Free time,'' was shared widely this summer and is worth a full read.
[fragment number=14]
It seems the State Police may have some competition, though. Other departments have caught onto the heart-melting trend, including Boston Police, whose K-9 puppy Tuco went Viral this October.
Here's hoping that next year's posts can compete with these ones.