Local
Names You'll Hear at the Tsarnaev Trial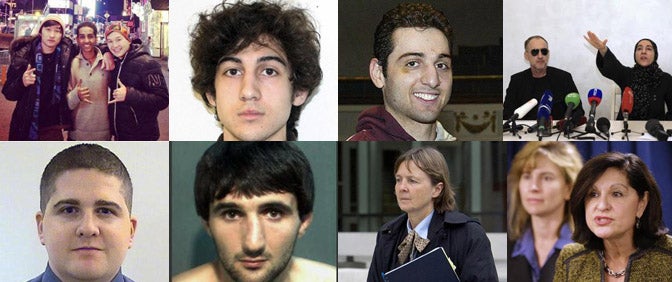 The trial of Dzhokhar Tsarnaev, the man accused of setting off the bombs that killed three and injured 260 at the finish line of the Boston Marathon, begins January 5. The trial is expected to last several months, and over that time, there will be plenty of names, faces, and biographies that you'll need to remember.
Here's your guide to the major characters likely to be featured during the trial, including the suspects, the Tsarnaev family, several potential witnesses, a few of the bombing's victims, and the lawyers and judges who will be present in the courtroom.
THE SUSPECTS
[fragment number=0]
Name: Dzhokhar Tsarnaev
Who is he? The prime suspect in the marathon bombings.
Dzhokhar grew up off of Norfolk Street in Cambridge in a packed house with his three siblings and two parents. He was the brains of the family; high school friends told The Boston Globe Dzhokhar was a good student and a captain of his wrestling team. He was also a consistent marijuana smoker.
Dzhokhar attended UMass Dartmouth, where he became known as a "high-volume pot dealer'' on campus, The Globe wrote. Although he consistently had confrontations over alcohol or drug use with local police, he maintained a clean legal record. He became a naturalized US citizen in 2012.
Dzhokhar was a poor student and failed several of his college classes, threatening his financial aid. With his education falling apart, he began spending more time with his older brother Tamerlan at their Cambridge home going over radical jihadi and conspiracist online posts. Dzhokhar reportedly admitted to downloading an English-language Al-Qaeda article titled "Make a bomb in the kitchen of your mom.''
According to the indictment against Dzhokhar, on April 15th, 2013, he and Tamerlan allegedly placed two backpacks containing improved explosive devices (IEDs) at 671 Boylston Street and 755 Boylston Street near the Boston Marathon finish line. He and Tamerlan then allegedly detonated the explosives, killing three people and injuring over 260 people.
Three days later, the FBI released images of the two brothers as prime suspects in the explosions. At about 10:25 p.m., the Tsarnaev brothers allegedly shot and killed MIT police officer Sean Collier near the college campus. Prosecutors say the brothers then carjacked "Danny'' — a Chinese immigrant and entrepreneur — and drove his Mercedes SUV through Cambridge, Brighton, and Watertown.
As the night of April 18th turned to the morning of April 19th, police located the vehicle and made chase through the streets of Watertown. The Tsarnaev brothers allegedly fired shots out of the car window at police, and lobbed four improvised explosive devices at the cops. When three police officers were able to subdue Tamerlan, Dzhokhar drove the Mercedes at the group. He missed the officers but ran over Tamerlan, "contributing to his death,'' the indictment says. Dzhokhar was later found hiding in a boat a few streets away and was taken into custody.
A grand jury hit Dzhokhar with a 30-count indictment, including charges for bombing, use of a weapon of mass destruction, and murder. He could face the death penalty if convicted.
[fragment number=1]
Name: Tamerlan Tsarnaev
Who is he? The deceased older brother of Dzhokhar and the other suspect in the Boston Marathon bombing. His story was most deeply reported by The Boston Globe. Tsarnaev trained as a boxer at Somerville Boxing Club and was a promising fighter in the region. He married and raised a child with Karima Russell (née Katherine), who largely supported her husband.
In 2009, police responded to a call from Tamerlan's then-girlfriend Nadine Ascencao alleging she had been assaulted, and Tsarnaev admitted he hit her. He was charged with assault and battery, but the charges were eventually dismissed.
Tamerlan's best friend and two others were murdered in 2012 in Waltham. Tamerlan, conspicuously to friends, did not attend the funeral. Another friend, Ibragim Todashev, told investigators that Tsarnaev was involved the murders. But Todashev was killed by FBI investigators, leaving open a number of questions. The triple murder remains unsolved.
Soon after, Tsarnaev spent seven months in the southwest Russian region of Dagestan. When he returned to Cambridge, he was far more serious about Islam and about himself, according to The Globe. He began speaking to a confidant at his mosque about hearing voices in his head, and became an active consumer of online conspiracy theories and jihadi websites.
Prosecutors say that on April 15, 2013, Tamerlan and Dzhokhar detonated two bombs on Boylston Street that killed three people and injured 260 others. Three days later, the FBI released images of Tamerlan and Dzhokhar and said they were the prime suspects.
They allegedly carjacked a vehicle and held a Chinese immigrant named "Danny'' in the vehicle at gunpoint. "Danny'' escaped, and soon police located the vehicle and made chase through the streets of Watertown. Tamerlan and Dzhokhar allegedly threw several IEDs at the police on their tail.
During the shootout with police in Watertown on the early morning of April 19, Tamerlan was shot several times and subdued by police. Dzhokhar then allegedly drove the Mercedes directly at Tamerlan and the group of police surrounding him. The police evaded the vehicle, but Tamerlan was run over by his brother, "contributing to his death.'' He was 26.
THE FAMILY
[fragment number=2]
Name: Zubeidat Tsarnaeva
Who is she? The mother of the Tsarnaev brothers. She grew up in Russia and moved to the US in 2002, and she and her husband Anzor Tsarnaev settled in Cambridge. Tsarnaeva went to beauty school and worked as a state-licensed aesthetician. The couple had four children: sons Tamerlan and Dzhokhar, and daughters Bella and Ailina.
In the last five years, former friends and clients said she turned closer to radical Islam. One former client said Tsarnaeva believed that the US government committed 9/11 to turn America against Muslims. In 2011, Russian authorities alerted the CIA with concerns that Tsarnaeva and Tamerlan Tsarnaev were religious militants after the two spoke about jihad in a secretly recorded phone call. The two were added to a terrorist database, the AP reported.
Now back in Russia, Tsarnaeva has insisted that her sons are innocent, and she has accused the US government of waging a conspiracy. ''It's all lies and hypocrisy,'' she said. ''I'm sick and tired of all this nonsense that they make up about me and my children.''
[fragment number=3]
Name: Anzor Tsarnaev
Who is he? The father of the Tsarnaev brothers. An ethnic Chechen, Tsarnaev grew up in Kyrgyzstan and moved to the US in 2002 with his wife Zubeidat Tsarnaeva and their kids. He worked in Cambridge as an auto mechanic.
The Boston Globe described him as non-religious but harshly traditional, arranging marriages for his daughters and punishing his sons' dalliances with alcohol or drugs. He was also prone to emotional outbursts. A head injury in 2009 sent Anzor to the hospital, and severe, painful headaches forced him to stop working.
He and Zubeidat divorced in 2011, and he moved back to Russia. Like Zubeidat, Anzor has said he believes his sons are faultless. "The police are to blame,'' he told ABC News. "Someone, some organization is out to get them.'' He has called his son Dzhokhar a "true angel.''
[fragment number=4]
Name: Karima Russell
Who is she? The widow of Tamerlan. She was formerly known as Katherine. She was raised Catholic, and met Tamerlan at a downtown club in Boston while she was a student at Suffolk University. Katherine converted to Islam and changed her name to Karima, and the two married and had a daughter. Her job as a home health aide provided for the family, as an unemployed Tamerlan took care of their child.
Russell claims she did not know about the bombing plot, and has not been charged with any crimes in relation to the bombing. She moved back to her parents home in Rhode Island with her daughter after the bombings, and has since been seen in New Jersey living with the Tsarnaeva sisters.
[fragment number=5]
Name: Ailina Tsarnaeva
Who is she? The sister of the Tsarnaev brothers and the third of the children. At 16 years old, her parents arranged for her to be married to a 20-year-old Kazakhstani native, and they had a child soon after. The marriage did not last after he was charged with (and pled guilty to) assaulting her.
Ailina has had legal troubles of her own. In 2010, she allegedly paid a Boston Applebee's with counterfeit money, and she pled guilty to misleading police in November 2014, avoiding jail time.
Since her divorce, she began a relationship and had a child with a man in the midst of a bitter custody battle. Court documents say Ailina threatened the man's ex, saying "I know people that can put a bomb where you live.'' She was charged with aggravated harassment.
Ailina and her sister Bella have visited their little brother Dzhokhar in jail, and appeared at his arraignment in July 2013.
[fragment number=6]
Name: Bella Tsarnaeva
Who is she? The sister of Tsarnaev brothers and the family's second-born child. She dropped out of high school and moved to Kazakhstan to marry, but returned to Cambridge with a baby after her marriage failed.
She was arrested for possession and intent to distribute marijuana in 2012, and reached a plea deal to avoid a criminal record. She and her sister Ailina share an apartment in New Jersey with their children.
Bella and Ailina have visited their brother Dzhokhar in jail, and appeared at his arraignment in July 2013.
THE FRIENDS
[fragment number=7]
Name: Azamat Tazhayakov
Who is he? A friend of Dzhokhar Tsarnaev who was convicted of obstruction of justice in July. Tazhayakov, a Kazakhstani citizen, attended UMass Dartmouth on a student visa, where he befriended Tsarnaev, Robel Phillipos, and Dias Kadyrbayev. He and Kadyrbayev were roommates.
As prosecutors told it, Tazhayakov, Kadyrbayev, and Phillipos went to Dzhokhar Tsarnaev's dorm room three days after the Boston Marathon bombings. There, Tazhayakov and Kadyrbayev took a laptop and a backpack of Tsarnaev's things, including hollowed-out fireworks, and removed them from the room. The backpack was later found by the FBI in a nearby landfill, and the laptop was recovered from the shared apartment of Tazhayakov and Kadyrbayev.
For removing those items during an active investigation, Tazhayakov was charged with obstruction of justice and conspiracy to obstruct a terrorist investigation. His defense team tried to place blame on Kadyrbayev and portray Tazhayakov as a passive actor and "good kid.'' Tazhayakov was found guilty and faces a maximum of 25 years in prison.
In an attempt to reduce that potential sentence, Tazhayakov testified during Phillipos's trial in October. He was due to be sentenced in November, but a pending Supreme Court decision regarding the obstruction of justice law caused the judge in the case to delay sentencing.
[fragment number=8]
Dias Kadyrbayev (left), Robel Phillipos, and Azamat Tazhayakov (right).
Name: Dias Kadyrbayev
Who is he? A friend of Dzhokhar Tsarnaev who pleaded guilty to obstruction of justice and conspiracy in August. Kadyrbayev, a Kazakhstani citizen, attended UMass Dartmouth on a student visa. There, he befriended Robel Phillipos, Azamat Tazhayakov, and Tsarnaev. He and Tazhayakov were roommates.
Three days after the bombings, once the FBI released images of the then-unidentified suspects, Kadyrbayev allegedly exchanged several texts with Tsarnaev, according to text records. "u saw the news?'' Kadyrbayev texted. "u saw urself there?'' Tsarnaev then responded: "Ifyu want yu can go to my room and take what's there.''
According to prosecutors, Kadyrbayev, Tazhayakov, and Phillipos then went to Tsarnaev's dorm room and removed a laptop and a backpack of his things, including hollowed-out fireworks. Kadyrbayev allegedly threw the backpack in a dumpster behind his New Bedford apartment. It was later recovered in a nearby landfill.
Kadyrbayev was charged with obstruction of justice and conspiracy to obstruct justice, and faced a maximum of 25 years in prison if convicted. A month after Tazhayakov's conviction, Kadyrbayev pled guilty to all of the charges. In exchange, prosecutors agreed to limit his sentencing to a maximum of seven years. As with Tazhayakov, sentencing for Kadyrbayev has been delayed pending the result of a coming Supreme Court decision regarding the obstruction of justice federal statute.
[fragment number=9]
Name: Robel Phillipos
Who is he? A friend of Dzhokhar Tsarnaev who was convicted of lying to investigators. Phillipos, a US Citizen, graduated from Cambridge Rindge and Latin High School in 2011 along with Tsarnaev, and they often hung out as students at UMass Dartmouth along with Dias Kadyrbayev and Azamat Tazhayakov.
Phillipos's charges revolved around the events of April 18, three days after the bombings, when prosecutors said Phillipos visited Tsarnaev's dorm room with Kadyrbayev and Tazhayakov. There, Phillipos, allegedly looked on as the others removed a backpack of Tsarnaev's things, including fireworks, from the room.
In subsequent interviews with FBI investigators, officials said Phillipos made nine false statements about his whereabouts on that day and what he saw in the room. He was charged with two counts of lying to investigators in a terrorism case. In court, Phillipos's lawyers argued that he was "high out of his mind'' on marijuana and could not clearly remember the events of that day.
In October, a jury found Phillipos guilty of both lying charges and ruled that he was guilty of five of the nine false statements. He remains under house arrest until sentencing.
[fragment number=10]
Stephen Silva.MBTA
Name: Stephen Silva
Who is he? A friend of Dzhokhar Tsarnaev who pled guilty to charges of drug trafficking and possession of a handgun with a defaced serial number. Authorities believe that gun, a Ruger P95 9mm pistol, is the same one that the Tsarnaev brothers allegedly used to kill MIT police officer Sean Collier. The gun was recovered in Watertown after the shootout between police and the Tsarnaev brothers.
Silva originally pleaded not guilty to the gun and drug charges. He changed his plea in December and reached a plea deal with federal prosecutors. The details of the plea deal have not been made public.
"I smoke a lot of weed every day because my best friend was the bomber,'' Silva said, according to a police report in November 2013.
Silva and his similarly-named twin brother, Steven, were both Dzhokhar's friends and graduates of Cambridge Rindge and Latin. Steven has not been charged with any crimes.
[fragment number=11]
Name: Ibragim Todashev
Who is he? Todashev, a 27-year-old friend of Tamerlan Tsarnaev, was shot and killed by an FBI investigator while being questioning at his Florida home in May 2013. Todashev allegedly admitted to being involved in an unsolved 2011 triple murder in Waltham and told FBI and Mass. State Police investigators that Tamerlan Tsarnaev participated as well. Todashev then allegedly attacked the FBI investigators, throwing a coffee table at one investigator's head and charging with a metal pole. He was shot seven times by an FBI investigator and died on scene.
The shooting and subsequent lack of information has been criticized by Todashev's family and the ACLU. Investigations from the Florida State Attorney's office and Department of Justice found that the shooting was in self-defense and declined to press criminal charges.
[fragment number=12]
Name: Khairullozhon Matanov
Who is he? A friend of the Tsarnaev brothers who was charged with obstruction of justice and lying to investigators in May 2014. Prosecutors say that Matanov, a citizen of Kyrgyzstan and legal US immigrant, took Tamerlan and Dzhokhar Tsarnaev out to dinner shortly after the bombing and visited Tamerlan two days later. Later, Matanov allegedly deleted files and videos on his computer and phone, prosecutors say, and lied to investigators about his encounters with the Tsarnaev brothers. He remains in jail pending the charges. His trial is set for June 2015.
[fragment number=13]
Name: Konstantin Morozov
Who is he? A Russian friend of Tamerlan Tsarnaev. Morozov, a livery driver and immigrant living in Boston, knew Tsarnaev socially from 2006-09 but told The Boston Globe they had not had much contact since then.
Problems arose for Morozov in May 2014, when FBI investigators approached Morozov and asked him to have a conversation with another of Tsarnaev's friends while secretly wearing a wire. Morozov refused. He then was detained in jail on immigration issues, which Morozov criticized as an unfair penalty for his refusal to spy on a friend.
THE POTENTIAL WITNESSES
[fragment number=14]
Name: "Danny,'' or D.M.
Who is he? A Chinese immigrant and entrepreneur who was carjacked and kidnapped by the Tsarnaev brothers the night of April 18. Danny, whose full name has not been released, was in his Mercedes in Brighton when a man with a gun entered the car and forced Danny to drive, The Boston Globe reported. The man, later identified as Tamerlan Tsarnaev, admitted to Danny that he shot a policeman and set off the bombs at the Marathon, Danny told CNN.
For 90 minutes, Danny drove Tamerlan and another younger man — identified as Dzhokhar Tsarnaev — through Brighton, Watertown, and Cambridge. He overheard the brothers discuss plans to go to New York, and was threatened into giving them his credit card and PIN number to withdraw money.
Danny's escape hastened the end of the brothers' attempted plan. As Danny relayed to The Globe, just after midnight at a cash-only Shell Station on Memorial Drive, Dzhokhar stepped out of the car to pay for a refill. Tamerlan, still in the car, put down his gun for a moment. Danny took advantage of the attention lapse, unbuckled his seatbelt, and sprinted away from the car. He made it to a nearby gas station, unfollowed by the brothers, and contacted police. Authorities were then able to track the Mercedes with the brothers in it, ending in their fateful shootout in Watertown.
[fragment number=15]
Name: David Henneberry
Who is he? The Watertown owner of the boat where Dzhokhar Tsarnaev was finally captured. During the manhunt in Watertown on April 19, Henneberry noticed the cover on his boat in the backyard was slightly askew, and went to investigate. There, he discovered a pool of blood and Tsarnaev hiding inside of the vessel. He called police, leading to the dramatic standoff, full of bullets and stun grenades, which ended in Tsarnaev's capture.
The boat, "Slip Away II,'' was riddled with bullet holes and taken into FBI evidence. Thanks to donations from well-wishers near and far, Henneberry and his wife purchased a new boat in September 2013.
[fragment number=16]
Name: Richard Donohue
Who is he? An MBTA Transit Police officer who was shot during the Watertown shootout with Dzhokhar and Tamerlan Tsarnaev. Donohue was hit in the right groin, severing his femoral artery and causing a massive loss of blood. Fellow officers performed CPR on Donohue at the scene and he was rushed to Mount Auburn Hospital. Despite the blood loss, he survived.
The Boston Globe reports that the bullet was fired by another officer in a case of accidental friendly fire. After months of rehab, Donohue was sent home in June 2013. He was one of seven officers honored with a bravery award at the Statehouse on November 19. He is still recovering and has not yet returned to work.
[fragment number=17]
Name: Jeffrey Pugliese
Who is he? The Watertown police sergeant who played a key role in the Watertown shootout between police and the Tsarnaev brothers in the early morning of April 19. Police believe Pugliese fired the shot that hit Tamerlan and brought him down, The Boston Globe reports. Pugliese and another officer tackled and subdued the elder Tsarnaev.
Dzhokhar Tsarnaev then drove the stolen Mercedes SUV at the cops, who dove out of the way to safety. Tamerlan Tsarnaev, though, was hit by the vehicle and dragged a short distance as Dzhokhar drove away.
Pugliese was one of several officials who testified before the House Homeland Security Committee in April 2014 about the night of the Watertown shootout.
[fragment number=18]
Name: Andrew Dwinells
Who is he? Dzhokhar Tsarnaev's randomly-assigned roommate at UMass Dartmouth. Dwinells testified in both Azamat Tazhayakov's and Robel Phillipos's court cases, and said that he was not good friends with Tsarnaev and that their social groups did not overlap. He said that Tsarnaev slept a lot in the days after the bombing, but otherwise did not act out of the ordinary. Dwinells has not been accused of any crimes.
THE VICTIMS
[fragment number=19]
Martin Richard.EPA
Name: Martin Richard
Who is he? An eight-year-old boy killed by the bombing blasts. The Richard family — Martin, father Bill, mother Denise, older son Henry, and younger daughter Jane — all were standing alongside the barricade near the finish line on Boylston Street when the bombs exploded.
As The Boston Globe described in a harrowing piece, Martin did not survive the blast, Jane lost a leg, and both parents had significant injuries.
The family created The Martin Richard Charitable Foundation to honor his memory.
[fragment number=20]
Name: Lingzi Lu
Who is she? A Boston University grad student who was killed in the bombing. Lu, 23, was originally from the Chinese city of Shenyang and came to Boston to earn a statistics degree. She played piano and was described by friends and colleagues as a smart and bright student with a "bubbly'' personality.
To honor her life, Boston University founded a memorial scholarship fund in her name.
[fragment number=21]
Name: Krystle Marie Campbell
Who is she? A 29-year-old woman killed by the Marathon blasts. She was near the finish line on Boylston street when the bombs exploded. Campbell grew up in Medford and lived in Arlington, and worked as a general manager and catering manager for Jasper White Summer Shack restaurants.
To honor her, a UMass Boston trustee created a scholarship fund in her name. In addition, Medford announced a $1 million plan to build a peace garden in her name that will honor the four men and women killed.
[fragment number=22]
MIT Police Officer Sean Collier.AP/Middlesex District Attorney's Office, File
Name: Sean Collier
Who is he? Massachusetts Institute of Technology police officer killed on the night of April 18, allegedly by the Tsarnaev brothers. Collier, 26, was a promising young officer who was widely praised as a trustworthy, reliable presence at MIT. He was set to join the Somerville Police force before that fatal night.
Dzhokhar Tsarnaev has been charged with murder in Collier's death. Prosecutors believe he used a Ruger P95 pistol, which was recovered after the Watertown shootout, to shoot and kill Collier.
That same firearm is central to the gun charge against Stephen Silva, a friend of Tsarnaev who is accused of possession of a firearm with an obliterated serial number. Silva has pled not guilty to the charge.
MIT memorialized Collier by naming the Main St.-Vassar St. intersection where he was killed in his honor and plan to build a permanent granite memorial there.
THE SURVIVORS
[fragment number=23]
Name: James Costello
Who is he? More than a year after being injured in the Marathon blasts, Costello married Krista D'Agostino, a nurse he met during his rehab.
A photo of Costello immediately after the bombing, with a shredded shirt and tattered pants exposing his legs, was one of the most compelling images of the tragedy. Costello suffered significant burns and shrapnel injuries, and spent time at Spaulding Rehabilitation Hospital to recover.
There, he met D'Agostino, his nurse, and the pair fell in love. "I now realized why I was involved in the tragedy,'' Costello wrote on Facebook. "It was to meet my best friend, and the love of my life.'' The two were married in August.
[fragment number=24]
Rebekah Gregory-DiMartino.Wendy Maeda/The Boston Globe
Name: Rebekah Gregory-DiMartino
Who is she? A bombing survivor who decided to amputate her leg after numerous surgeries. DiMartino, her seven-year-old son, and her then-boyfriend (now-husband) were all injured in the blasts.
Since then, DiMartino had 17 surgeries on her injured, painful left leg in an attempt to get it back to regular functioning and strength. In November, she decided to amputate the leg, and wrote a tongue-in-cheek break up letter in a Facebook post.
"Even though my leg is being chopped off and I won't be able to walk for a while, it's still a step forward to me,'' she said.
[fragment number=25]
Name: Jeff Bauman
Who is he? Bauman lost both of his legs during the bombings, and the image of him being wheeled away from the blast site at right became a defining photo of the destruction and heroism of the Boston Marathon.
Bauman was at the Marathon's finish line to support his girlfriend Erin Hurley, who was running Boston for the first time. After the blasts, Bauman was quickly lifted onto a wheelchair and hustled over to an ambulance by Carlos Arredondo, the man in the cowboy hat. Arredondo's decision to apply a tourniquet to Bauman's legs helped save his life.
Just before the blasts, Bauman had noticed a "weird'' person in a hat, sunglasses, and a backpack in the crowd. Convinced that the blasts had something to do with this man, he told investigators key details that he remembered about the suspect, later identified as Tamerlan Tsarnaev.
Bauman wrote a book about his experience and recovery, "Stronger,'' which came out in April 2014.
He and Hurley had a daughter in July, and the two were married in November.
THE DEFENSE
[fragment number=26]
Name: Judy Clarke
Who is she? Dzhokhar Tsarnaev's defense lawyer. Clarke is one of the foremost experts at defending death penalty cases. She has represented a who's who of America's most notorious suspects in capital cases: the Unabomber Ted Kaczynski; Jared Loughner, the Arizona man who shot Rep. Gabrielle Giffords; and 9/11 conspirator Zacarias Moussaoui. All faced the death penalty, and with Clarke's defense, all were sentenced to life in prison.
[fragment number=27]
Miriam Conrad (left) alongside Dzhokhar Tsarnaev.AP/Jane Flavell Collins
Name: Miriam Conrad
Who is she? Dzhokhar Tsarnaev's chief public defense lawyer. Conrad has led the Federal Public Defender Office in Massachusetts, New Hampshire, and Rhode Island since 2005 and is "one of the nation's most respected public defenders,'' the Wall Street Journal writes. She previously defended the shoe bomber Richard Reid and Rezwan Ferdaus, a US citizen sentenced to 17 years for planning to blow up the Pentagon with remote-controlled planes.
[fragment number=28]
Name: William Fick
Who is he? A federal public defender for Dzhokhar Tsarnaev. Fick, a graduate of Yale Law School, is fluent in Russian. That language advantage could aid him in conversing with Tsarnaev and his friends and family, many of whom come from Russia. Fick was present at Tsarnaev's hospital bedside when he was first read the charges against him a week after the bombing.
[fragment number=29]
Name: Timothy Watkins
Who is he?: A federal public defender for Tsarnaev. The fourth member of Tsarnaev's defense team, Watkins is a board member for Massachusetts Citizens Against the Death Penalty.
THE PROSECUTORS
[fragment number=30]
Name: Carmen Ortiz
Who is she? Federal prosecutor and US Attorney. Ortiz is intimately familiar with the marathon bombing cases, as she also prosecuted Dzhokhar Tsarnaev's friends Robel Phillipos, Dias Kadyrbayev, and Azamat Tazhayakov.
Ortiz was a political star shortly after she became the first woman and first Hispanic US attorney for Massachusetts in 2009. That shine has faded a bit amid recent criticisms of over-aggressiveness, most prominently for her prosecution of Internet prodigy Aaron Swartz for his illegally downloading of MIT academic journals. Swartz subsequently committed suicide in January 2013.
[fragment number=31]
Name: Aloke Chakravarty
Who is he? Federal prosecutor and assistant US Attorney. Chakravarty has prosecuted a number of cases involving Islamist radicals, including that of Tarek Mehanna, who was sentenced to 17-and-a-half years in prison for conspiring to provide material support to terrorists.
At the same time, Chakravarty has led the Justice Department's efforts to maintain open dialogue with American Muslims concerned about heavy-handed investigator tactics and profiling. He and William Weinreb have worked together in the past.
[fragment number=32]
Name: William D. Weinreb
Who is he? Federal prosecutor and assistant US Attorney. Along with Aloke Chakravarty, Weinreb has prosecuted alleged terrorists as part of Carmen Ortiz's office. Weinreb and Chakravarty prosecuted Faisal Shahzad for the attempted Times Square car bombing, and both were awarded the Distinguished Service Award for their quick response to that case.
THE JUDGES
[fragment number=33]
Name: George A. O'Toole Jr.
Who is he? US District Court Judge who will preside over the trial. He has refused to relocate the trial to outside of Boston despite pleas from the defense that Dzhokhar Tsarnaev cannot get a fair trial in the area.
The Harvard Law grad was nominated to the US District Court by President Clinton in 1995.
[fragment number=34]
Judge Marianne Bowler (right).AP/Jane Flavell Collins
Name: Marianne Bowler
Who is she? US Federal Magistrate Judge. Bowler presided over the early parts of the trial before Dzhokhar Tsarnaev was indicted by a Grand Jury, and she is no longer involved.
But she may come up because of her actions three days after Tsarnaev was captured by authorities. Under a public safety exemption, FBI investigators had been questioning Tsarnaev without reading him his Miranda right to remain silent. On April 22, Bowler read Tsarnaev his Miranda Rights at his hospital bedside, after which he stopped speaking to FBI investigators.
That decision made Bowler an enemy of a number of Republican lawmakers. "That cost us dearly in terms of valuable intelligence,'' Texas Rep. Mike McCaul said. "The FBI was cut short in their interrogation when the magistrate judge decided to Mirandize him.''
The validity of the comments Tsarnaev made to FBI investigators pre-Miranda may be a topic of debate during the trial.