Local News
Timeline of Boston Marathon Bombing Events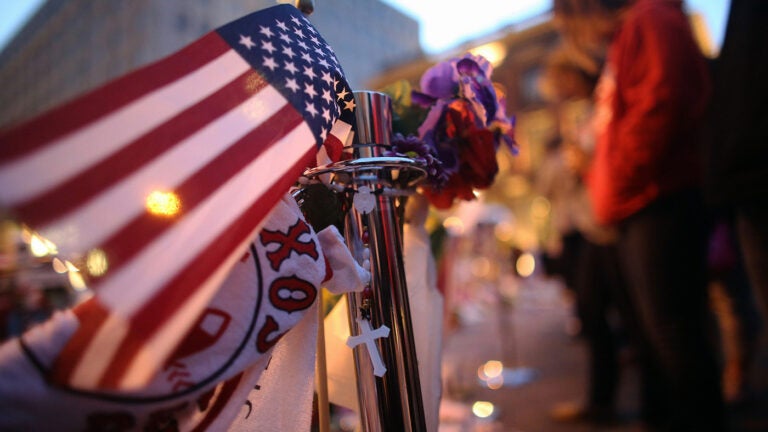 The chain of events surrounding the Boston Bombings seems too extensive for the short time in which they occurred. From the first blast at 2:49 p.m. on April 15, 2013 to celebrations in the streets of Boston following Dzhokhar Tsarnaev's capture four days later, here's how that week's events unfolded according to prosecutors and media accounts.
April 15, 2013
2:49 p.m.: There is an explosion in front of Marathon Sports on Boylston Street, close to the Marathon finish line. Thirteen seconds later and a block away, there is a second explosion in front of Forum restaurant. Three people are killed, 282 are injured.
4:28 p.m.: New York Post claims a 20-year-old Saudi Arabian national is a suspect in the bombings and "in custody.'' Post publisher and CEO Jesse Angelo touts the story as an "exclusive.'' The paper also claims that a "law enforcement source confirmed'' that "more than 12 people'' were killed and "nearly 50'' were injured. The report is denied by the police commissioner about an hour later.
[fragment number=0]
5:30 p.m.: NBC News reports that Boston Police Department is "guarding'' a man in a hospital, who is a "possible suspect.''
[fragment number=1]
6:10 p.m.: President Barack Obama talks about the bombing, promising that those responsible will be caught and punished.
8:04 p.m.: Dzhokhar Tsarnaev tweets: "Ain't no love in the heart of the city, stay safe people''
[fragment number=2]
April 16:
Morning: Jeff Bauman, Jr., who lost both legs in the bombing and whose injuries were shown in graphic detail in a now-iconic photo, gives the FBI a description of the man who dropped his backpack near him.
Evening: An FBI bulletin states that bombs were made by packing explosives, nails, and other shrapnel into pressure cookers. They still don't know how they were detonated, by whom, or why.
8:55 p.m.: Dzhokhar has returned to campus of UMass-Dartmouth, swiping his ID card at his residence hall for the first time since the attack.
9 p.m.: Security camera footage from a campus gym shows Dzhokhar and friend Azamat Tazhayakov entering and leaving the gym.
[fragment number=3]
April 17:
1:43 a.m.: Dzhokhar tweets: "I'm a stress free kind of guy''
[fragment number=4]
Afternoon: Several media outlets, starting with CNN, report that an arrest has been made; BPD and FBI deny the report and ask the media "to exercise caution and attempt to verify information through appropriate official channels before reporting.''
[fragment number=5]
Night: Obama signs emergency declaration for Massachusetts and orders federal aid to supplement the local response.
April 18:
Morning: The New York Post publishes a cover featuring a photo of two men with backpacks at the Marathon, calling them "bag men'' and insinuating that they are suspects in the bombing. They were never suspects. The men, both originally from Morocco, will later sue the paper for libel. The lawsuit was eventually settled out of court.
11:00 a.m.: An interfaith service at Cathedral of the Holy Cross begins. Then-mayor Tom Menino, recovering from a broken leg, stands up from his wheelchair to speak. Obama tells the audience: "you will run again.''
Mid-afternoon: Obama visits victims at Massachusetts General Hospital. First Lady Michelle visits victims at Boston Children's Hospital and Brigham and Women's Hospital.
[fragment number=6]
5:00 p.m.: The FBI releases photos and video of two suspects, then called "Suspect 1'' (wearing a black hat) and "Suspect 2'' (wearing a white hat). Investigators appeal to the public for help in identifying the suspects.
[fragment number=7]
8:45 p.m.: Dzhokhar texts his friend Dias Kadyrbayev that he can "go to my room and take what's there.'' Kadyrbayev, Tazhayakov, and another friend, Robel Phillipos, go to Dzhokhar's dorm room. Tazhayakov and Kadyrbayev take a backpack and laptop back to their New Bedford apartment. Kadyrbayev later puts the backpack in the dumpster.
10:33 p.m.: MIT police officer Sean Collier is found dead in his cruiser, allegedly shot by the brothers.
An "old sedan'' pulls up behind "Danny's'' new Mercedes. A man gets out of the sedan, pulls a gun on Danny as he gets into his car, and says he "did'' the bombing and "just killed a policeman in Cambridge.'' Dzhokhar pulls up behind the car and gets in the car. "Heavy objects'' are loaded into the Mercedes from the sedan. Dzhokhar uses Danny's ATM card to withdraw money.
April 19:
12:15 a.m.: According to Danny's account, the brothers decide to get gas and find an open Shell station. But they have to pay cash. Dzhokhar leaves the car to pay in the station and Tamerlan momentarily puts his gun down. Danny takes advantage of the moment to jump out of the car and run across the street to a Mobil station. The brothers drive away. Danny tells the clerk what happened and the clerk calls 911.
12:24 a.m.: Police have arrived at the Mobil. Danny tells them that they can track the location of his car through his iPhone and the car's satellite system.
12:41 a.m.: Police locate the Mercedes in Watertown. Dzhokhar is now driving a Honda Civic.
12:50 a.m.: Locals report sounds of gunfire in Watertown between the brothers and authorities who had tracked them. One witness says a man believed to be Tamerlan is standing on the street firing at officers.
When he runs out of bullets, police attempt to arrest him. Meanwhile Dzhokhar gets in the Mercedes and drives away, running over Tamerlan. He will later abandon the car and flee on foot. MBTA officer Richard Donohue is shot. He is seriously wounded, losing almost all of the blood in his body. He nearly dies, but recovers.
1:20 a.m.: Tamerlan is taken to the hospital.
1:35 a.m.: Tamerlan is pronounced dead from "traumatic injuries'' at Beth Israel Hospital.
6:33 a.m.: Boston, Watertown, and other communities issue a "shelter-in-place'' advisory, asking residents to stay in their homes as police and the FBI search for Tsarnaev. All mass transit is shut down.
7:00 a.m.: Suspect 2 is identified as Dzhokhar Tsarnaev, 19, of Cambridge. Police report that the now-dead Suspect 1 was his brother.
7:55 a.m.: National Security Council identifies dead suspect as Tamerlan Tsarnaev, 26.
Throughout the day: Police execute door-to-door search in Watertown.
6:05 p.m.: Deval Patrick lifts the shelter-in-place order.
Between 6 and 7 p.m.: With the shelter-in-place order lifted, David Hennebury, of Watertown, goes to his backyard to check on his boat cover, which is loose. He does so, then heads back inside. But a "nagging feeling'' prompts him to check on the boat a second time. He looks inside and sees blood and a body. He calls 911.
7:03 p.m.: Police once again ask Watertown residents to stay indoors.
7:30 p.m.: Dozens of law enforcement personnel, including SWAT team members, surround the boat and fire. A state police helicopter infrared camera captures images of Tsarnaev lying in the boat.
7:45 p.m.: At least a dozen people are evacuated from the area of "intense police activity.''
7:50 p.m.: Locals hear loud noises from "flash bang'' grenades coming from the area where SWAT has engaged the suspect.
8:30 p.m.: Police repeatedly appeal to the suspect: "Come out on your own terms''; "We know you're in there'' and "Come out with your hands up.''
8:35 p.m.: The FBI execute a search warrant in New Bedford and take three people, two male and one female, into custody.
8:30-8:45 p.m.: Tsarnaev emerges from boat, lifting his shirt to show he is unarmed.
8:46 p.m.: Boston Police tweets "Suspect in custody. Officers sweeping the area. Stand by for further info.''
8:58 p.m.:
[fragment number=8]
9:30 p.m.: During a press conference with elected officials and law enforcement, Deval Patrick says, "It's a night where I think we're all going to rest easy.''