Local
The Path to Boston's 'Guster Day' Relied on Old Friends and a Lot of Luck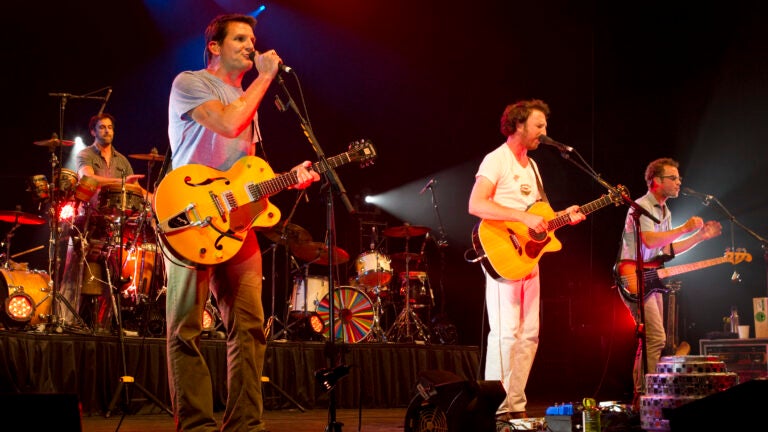 Several months ago, the team behind Greenovate Boston approached Joyce Linehan, Mayor Marty Walsh's chief of policy. Could she consider setting up an event to publicize the release of the city's climate action plan in mid-January 2015? she was asked.
The same day, Linehan got a call from Dalton Sim, the longtime manager of Guster, the alt-rock band formed when its members were students at Tufts University. Sim and Linehan had been friends during Linehan's extensive time in the Boston music scene before coming to city hall with Walsh. Guster had an album coming out in January, Sim said, and would Boston be interested in hosting some kind of event for that?
"Oh, do I have an idea for you,'' Linehan remembers saying.
That's the simplicity of the story behind how on January 15, Walsh will announce the city's sustainability plan, and then turn over to a performance by Guster and officially declare the day "Guster Day.''
"It was a most serendipitous process,'' Linehan told Boston.com.
Guster frontman Adam Gardner recognized that luck, too.
"There's a friendship between somebody in the mayor's office and our manager that goes back years, so I think there's been this desire from both ends to do something together,'' Gardner said. "It all kind of lined up.''
From the city's point of view, Guster's Boston roots and environmental advocacy made it a solid fit for the Greenovate Boston announcement. In 2004, Gardner and his wife founded REVERB, a company that works to make musical tours more sustainable and efficient.
For Guster, the city's event provides some nice press for its new album and a way to give back to the city where the band began, playing at local colleges and busking in Harvard Square.
"Boston has a very sweet spot in our hearts,'' Gardner said. "It's where we formed as a band. It's where we grew and got to know each other as a band.''
Given that history, Gardner said the band would be playing sets across the city leading up to the big performance. He said they'll tweet out the geo-coordinates of the mini-shows to their followers about 20 minutes beforehand and see who shows up.
"We always try to do something weird and different just for Boston,'' Gardner said.
In particular, the decision to officially name January 15 "Guster Day'' may sound a bit peculiar, but naming a day after a local band's new album release isn't that strange for Boston. August 6, 2014 was declared "Godsmack Day'' in honor of the Lawrence-based rock band Godsmack, and Boston hosted "Mission of Burma Day'' for that group back on October 4, 2009.
"It's very common,'' Linehan said. "It really just heightens visibility.''
Gardner said it was the first time Guster has been officially ordained as a celebratory day.
"I think it's great. We've been a band for a long time and never really had any false pretenses of rock superstardom, so for us we're like 'Oh, we're flattered,''' he said.