Local
Road Salt: Where Does It Come From, Where Does It Go?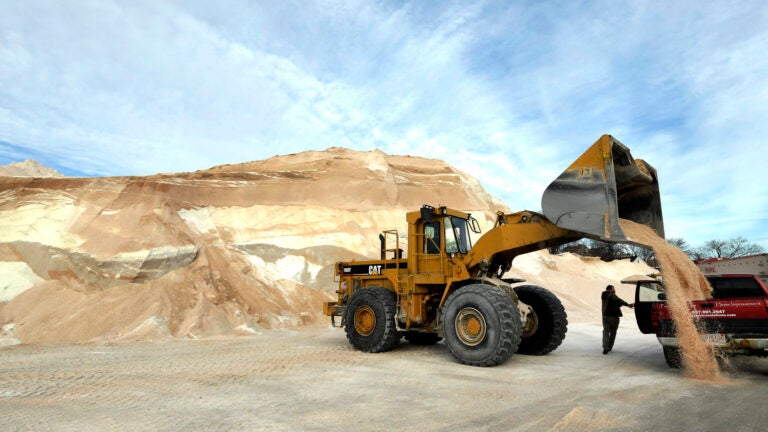 To students, winter means the joyous possibility of snow days. To plowers, it means long shifts at crack-of-dawn or dead-of-night hours. To commuters, it means slushy highways and black ice lurking at every corner.
To everyone, an onslaught of snow means an onslaught of road salt.
Snow and ice don't stand a chance against these salty cocktails, which can be mixed with stone and sand when temperatures are particularly low. But where does the salt come from, and how do we get our hands on so much of it here in the northeast?
"There's plenty of salt,'' says Paul Lamb, manager at the Eastern Salt Company's Chelsea Terminal, where the city of Boston will get all of its road salt this winter. "It's shipping [the salt] that takes time.''
The salt from the Chelsea terminal is mined from countries all over world — Mexico, Egypt, Ireland, Australia. The pink-hued salt in this year's 40-foot tall pile in Chelsea hails primarily from Chile. Shipping hundreds of thousands of tons of crystals from around the world to ports in Massachusetts requires both trains and tankers working steadily throughout the year, and takes about two weeks.
"It's more dependable to get it from different sources,'' says Lamb, when asked why his company's salt is so well traveled. "Never say never, but we never let people run out of salt.''
Getting that salt to various cities and towns in Massachusetts is no cup of cocoa, either. Nearly one hundred 18-wheelers in the Chelsea terminal are ready to be deployed across the state, at the first signs of snowfall.
Over 585,000 tons of road salt (along with nearly 27,000 tons of sand and 1,570,000 gallons of liquid de-icers), were used last winter to battle slippery highway conditions, according to the Massachusetts Department of Transportation.
MassDOT — which brings in salt from Cargill in Maine, Granite State Minerals in New Hampshire, Eastern Salt in Chelsea, and even Morton Salt (yes, that Morton Salt) — takes bids from various vendors, who negotiate prices based on calculations of how much salt regions historically use, how difficult it is to move the salt to certain areas of the state (sorry, Western Mass.), and where the salt originates.
"[It's] mined from the earth, but you wouldn't want to put this stuff on your fries,'' says Michael Dennehy, Boston's interim commissioner of Public Works. That's because unlike its edible counterpart, road salt isn't processed to remove inedible chemicals. It's treated with anti-caking chemicals, too, so that trucks can scoop and go.
This season, road salt costs jumped. MassDOT is paying 36 percent more, from the $50 per ton range to $70.65 per ton. For Boston, it's a 22 percent increase, from $45 to $55 per ton. Why do costs fluctuate so much year to year, when salt is such an abundant natural resource, available on both land and in the sea? Both Verseckes and Boston Public Works Commissioner Mike Dennehy attribute it to the good old principle of supply and demand: Massachusetts has already seen several light snowfalls, and last winter, some cities along the eastern coast of the state depleted their salt supplies. Vendors cite higher prices sometimes, says Lamb, because their own shipping costs have risen.
No town wants to start the winter empty-handed. So what happens when supplies run out?
"We don't run out,'' Dennehy says. Boston brings in about 80 thousand tons of road salt each year — stored in eight different facilities across the city — double what the city is projected to need for the season. Each of the city's piles is replenished after a storm; remaining salt can always be stored for next season's use. And in the event any one of the city's 70-odd trucks used to salt and sand roads breaks down, or a blizzard becomes overwhelming, outside contractors are always at the ready.
Where do tens of thousands of tons of salt go after winter thaws? Afer dissolving, road salt can find its way into streams, lakes, and rivers, as well as into groundwater beneath the earth's surface, which is the major source of drinking water for many towns and cities in the state. Department of Environmental Protection spokesperson Ed Coletta says he remembers a number of issues in recent years relating to road salt and water contamination in Boston-area water districts, including Boxborough, Wilmington, Woburn, and Cambridge. Elevated sodium and chloride in drinking supplies isn't a pervasive problem in the United States, but salty water is enough of a concern that Canada labels it a "toxic substance'' and MassDOT has designated "reduced salt areas,'' comprising dozens of miles of state roadway.
Avid gardeners, too, might want to salt their driveways less liberally, and make sure their plots stay protected from main roads: high concentrations of salt can prevent plants from properly absorbing water, essentially drying them to death.
When road salt supplies dwindled last winter, some counties in other parts of the U.S. have tried eco-friendlier alternatives such as cheese brine, beet juice, pickle juice; Dennehy says that "way back when, we may have used beer molasses or vodka.'' Road salt, though, is still the most efficient (and cheapest) available option, given the sheer volume of snowfall that hits New England each year. So for now, salt away.