Local
Who's Who in the Aaron Hernandez Murder Trial?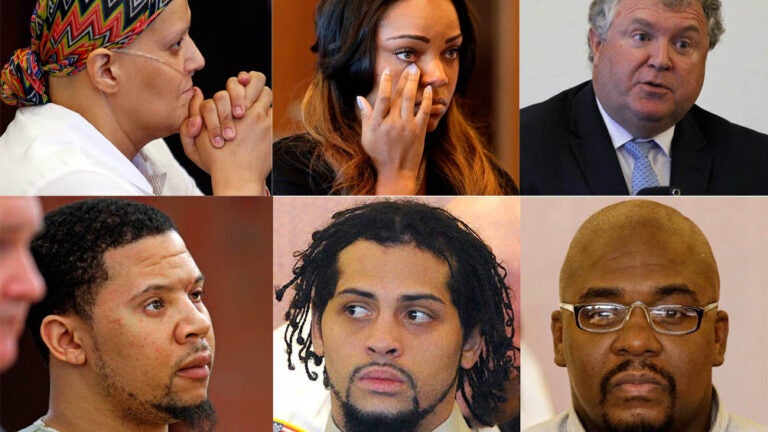 Anyone who's watched a down of football since 2010 probably knows who Aaron Hernandez is, and anyone who's watched the news since 2013 probably knows he's accused of murdering three people. But a lot of less-familiar names have been swirling around Hernandez in light of the former NFL tight-end's murder trial – Odin Lloyd, Carlos Ortiz, Ernest Wallace, Tanya Singleton. Who are they, and what did they do (or not do) that led to their involvement in the legal proceedings of the former Patriot who may have fooled us all? With jury selection expected to wrap up on Monday, and opening arguments set to begin on Tuesday, let's start with the alleged sociopath in question.
AARON HERNANDEZ:
Who is he? A New England native, Hernandez became a football star at his high school in Bristol, Connecticut and went on to play for the University of Florida. His time there was littered with disciplinary issues off the field, including failed drug tests and a 2007 bar fight which fellow Gator Tim Tebow reportedly tried to quell. Hernandez was drafted by the New England Patriots in 2010, and moved to North Attleboro two years later.
In the days following the draft, a Boston Globe article called the new Patriots tight-end "a risky selection'' who had a record of using marijuana. The Patriots organization responded with a statement claiming Hernandez had failed only one drug test in college, and was open about it with the team. A 2010 Boston.com article reported that Hernandez's low signing-bonus suggested the rookie would "have to work for his money, and prove himself capable of keeping his nose clean to cash in.'' Two years later he signed a $40 million, five-year extension with the team, which included the largest signing bonus ever awarded to an NFL tight end.
How's he involved? Hernandez was arrested and charged with the murder of his colleague Odin Lloyd in June 2013— the summer before his fourth season with the Patriots. About an hour and a half after the arrest was made the New England Patriots released him.
At Hernandez's arraignment, officials claimed he shot Lloyd several times execution style at an industrial park less than a mile from his North Attleboro home. In addition to the first degree murder accusation, Hernandez faces five illegal firearm charges. He pleaded not guilty to all counts.
But those charges were just the beginning. In May 2014 Hernandez was indicted on two more first-degree murder charges for a 2012 shooting in Boston's South End that killed Daniel Abreu, 28, and Safiro Furtado, 29. Prosecutors alleged that Hernandez followed the men from a nightclub after one of them spilled a drink on the former NFL player. Hernandez shot up their car from his vehicle while the they were paused at a stop light, prosecutors say, killing the two men and injuring one of three additional passengers. Hernandez again pleaded not guilty to all counts.
ODIN LLOYD:
Who is he? Hernandez's most recent alleged victim, Lloyd dated the sister of Hernandez's fiancee for about a year. Born in the Virgin Islands, he lived in Dorchester and had played linebacker for the Boston Bandits, a semi-professional football team, since 2007. Lloyd has been described as "a football fanatic'' who sporadically partied with Hernandez.
How's he involved? Prosecutors say phone records suggest that Lloyd was picked up by Hernandez on the night of his death: June 16, 2013. The last text messages he sent were to his sister around 3:00 a.m., asking her if she knew who picked him up. "U saw who I'm with,'' he wrote. "NFL… Just so you know.'' Lloyd is estimated to have been shot around 3:25 that morning in a secluded North Attleboro industrial park.
Lloyd's sister later told investigators that she knew "NFL'' to mean Aaron Hernandez. Prosecutors allege that Hernandez wanted Lloyd dead because he had been spending time with people Hernandez did not like.
DANIEL ABREU AND SAFIRO FURTADO:
Who are they? Victims of the South End double murder, Daniel Abreu and Safiro Furtado were Cape Verdean immigrants who worked together as housekeepers. Almost a year prior to Lloyd's death, the two men encountered Hernandez at Cure nightclub in Boston.
How are they involved? Prosecutors claim that Hernandez became angry when Abreu bumped into him, spilled his drink, and did not apologize. After the interaction, prosecutors say, the NFL tight-end left the club and drove around until he spotted Abreu and Furtado in their vehicle at a red light. Hernandez allegedly pulled up beside them and opened fire. Two anonymous officials told The Boston Globe in 2013 that investigators believe Odin Lloyd was murdered because he knew about Hernandez's involvement in the South End killings.
ALEXANDER BRADLEY:
Who is he? Prosecutors say Bradley, 30, is a former friend of Hernandez's who was with him the night of the 2012 South End slayings. Records show that he was the driver of a vehicle Hernandez was in when they were pulled over for speeding – 105 miles per hour – immediately after the Patriots' January 2013 AFC Championship game against the Baltimore Ravens. Hernandez reportedly tried to prevent Bradley's arrest by saying "Trooper, I'm Aaron Hernandez. It's okay.''
How's he involved? He's not charged in this case, but was subpoenaed to testify about the 2012 shooting and is currently jailed in Connecticut on unrelated gun charges. Bradley is also currently suing Hernandez for allegedly shooting him in the face after "disrespecting'' the NFL player when he left his cell phone in a Miami strip club in February 2013. Bradley lost an eye as a result of the injury, which he says Hernandez inflicted.
ERNEST WALLACE:
Who is he? Wallace, 42, is from Bristol, Connecticut. Prosecutors call him Hernandez's "Right Hand Man.''
How is he involved? Wallace also faces a first-degree murder charge in the death of Odin Lloyd, and is accused of bringing Lloyd to the industrial park with Hernandez on the night of the 29-year-old's death. He was initially charged with accessory to murder after the fact, and wasn't arraigned on the first degree murder charge until May 2014.
CARLOS ORTIZ:
Who is he? Also from Bristol, the 28-year-old met Hernandez through his older brother, D.J. Hernandez, when the two were in high school. Nicknamed Charlie Boy, he lived in Bristol at the time of the murders and sometimes partied with Hernandez.
How is he involved? Prosecutors say Ortiz was with Hernandez and Wallace in the car that picked up Lloyd and brought him to the industrial park on the night of his death. Initially arrested on an illegal gun charge, Ortiz was later charged with accessory to murder after the fact, and now faces first degree murder— a charge that came ten months after the night of the crime.
Early in the investigation Ortiz led investigators to Hernandez's 'flop house': a two-bedroom condo in Franklin where officials say Hernandez stashed the clothing he was seen wearing on the night of Lloyd's murder, and the same kind of ammunition used to kill Lloyd that night.
Officials said Ortiz changed his story following the murder, first saying he remained in the car while Wallace and Hernandez took Lloyd into the industrial park, and later telling them Wallace remained in the car with him. He has pleaded not guilty, and officials have not clarified which of the three men facing first-degree murder charges they believe pulled the trigger.
Police say that Ortiz recently told them during a polygraph test that he heard several shots and saw Hernandez run back to the car with a gun in his hand shortly after he had walked off into the dark with Lloyd. However, the Associated Press reported that the publicly-released portion of the test's official transcript bears no mention of a gun, and a murder weapon has not been found.
SHAYANNA JENKINS:
Who is she? Aaron Hernandez started dating his fiancee, Shayanna Jenkins, in 2007. The couple had a daughter, Avielle Janelle Hernandez, in November 2012. Soon after their daughter's birth the family moved into Hernandez's $1.3 million North Attleboro mansion. Jenkins' sister, Shaneah, was dating Odin Lloyd at the time of his death.
How is she involved? Jenkins was indicted on one count of perjury after prosecutors alleged that she repeatedly lied in court. Jenkins said in her testimony that she never contacted Ernest Wallace on the day of the murder. However, prosecutors say phone records show she called Wallace seven times that day. Hernandez's defense recently filed a motion asking that Jenkins disclose any deals she makes with the prosecution about testifying against her fiancé.
TANYA SINGLETON:
Who is she? Singleton, also of Bristol, Connecticut, is Hernandez's cousin.
How is she involved? Singleton was convicted of contempt of court in June for refusing to testify about the South End double slaying after officials found the SUV Hernandez allegedly drove in the attack in her garage, covered in dust. A judge relieved her of a prison sentence because she is being treated for advanced breast cancer. Instead, she was sentenced to house arrest with a GPS tracking device and is permitted to attend doctors appointments.
She now faces a conspiracy charge for allegedly conspiring to commit accessory after the fact; prosecutors say she knew about the Lloyd murder before they did. Singleton wants the conspiracy charges dropped because they are allegedly based on information from Carlos Ortiz, who recently failed a polygraph test and could therefore be considered an unreliable source.
THE DEFENSE:
Attorneys Michael Fee, James Sultan, and Charles Rankin are Hernandez's lawyers. Lead defense attorney Michael Fee was called as a witness in October in his motion to remove Hernandez's Blackberry from evidence, citing "false claim of legal authority'' to take the phone. He admitted in October he failed to read a search warrant for Hernandez's cell phone before handing it over to authorities, resulting in a heated exchange between him and prosecutor William McCauley. The Boston Globe reported: "Under cross-examination of Fee, there were many times that the exchange was anything but cordial. At one point, McCauley asked Fee, 'Do you consider yourself a competent lawyer?''' Fee fired back that he believed he had a legal responsibility to hand over the phone despite not having immediate access to the prosecutor's search warrant. Fee said he was on his way to a family occasion when the warrant was served, and didn't receive a copy before ordering his legal team to hand over Hernandez's phone to authorities.
THE PROSECUTION:
Bristol County (MA) District Attorney Samuel Sutter is leading the case against Hernandez alongside the case's lead prosecutor William McCauley. McCauley previously moved for the judge overseeing the case to step aside, citing legal bias. The prosecutor claims that tensions developed between him and Judge Susan Garsh during a 2010 murder trial in which both were involved. McCauley said Garsh's biased behavior included wrongful exclusion of evidence, verbal interruptions during his closing arguments, and generally undermining his credibility in front of jurors. Despite the alleged bias, McCauley's team won the 2010 case.
The prosecution also submitted a witness list for the Hernandez trial in December consisting over 300 people, including Bill Belichick, Robert Kraft, Brandon Spikes, and other members of Patriots staff. McCauley and Sutter have been told to cut down the size of that list significantly.
JUDGE SUSAN GARSH:
E. Susan Garsh, a justice of the Superior Court of Massachusetts, rejected the prosecutors' motion for her to step down from overseeing the proceedings in October. She made headlines again in December when she threw out evidence in the case. Garsh ruled that text messages exchanged between Lloyd and his sister, the fact that Hernandez faces murder charges for the 2012 South End slayings, and the details of that double-murder will not be heard by jurors. While text messages sent between Lloyd and Hernandez that night are fair game, Garsh also ruled against the use of a TMZ photo of the former Patriot holding a gun as character evidence. No murder weapon has been recovered, and Garsh said showing the photo would be "piling on.''