Local
Escaped Lowell Goat Finally Captured After Month of Freedom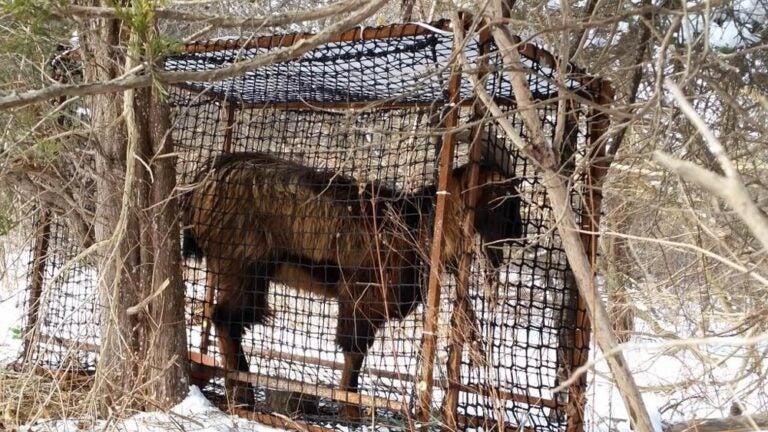 The famed Lowell goat's month of freedom is finally over.
The large goat that escaped from a Tewksbury farm (and slaughterhouse) in late December—who showed an almost-mythical ability to elude capture—has finally been caught along a Westford highway.
Danielle Genter, the Animal Rescue League of Boston's senior rescue technician, said the male goat was caught in a "box trap'' sometime between last night and 8 a.m. Monday morning.
The Lowell Sun's Kyle Clauss snapped a photo of the goat in the makeshift trap.
[fragment number=0]
The goat's dramatic escape just after Christmas took on comedic-like proportions as police and residents failed to corral the horned animal. Much of the humorous escape was captured in amusing police scanner talk. A team of police tracked the goat, which had a rope around its neck, but it evaded capture by running between cars and jumping off a bridge to escape.
Police advised residents not to approach the goat, which was estimated to weigh 200 pounds.
"He was one crazy goat,'' Frank Peabody, a Lowell resident who first called police about the runaway goat, told The Lowell Sun.
The goat's zest for freedom gathered a sort-of cult following, as it inspired a Twitter account with more than 1,300 followers and an enjoyable parody of the hit podcast "Serial,'' featuring the mammal's escapades.
But the saga all came to an end on Monday morning. The goat was spotted grazing in the woods just off of I-495 in Westford the day before. The Animal Rescue League of Boston then attempted to entice the goat into a trap with an assortment of apples, spinach, and other sweets, Genter said.
That's exactly what happened early Monday.
The goat is now in a barn in Dedham owned by the Animal Rescue League, "just kind of chilling out,'' Genter said. He's being checked out by a veterinarian, and the Animal Rescue League will evaluate potential locations to place him. He will not return to the slaughterhouse, Genter said.
The timing of the capture is good for the goat, who would have had to survive a major blizzard set to hit the area on Monday night.
[fragment number=1]