Local
Meet the Guys Who Got the Boston 2024 Movement Started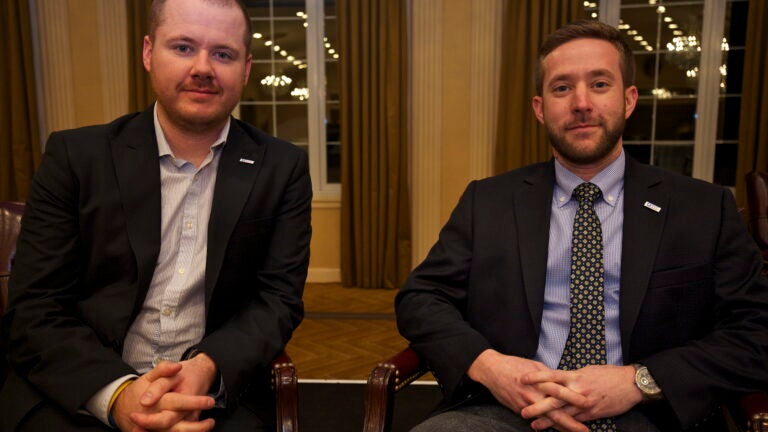 The forces behind Boston's Olympic bid at this point are a who's who of power players in the city and the region. Boston 2024's stakeholders include executives at Suffolk Construction, Hill Holliday, State Street, Mass Mutual, and Bain Capital; it's brought in the leaders at some of the world's best known colleges; and it has the support of prominent names in political and legal circles. Mayor Marty Walsh has thrown his full backing behind the bid, and Governor Charlie Baker, though a bit more measured, has said he sees it as an opportunity to think about the future of the city and the state.
If a Boston Olympic bid—if any city's Olympic bid—is going to reach the point of seriousness, it requires elite support. The first people to float the 2024 idea in Boston, however, were several rungs lower than any of Boston 2024's leaders in the city's power hierarchy.
At the conclusion of the 2012 London Olympics, Corey Dinopoulos, a Dracut native and a Boston resident since college, got the itch.
"What better way than the Olympics to showcase Boston and all we have to offer?'' he said, describing his thinking around the time.
It wasn't the first time he'd thought along those lines. Today, Dinopoulos is a digital designer with Fidelity. In 2006, while at the Massachusetts College of Art and Design, he took on a senior project of designing the branding for a hypothetical 2020 Summer Games in Boston. Dinopoulos consulted Boston-based designer Mark Favermann, who did some of the branding work for the 1996 Atlanta Olympics, and came up with a logo for the games (he opted for a hybrid sailboat/Olympic torch, as opposed to Boston 2024's steel blue wreath that looks like the Chase Bank logo), as well as sub-brands for each of the individual events. He also conjured up some ideas about where events could be held and how banners and other branding material may adorn parts of the city. It did not focus much on finances or city planning.
When the 2012 Olympics passed, some of the excitement of working on that project came back. He reached out to State Senator Eileen Donoghue, who at the time chaired the legislature's joint committee on tourism, arts, and cultural development. Dinopoulos sent a note to Tom Menino's City Hall to say he'd like to talk to somebody (anybody) about the prospect of Boston hosting the Olympics. City Hall dodged him—Menino was not a big fan of the 2024 idea—but put him in touch with somebody else who had also contacted the office with similar goals.
That was Eric Reddy, another young professional in Boston. Reddy, who is originally from Western Massachusetts, had worked in sports since graduating from college. He had worked in sales for the Providence Bruins, for the NBA Development League's Springfield Armor, and for a now-defunct indoor lacrosse league's Boston Blazers.
By the time Reddy and Dinopoulos got in touch, Reddy was working for a nonprofit that sold event tickets to benefit charity. He said that working in sports in New England tended to lead to the conversation every now and then—what if Boston tried to put on the world's biggest sporting spectacle? He, too, had brought the idea to City Hall.
And so it was that Corey Dinopoulos, at the time 27, and Eric Reddy, then 30, were put in touch. They got together in the fall of 2012 at the Omni Parker House for drinks.
"We hit it off right off the bat,'' Reddy said. "We just started working together.''
They had to get to work fast: Shortly after that first meeting, Donoghue's office contacted Dinopoulos. Her staff was interested in chatting. Dinopoulos and Reddy each had their own set of ideas, and they quickly worked to put them together for a presentation for that meeting.
The presentation wasn't comprehensive, but it outlined the bidding process, some expected challenges the bid would face, and a rough concept for what a Boston Olympics could include. The senator was interested in further exploring.
"Certainly, you have to look at these things and do due dilligence,'' Donoghue said. "It was an opportunity to hear from somebody who had an idea. I credit them with bringing it forward.''
Recognizing they had gotten the interest of at least one politician, Dinopoulos and Reddy began reaching out to other people who could help them understand how the bidding process works. Dinopoulos did a little bit of research and was able to track down some of the leaders of the Boston Organizing Committee, a group that explored the idea (but never formally bid) to bring the Olympics to Boston in the '90s. They scheduled a meeting to get a sense for how the process would evolve. Rikk Larsen, who had served as the leader of the BOC for five years, would eventually help Dinopoulos and Reddy register the Boston 2024 Exploratory Committee as a nonprofit with the state.
Reddy, meanwhile, utilized his own personal network. A friend of a friend happened to be an Olympian—rower Dan Walsh, who coaches at Northeastern University and lives in Waltham. Reddy reached out to see if he'd help them understand the games from an athlete's perspective. Walsh said Reddy's approach to the conversation was important, because he focused on the athletes' experiences.
"My first instinct was to (not get involved),'' the rower told Boston.com. "But Eric and Corey wanted to make sure it promotes the athletes. How is it giving back to the athletes? Athletes don't want to be used (to sell something). But they asked, 'What was your experience like?' … They reached out because they wanted to help the athletes enjoy (a Boston Olympics). That's what got me hooked.''
Olympic athletes are part of a fairly wide network, and Walsh worked to get other athletes with local ties involved. Dinopoulos and Reddy also formed a Facebook page about a 2024 bid and recruited volunteers there. They began holding meetings in Reddy's former office, with about 30 people showing up each month, Dinopoulos recalled. They also maintained an email thread to talk over ideas.
The group was broken down into four task forces focusing on government engagement, athlete engagement, fundraising, and marketing and social media. Meetings focused on brainstorming ideas for all things Olympics—including issues related to traffic, transportation, security, fundraising, and garnering public support.
"It's funny that the idea has come so far, and we're still talking about a lot of the same things,'' Dinopoulos said.
In early 2013, Boston was one of more than 30 cities to be invited by the United States Olympic Committee to get involved in the bidding process.
Around that time, The Boston Globe caught wind of the exploratory committee led by Dinopoulos and Reddy, and ran an article in early March focusing on its efforts to court Menino's office. While Reddy said he was optimistic the group could garner the mayor's support, you could read his lack of comfort in saying so publicly within the lines of the article. "Reddy stressed that his group was 'trying to be quiet about this,' and did not want to overhype an effort that remains in its early stages,'' the Globe's Callum Borchers wrote.
The reason for that discomfort would manifest itself after the article ran. "Menino was so mad,'' Dinopoulos said.
The mayor would quickly respond to the article, calling the idea of bidding on the 2024 Olympics "far-fetched,'' and expressing concerns about the possible costs. "(I) just wish that I knew about it before it was in the paper,'' he told WBUR.
While the volunteer effort was underway, Donoghue was working the legislative side as well as the power brokers. She filed a bill calling for the formation of a committee to explore whether Boston could handle hosting the Olympics. And she reached out to Dan O'Connell, the head of the Massachusetts Competitive Partnership, a cadre of well-established Boston business leaders. O'Connell began to get some of the city's biggest business leaders involved as well. By mid-2013, the Globe reported, he had tapped into Suffolk Construction CEO John Fish, New England Patriots owner Bob Kraft, and even former Governor Mitt Romney. Fish—who had done some work with the Boston Organizing Committee when it explored a bid in the 1990s—led what was also called a volunteer effort, running parallel to Reddy's and Dinopoulos's. And when Donoghue's bill came up for discussion at the State House, O'Connell showed up to testify on its behalf.
Donoghue's bill passed, and a feasibility committee was formed in late 2013. Fish and O'Connell were both appointed to serve on it, as was Donoghue. The committee would hold seven public meetings over the next few months before releasing a study in early 2014 that suggested the Olympics were doable.
The Boston Business Journal noted in late 2013 that between the Fish group, the legislatively formed feasibility commission, and Dinopoulos and Reddy's more grass roots effort, there were multiple parties involved in the bidding:
….we're in an unusual position of having three different groups working on this Olympics issue. There's the one that was born out of that meeting between Reddy and Dinopoulos, known as the Boston 2024 Organizing Committee, a group that had been growing in size and holding monthly meetings throughout the past year with help from a few people who worked on a similar effort in the 1990s. There's a new 11-member commission, established by a bill that Donoghue filed, that began meeting earlier this month to study the feasibility of bringing the Olympics to New England. And there's another new group of business leaders, publicly led by Suffolk Construction chief John Fish. There's some overlap among the groups — Fish has also been appointed to the Legislature's commission, for example — but it's getting to the point where the three groups will need to figure out how to bolster each other instead of duplicating the work.
Dinopoulos and Reddy continued to meet with their group through early 2014, but they had essentially ceded control of the process when the feasibility commission was formed.
They showed up at all the public meetings about the idea, and still held meetings, but at that point the prospect of a 2024 bid was in bigger hands than their own. Before even the feasibility study was released, the Boston 2024 Partnership had been registered as a nonprofit. The names on its registration paperwork were Fish, O'Connell, Kraft, Bain Capital's Steve Pagliuca (who is also a co-owner of the Boston Celtics), and Gloria Larson of Bentley University. They did not ask for any of the work done by Dinopoulos's and Reddy's committee.
"We were never going to be able to do it on our own,'' Dinopoulos said. "It needed the money and the community connections.''
"You don't do this sort of project without a John Fish or a Dan O'Connell getting involved,'' Reddy said. "It was our pet, but at the same time it's extremely humbling to know people of that stature are behind it.''
Would Boston 2024 have formed without Dinopoulos and Reddy first approaching Donoghue? Who knows. The BOC's work in the '90s showed the prospect of bidding for a Boston games made for at least somewhat fertile ground. John Fish himself had done some volunteer work for the BOC back then. And when the USOC solicited a bid from Boston in early 2013, maybe the wheels would have gotten turning anyway to roll in some of the city's most influential people. The way things went, though, Dinopoulos and Reddy can at least claim to have first suggested exploring the bid, culminating in the legislative work that led to the formation of Boston 2024. "The spark of the idea started with them,'' Donoghue said.
Between the release of the feasibility study in March and June of 2014, Dinopoulos and Reddy were occasionally looped in on updates on the planning process from the Boston 2024 Partnership.
They sat on their hands as they waited to hear whether the USOC would proceed with the Boston bid. In June of last year, they got their answer: Yes. Boston had been named to the shortlist of U.S. cities that the USOC would consider, along with Los Angeles, San Francisco, and Washington, D.C.
Shortly thereafter, Boston 2024 reached out to Dinopoulos and Reddy. Reddy was asked to help organize Walsh and other local Olympians, engage them, and introduce them to Boston 2024. (Boston's bid would later be lauded by the USOC for being athlete focused.) Reddy did so on a volunteer basis.
Dinopoulos, meanwhile, took on some paid design work with the group as a consultant. He
was responsible for some of the images the group posted to social media while Boston 2024 shaped its bid and campaigned to the USOC.
And they listened as a public debate began to swirl around the idea. As the December 1 deadline for Boston 2024 to submit its plans to the USOC drew near, activists became increasingly discontent with the idea of hosting the Olympics in Boston. There were criticisms of Boston 2024's perceived lack of transparency as it built its bid without public input; that Boston wasn't suited to host the Olympics in the first place; or that even if it was, the Olympics are not the best use of the city's energy and resources. Many of these criticisms are still ringing today.
"Everybody is entitled to their opinion about the project,'' Reddy said. "There's going to be a really robust conversation, and there's going to be a lot of opportunity for people to give input. … I don't take any of the criticism personally.''
Dinopoulos, however, said the criticism gets to him. "It's something I put a lot of time and a lot of effort into,'' he said. "It can make you feel a little rough.'' Speaking to the notion that there should have been more public involvement in deciding to bid in the first place, Dinopolous leaned back, crossed his arms, and reversed the question. "I can't answer that," he said. "I have a hard time identifying with the idea that something can't or shouldn't be done without knowing anything about it. I wouldn't say no to something I didn't know about.''
However, Dinopoulos said, he thinks that with Boston's bid is on to the international stage, now is the time to open up more. He said "700-people mega-meetings'' put on by the city and Boston 2024 don't provide the grassroots support he thinks the bid needs. "It's still lacking,'' he said of Boston 2024's outreach to the public.
On January 8 of this year, the decision was set to come down. The USOC would make its choice. Dinopoulos and Reddy were in the Boston 2024 offices for the announcement.
Reporters from San Francisco tweeted that Boston was out of the running; Dinopoulos's stomach sank.
"Stop looking at Twitter,'' he said somebody told him. "Put your phone down.''
At 6:30 p.m., the announcement came. Nobody in the office—or at least, nobody near Reddy and Dinopoulos—had been tipped off by the USOC.
Dinopoulos cried. "It was one of the best moments of my life,'' he said.
For Reddy, it was a different feeling.
"It was relief,'' he said. "Just relief that something we started years ago—well, if you jump into the deep end, you don't want the ride to come to an end.''