Local
Aaron Hernandez Finds Support on the Fringes of Social Media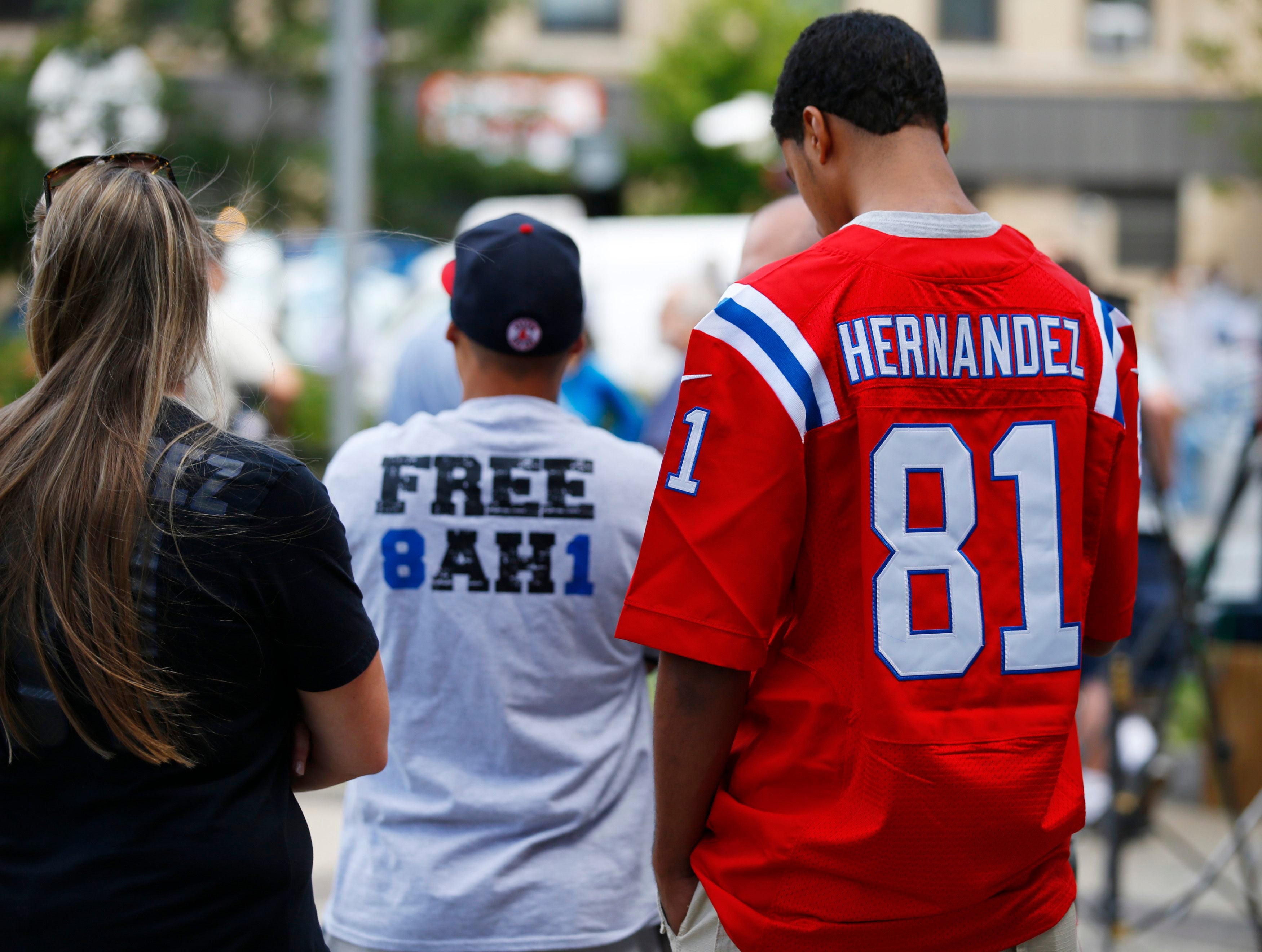 When opening statements in the murder trial of Aaron Hernandez began on January 29, we took a journey to Fall River in search of supporters of the fallen Patriots star.
The stage was set for a raucous scene: The Patriots were days away from their sixth Super Bowl appearance in 14 years, their former teammate was behind bars awaiting trial for one of the most shocking cases the sports world has ever seen, and from our internet research, a small but vocal number of supporters believed Hernandez has gotten a bad rap.
There was an eerie emptiness outside of the courtroom a half hour before the trial was set to begin. Television vans, cameras and makeshift TV sets lined the small streets surrounding Bristol County Superior Court. Something very important was going on inside the giant glass walls of the courthouse – a modern structure tucked in a block of weathered buildings – in this hardened city located at the mouth of the Taunton River.
We waited. But no supporters showed.
Maybe it was the cold, as the temperature was somewhere in the high teens that day. It also could have been the fresh piles of snow covering the city, as Fall River, like much of the rest of the state, was still reeling from what has come to be the first of a few major snowstorms. The trial also started around 9 a.m., the time most workdays begin. All plausible explanations for the disappointing calm in front of the courthouse that day.
In June of 2013, Hernandez was handcuffed and escorted out of his home by North Attleborough police. He was released by the New England Patriots 90 minutes later, despite the fact the team lacked full knowledge of the charges against him.
Some could read the Patriots' response as purely pragmatic. Loyal fans may view it as evidence of front office virtue. Instagram, Twitter, and Facebook, however, show that some among us aren't buying it. Unless, in some cases, you look to EBay.
Since Hernandez's arrest, #FreeHernandez has seen a steady, though not overwhelming level of usage. The tweets range from the plain:
[fragment number=0]
[fragment number=1]To the skeptical (they aren't all this succinct or PG, trust us):
[fragment number=2]
There are a few armchair legal experts:
[fragment number=3]
And more than a few people like this:
[fragment number=4]
[fragment number=5]
[fragment number=6]
But in person, support is muted at best.
A local police officer who had been stationed in front of the courthouse since the beginning of jury selection in early January, and was present on the day of opening statements, said he had only seen a handful of Hernandez jerseys outside the courthouse. This could be explained by the ban on Patriots gear throughout the trial. Still, the ban is for those inside the courthouse.
A waitress at a local diner told Boston.com that while many locals privately express doubt over the merit of the case from passing conversations over eggs, bacon and hashbrowns, few people would admit it if asked.
The Internet is a different story.
Beyond the hashtag activity, Twitter is also home to @FreeAH1989. Julia (not her real name) is a New England resident and former diehard Patriots fan. She is outspoken about her thoughts on the case, even if she, and the rest of the supporters who responded, insisted on anonymity.
Towards the end of my time speaking to Julia, she insisted I refrain from using her real name, before stopping contact entirely. Jeanie is another online supporter and coordinator of Support For Aaron Hernandez on Facebook, and was adamant that she be anonymous from the start. Hernandez support has fractured relationships, sparked named calling and online trolling, and fostered a distrust of the media among his supporters. To quote Julia, "we [Hernandez supporters] don't like to talk to you people, you try to make us out to be monsters.''
[fragment number=7]
"I started [this account] a few days after he was arrested,'' added Julia. "I just could not fathom the story being thrown at the public of a gangster NFL player who kills someone that can be linked to them around the corner from their house. It sounds incredible.''
According to Julia, "that this young kid that went to college, came here, and got $40 million managed to be such a gangbanger because he has tattoos and likes guns? It's amazing that the media would generalize like that.''
Because the former Patriots tight end's in-season schedule was so strenuous, Julia thinks the story surrounding Hernandez's other life rings hollow.
Regardless of whether or not Hernandez's schedule would've allowed him the time to kill Odin Lloyd, it seems that the majority of people paying attention to the Hernandez case believe, at least partially, that he had something to do with the murder. When pressed for her thoughts on whether Hernandez has been declared guilty in the court of public opinion, Julia gets serious. And a little angry.
"He's Hispanic, he's young, he's from Connecticut, and he had some problems in college. People tried to put all of that into a context that fit the story,'' and that context, according to Julia, has been damning. "Now they say he was in a gang in Connecticut and doing all of these gun runs. The Commonwealth has a tendency to blow things out of proportion when they're major stories. Does anyone remember the Louise Woodward trial? We're known for blowing things out of proportion.''
Julia was adamant that she supported Hernandez for the right reasons. She wasn't coming to his defense because of his looks, or her allegiance to his former team, or any other "looney crap.'' After looking over the facts that have made their way into the trial's coverage, she decided Hernandez got a bad rap, and wanted to show her support. But inmates have no Twitter access. So Julia took to writing him. And she claims he eventually wrote back.
"I didn't expect to get letters back, I didn't think I would. But I wrote to him to encourage him, and I sent him pictures of things outside, since I lived on the water at the time. I also sent him pictures I took while I was doing everyday things, just to cheer him up. I mean, he's in prison, what does he have to look at?''
According to Julia, Hernandez appreciated the sentiment, and wrote back nearly a half dozen times (we tried to get Julia to send us copies, at which point she backed out entirely and stopped responding to messages.) "We didn't talk about anything to do with the trial, we'd talk about music and sports, and he said it cheered him up. I told him about the Twitter account, and he was happy about it.''
Julia is in her early twenties, and a recent college graduate. She's taken time out of her schedule to follow court proceedings for months. She's even managed to do so in person, having attended the initial hearings in the fall of 2013.
Her family, who "believes he's a terrible murderer and gangbanger,'' is staunchly opposed.
On the Facebook front, Jeanie has a loftier reason for supporting Hernandez. "I could've sworn I woke up in America this morning. Here in this country, we have a document called The Constitution.''
At the beginning of our conversation, Jeanie made it known that she was not fond of the media. "Based on what's been said about Aaron and those of us who support him, we are very leery of you people.''
Jeanie has had similar views with other high profile cases in the past. "I felt this way about OJ [Simpson] and Casey [Anthony], too, but whether or not the person is famous, they're citizens like me and you, and we are to be presumed innocent.''
From Facebook to Twitter, both Jeanie and Julia, as well as a handful of other users (who wouldn't speak for long) seemed especially upset over one specific event: the jersey buyback.
In July of 2013, the Patriots allowed fans to exchange Hernandez jerseys for a free jersey of their choosing. Over 2,500 jerseys were returned, and the materials were recycled. Hernandez supporters were having none of it, even some 18 months later.
"That whole buyback thing? What a joke. I still have mine, and I wear it. I get looks, but I don't care,'' said a defiant Julia.
"After that whole buyback stunt,'' Jeanie said, "I couldn't be bothered with the Patriots. I used to be a diehard fan, now I can't watch more than five minutes without bursting into tears.''
From the users who refused to speak for more than a tweet or two, they were quick to show pictures of themselves in Hernandez jerseys (with their faces obscured).
[fragment number=8]
Hernandez has a small but ardent group of supporters behind him, hoping for the best possible outcome in his current trial. So why didn't they show up to the first day of the trial?
"Well, the weather was a factor,'' said Julia, who added that she wanted to, despite the wishes of her family. "They can say what they want, but this is what I believe, and I'm going to support it.''
Jeanie had a family emergency, and couldn't attend, though she hopes that it will end soon enough, giving her the chance to make the trek to Fall River.
As for why some others didn't make it to the opening of the trial? Julia was anything but forgiving for some of her fellow Hernandez supporters. "Most girls I know who support him do it because they think he's cute or something. Most guys do it because they think it's a joke, or because the Patriots could use him on the field. Not a lot of people actually care about the case.''
As of February 10, Julia has 112 Twitter accounts following her Free Aaron Hernandez profile. She monitors the trial proceedings closely and posts messages almost daily. And as her family continues to oppose and chastise her support of the former Patriots star, Julia stands by her belief that Hernandez is innocent.
"It just doesn't make sense,'' she said.
She sighs again, followed by another long pause. "Whatever.''