Local
After Life of Frugality, Vermont Janitor Bestows $6 Million to Local Hospital, Library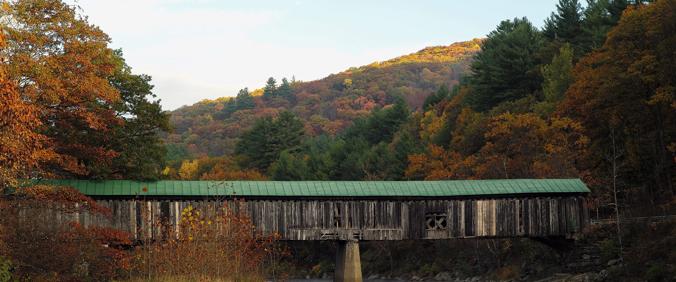 Ronald Read was the epitome of Yankee frugality, according to those who knew him. But the reserved, always-flannel-adorned Brattleboro janitor — who died last June at the age of 92 — had a secret. Well, 8 million secrets, specifically.
The Brattleboro Reformer reported last week that Read, a lifetime resident of Windham County in southeastern Vermont, had stock holdings and property valued at $8 million at the time of his death, unbeknownst to friends and family, and left $6 million of it to his local library and hospital.
The same man who drove a used 2007 Toyota Yaris, scavenged for branches to use as firewood and chopped his own wood into his 90s, according to his stepson Phillip Brown, was also investing in stocks, and doing so quite well. However, not even Brown knew of the fortune Read had amassed.
''I was tremendously surprised,'' Brown told the AP. ''He was a hard worker, but I don't think anybody had an idea that he was a multimillionaire.''
"His winter coat was held together with a safety pin,'' Ellen Smith, the former hospital director of development told the Rutland Herald. According to those who knew him, Read was nearly always dressed in a worn, plaid flannel shirt.
Laurie Rowell, Read's longtime lawyer, recalled the last time she met with Read, when his health was declining.
"I insisted on walking him to his car after our meeting,'' Rowell told Boston.com. "But he didn't want me to bill him for the time and I wasn't going to charge him, even though I knew how wealthy he was.''
Rowell wondered why they were walking so long to get to his car, until she realized he had parked so as to avoid the street meters.
"He was quite the guy,'' said Rowell.
Read was born in 1921 and grew up in tiny town of Dummerston, Vermont, where he walked and hitchhiked into neighboring Brattleboro for high school. In 1940, he became the first person in his family to graduate from high school.
After serving in World War II, Read returned to Brattleboro in 1945 and worked at a local gas station for 25 years. It was at the gas station that Read met his wife, who died of cancer after ten years of marriage, according to the AP, leaving Read with two stepchildren.
He briefly retired, before returning to work as a janitor at JCPenny until 1997.
According to Smith, Read would have breakfast every morning at the hospital's former coffee shop, one of his few indulgences. His order: an English muffin with peanut butter.
"That coffee shop was filled with all the movers and shakers in Brattleboro: doctors and lawyers, and one very wealthy janitor,'' said Rowell.
After the coffee shop closed, he began going to Friendly's for breakfast, where another customer once covered his bill because they didn't think he could afford to.
Though he used Wells Fargo for a few hundred thousand dollars of his investments, Rowell said Read did nearly all his investing himself. Furthermore, most of his assets — almost the entirety of his wealth — were held in a safe deposit box as original stock certificates.
His portfolio was filled with dividend-producing American companies, including AT&T, Bank of America, Deere and Company (John Deere equipment) and General Mills, according to Rowell. No tech or apparel companies, she said. "He invested in what he knew.''
Over time, these investments grew "substantially.''
Brown called his stepfather a "wood fanatic.'' Read reportedly used his Yaris as a makeshift pickup truck for collecting firewood for his wood stove.
If there was any clue to Read's more lucrative hobby, however, it was his daily habit of reading the Wall Street Journal.
Read's $1.2 million gift to the Brooks Memorial Library was double its previous $600,000 endowment. Library Director Jerry Carbone told the Herald that Read was a library regular, though no one there really knew him.
"He would come home with a stack of books after having returned a stack of books,'' Brown said to the Herald.
"Mr. Read's bequest, by far the largest since that made by George J. Brooks in 1886, is a legacy that is far reaching,'' said Jerry Goldberg, the president of the library's board of trustees, in a writtern statement. "It will help to guarantee the future viability and sustainability of Brattleboro's public library, an institution much respected by Mr. Read.''
His $4.8 million bestowment was also the largest donation the Brattleboro Memorial Hospital had ever received.
"Mr. Read's generous gift will allow the hospital to continue to invest in necessary capital and infrastructure improvements,'' said Director of Development and Marketing Gina Patison.
Patison said that though the hospital received the gift a few weeks ago, it was still too early to tell what specific projects it would be used for, adding that it was a "wonderful story.''
Read was treated at Brooks Memorial Hospital during times of ailing health and Brown said his stepfather's experience there had an impact on him.
Smith told Read his donation would likely mean his name would go on a building, even though he didn't want the attention of going public with the plans while he was still alive.
"He was an amazing man,'' Smith told the Herald. "A quintessential Vermonter.''