Local
Low on Resources, Boston Turns to Prison Labor to Shovel Snow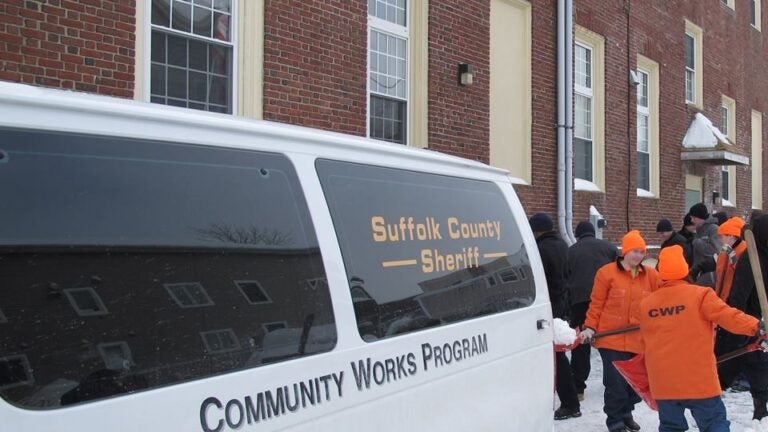 With Boston's budget for snow removal having long since dried up, the snow-filled city has enlisted anyone and everyone to help, including prisoners, police cadets, and union workers.
Suffolk County prisoners who are part of the Community Work Program (CWP) have labored outside of their regular confines during the past few weeks under the direction of the city's Inspectional Services Division (ISD). Under watchful eyes, teams of inmates in bright orange outfits have been deployed across Boston, Beacon Hill, Revere, and Roxbury to clear crosswalks, fire hydrants, and handicap ramps, the Suffolk County Sheriff's Office said.
William 'Buddy' Christopher, the commissioner of ISD, said the idea came after Mayor Marty Walsh's office asked all city departments to more efficiently use their resources. That discussion led Christopher and the Suffolk County Sheriff's Office to solidify a plan to get prisoners in the CWP to shovel snow in public spaces.
Although the decision to use prison labor was "all under the mayor's direction,'' Walsh did not specifically request this method for snow removal, Christopher said.
The prisoners' work has not gone unnoticed by the mayor's office. A note on the Suffolk County Sheriff's Department website reads:
"Creating opportunities for our inmates to give back to our community is an important component in successful re-entry,'' said Mayor Walsh. "I am thrilled that the City is able to partner with the Suffolk County Sheriff's Office to assist in snow removal in areas critical to the safety of our residents.''
The use of prison labor in the winter isn't new for the region. Middlesex County prison inmates were put to work in 2011 to remove snow from roofs and clear fire hydrants, WBZ reported at the time. Middlesex County Sheriff Peter Koutoujian told WBZ that the use of prison labor would save a quarter of a million dollars for the county that winter.
Many of the prisoners in the CWP agreed to perform community service as part of their sentences, Christopher said. He described it as "a win-win for everybody.''
[fragment number=0]
The work this winter is certainly not as glamorous a job as the one held by Mark Henderson, the convict who used a snow plow at a 1982 New England Patriots game to sweep a clear spot for a game-winning field goal. Henderson was on a work-release program from Massachusetts Correctional Institution at Norfolk at the time.
In an interview with the Boston Herald, Suffolk County Sheriff Steven Tompkins said that prisoners in the CWP enjoyed getting into the fresh air to perform the duties.
"If you were in a 6-by-9 [foot] room, wouldn't you want to get out of there at some point?'' Tompkins said. "No, very seriously, they are more than happy to get outside of the facility, to stretch their legs … [They] really do want to contribute. They want to give back.''
Prisoners from the Massachusetts Department of Corrections have also been enlisted by the MBTA to clear snow on the Red Line's Braintree line, MassLive reported Monday.
It's not just prisoners clearing snow. Crews of 36 Suffolk County police cadets currently in training to become officers have also been assigned to the streets to clear snow. In addition, the MBTA offered local union members the chance to earn $30 an hour shoveling snow, Universal Hub reported.