Local
Kicked Off Long Island, Homeless Turn to Boston Shelters for Help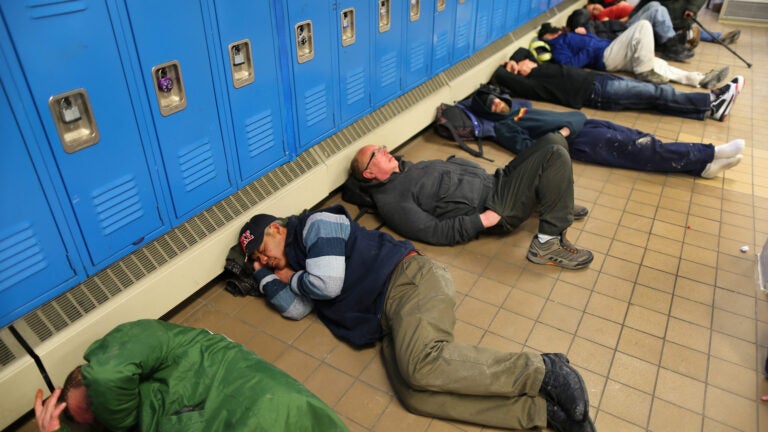 On Tuesday, Hadley Douglas, owner of the Urban Grape liquor store, sat in her car, listening to a WBUR story about the Boston Night Center reopening. The center has helped provide the city's homeless population with a way to escape the recent bitter cold.
Douglas wrote a Facebook post linking to the story. A friend commented with a link to an Amazon wish list that Boston Religious Leaders for Long Island Refugees created under the title of Boston Warm as a way to receive donations.
Boston Warm bills itself as a coalition of local clergy "who care deeply about the closing of the Long Island Shelter.'' That shelter was shuttered after a state inspection found the bridge connecting Long Island, in the middle of Boston Harbor, to the mainland was too dangerous for vehicles to cross. The island lacks a sufficient dock in the winter months, so people can only be ferried over when it gets warmer.
Douglas wrote a blog post on Urban Grape's website telling her customers how to support Boston Warm. She's started offering discounts on purchases to those who bring in donations through February 22. The wish list contains everyday items from toothpaste to packs of underwear, along with winter essentials like gloves and hats.
"It broke my heart to see the very basic things they're asking for,'' Douglas told Boston.com. "It's just about basic survival.''
Douglas only learned about the issue when her friend shared the link.
"I just didn't even think about it until [Tuesday], I didn't know how big the problem was,'' Douglas said. "I think people have forgotten that [the Long Island shelter residents] are now displaced and trying to live outside in this weather, and that shelters are overcrowded.''
Boston Warm runs day centers out of Old South and Emmanuel churches. The center at Old South Church first opened January 17 to help alleviate the added pressure on homeless facilities after the Long Island shelter closed, displacing about 700 people, according to The Boston Globe.
"It was sort of a perfect storm,'' Pine Street Inn spokeswoman Barbara Trevisan said. "But we don't turn people away in this weather.''
Temperatures all across the Northeast have been much lower than average, dipping 25 to 30 degrees below normal, according to Reuters. Boston recorded its coldest day in over a decade on February 16.
Pine Street Inn has been opening earlier in the day and adding staffers and volunteers, so homeless Bostonians can stay inside. But this isn't enough, according to June Cooper, Executive Director of City Mission Society, who helped start Boston Warm.
"We know that many of the people that come to the warm centers have never had that opportunity — to be somewhere warm and safe — for many years,'' said Cooper. "Many people have been sleeping [at other shelters like Pine Street Inn and Rosie's Place], but they have to get up and out real early, some folks have told me by 6 a.m..''
Boston Warm was initially slated to operate until March, but Cooper said they're having meetings about the need to keep the day shelters open for an additional month.
"We know that the resources that the city is putting in place will take longer than anticipated,'' Cooper said.
A city shelter on Southampton Street opened January 14 with 100 beds, McKenzie Ridings from the Boston Public Health Commission said. The multi-phase project, for those displaced from the Long Island shelter, is set to open at full capacity — with upwards of 400 beds — by early spring.
"We've had cold winters in the past, but not having the Long Island facility was something we weren't necessarily expecting,'' Ridings said. "But we have the partnerships in place to make sure services are there.''
Within Boston Warm, members have been brainstorming ways that they can help the homeless now. That's where the idea for the Amazon gift registry came from. Jordan Harris, the Minister of Service and Witness at Union United Methodist Church, set up the wish list.
"Boston Warm is focused on immediate need,'' Harris said.
The Amazon registry went live February 14, and by February 18, Boston Warm had received over 500 orders for donated items.
[fragment number=0]
"We all get told the same story: The [Long Island] shelter closed down, but the city is opening a new one,'' Harris said. "But when you sit down across from someone [who was displaced], they don't know what they're going to do today.''
Harris doesn't think people can wait until more beds are available a few months down the line.
"I don't think the city is thinking about this as a day-to-day issue,'' Harris said. "[The Southampton Street shelter] was an excuse to say, 'There's this place.' It's a way to make people think they have something.''
It is something that the city is working on on a daily basis, Ridings said, but it just takes a bit of time.
"We do understand what a critical need this is,'' Ridings said. "We are actively working to get the second phase [of the Southampton Street shelter] up and running as soon as possible.''
A December 2014 survey found that Boston has the highest population of residents living in emergency shelters out of 25 major cities surveyed nationwide.
Even with outreach programs, some homeless people don't want to go to a shelter, Cooper said. Boston Warm's outreach involves Cooper and others going up to people on the street and inviting them to the shelter, but she said it's a tricky relationship.
"Homeless people are very resilient, and a good skill to protect yourself is to have a little healthy distrust of systems and institutions,'' Cooper said.
Harris said that the next plan for Boston Warm will be to get recovery beds, a service that the Long Island shelter provided for those undergoing substance abuse treatment. Harris describes these individuals as a subgroup of increased vulnerability within the already-vulnerable homeless community.
Boston officials estimate there were about 265 recovery beds on Long Island. Currently 40 of those beds are available at the South End Fitness Center, through the temporary Transitions program. Ridings said that Mayor Walsh is an advocate for recovery and the city is working to add a Transitions program with beds in Mattapan.
Those involved with Boston Warm are worried about what funding they'll soon receive from the city, Cooper said. The City of Boston Community Development Block Grant is a subset of federal funding that is allocated to affordable housing and human services through proposals.
"We've really been holding our breath about this, because there was a huge portion of money directed to human services, homelessness, and prevention,'' Cooper said. "And we're not seeing them right now in the request for proposals.''
Cooper said she's optimistic about the response that Boston Warm has received from the public. She said that the city has rallied to raise awareness through social media with the hashtag #BostonWarm.
"You can't ever do enough of that,'' Cooper said about getting the word out for these resources. "Even in my own family, which is pretty aware and thoughtful and compassionate, when they hear about what's going on, it's new information.''