Local
Think You Can Do Better Than MBTA GM Beverly Scott? You Have to Keep the Job First.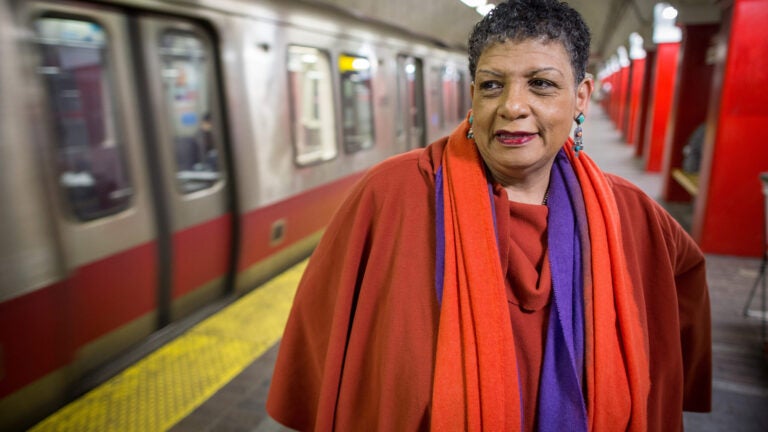 Since the job was created in 1980, there have been nine MBTA general managers — about one every four years. That's a lot of turnover for such a high-profile job that's appointed (rather than elected), and in which stability would seem to be of utmost importance. The reasons for so many changes vary from simple political headwinds, to frustration over insurmountable financial and cultural challenges, to new and better opportunities that arose, to that term that always gets thrown about in times of crisis: scapegoat.
Throwing a powerful figure under the bus (pardon the pun) is as ingrained in Massachusetts politics as any act, as outgoing GM Beverly Scott recently learned.
Scott resigned from the post on February 11 after just over two years on the job and a day after a press conference where her frustration with her position was both evident and understandable. She inherited a system with significantly outdated tracks, cars, and switches that was $8 billion in debt, which made it seemingly impossible for her to put any systemic improvements in place. When the entire thing imploded because it snowed (granted, it was a lot of snow), Gov. Charlie Baker, who recently cut $14 million from the MBTA's budget, wasted little time pointing a finger in her direction, calling the T's woes "simply not acceptable.''
Scott's sudden resignation, effective April 11 (several months before her contract ends), is hardly the first in the position's history, and it won't be the last.
But before we look at how her predecessors arrived and departed, a little general manager history is in order:
The position was created in a reorganization that became effective in late December 1980. Before that, the MBTA was led by a CEO/chairman/executive director/"super chief.'' (Robert Kiley, who was in charge from 1975 to 1979, was referred to with each of these titles in media coverage at the time.) Kiley was ordered by Gov. Edward King to leave the post about 90 minutes after King was sworn in. He was replaced by Robert Foster, who never got along with the MBTA board and whose leadership would soon become the focus of The Boston Globe's Pulitzer-winning report on the MBTA's myriad issues. Foster, whose application for the job included a college degree he hadn't actually earned, resigned in June 1980. He was replaced on an interim basis by Barry Locke, who was also the Secretary of Transportation.
And that's a good place to start.
[fragment number=0]
1981-1989: James O'Leary (7 years, 11 months; resigned)
O'Leary was the MBTA's first, longest-running, and arguably most successful general manager. Shortly into his run, he found several envelopes stuffed with money with Secretary of Transportation Barry Locke's initials on them. A few months later, Locke was suspended without pay after accusations surfaced that he was taking payoffs for MBTA contracts. Locke was convicted of conspiracy to commit bribery and larceny in 1982. O'Leary resigned in early 1989 after a largely successful tenure that saw ridership increases, new construction, and modernizing trains, subways cars, and buses.
1989-1991: Thomas Glynn (1 year, 11 months; resigned)
Glynn left a year before his contract expired for a job at Brown University. The announcement came a month after William Weld was sworn in as governor, and shortly after Weld's orders to force out appointees from the previous administration were disclosed. It also came about a month after a Green Line trolley drove into another trolley car, injuring 33 people. The driver, later fired, was found to have been intoxicated at the time of the accident. Though his impairment was reported to two dispatchers about a half-hour before the crash, they failed to act in time.
At the time of resignation, Glynn told the Globe: "There is no question that in the 20 years I've been in this business the last two years have been excruciating.''
1991-1995: John Haley, Jr. (3 years, 7 months; resigned)
Haley left to become deputy of the executive director of the New York and New Jersey Port Authority. The announcement came several months before his four-year contract was set to expire and two months after the Globe reported that the MBTA cleaning contractors were paying their employees below the contracted wage as well as denying them health benefits.
1995-1997: Patrick Moynihan (1 year, 11 months; promoted)
Moynihan was heavily criticized in 1997 after a searing report (which he himself had ordered) was released on widespread discrimination in the agency. "This is a big ship, and you don't turn it on a dime,'' Moynihan told the Globe. Nevertheless, the Globe opined in May 1997: "His two-year contract with the T is up in August. You can be sure he's got his life jacket on.'' Sure enough, Moynihan left in July—when he was appointed secretary of transportation.
1997-2001: Robert Prince, Jr. (4 years, 5 months; retired)
In the wake of that searing discrimination report, Prince became the first black GM in the MBTA's history. It didn't solve the problem. Soon into his tenure, he fired a female executive. Roberta Edwards claimed her dismissal came in retaliation after she encouraged employees who felt they had been discriminated against to sue the T. She then sued the MBTA, and in 2001 won the largest award against the authority in its history: $7.6 million (the case was later settled for $2 million). About a month later, Prince announced his retirement. He claimed his decision to leave had nothing to do with the lawsuit, though he did not have another job lined up at the time of his departure.
"I'm 52. I've worked here 25 years—most of my adult life,'' Prince said at the time. "Sometimes enough's enough.'' Those 25 years also made him eligible for a sizeable pension.
2002-2005: Michael Mulhern (3 years, 4 months; retired)
Like Prince, Mulhern was a longtime MBTA employee. And like Prince, he retired young—at age 46 with a maximum pension. Mulhern presided over the authority at a time of increasing budget problems, and shortly before his retirement, he laid off employees and had to dip into the MBTA's emergency fund to close a $10 million budget gap. Mulhern is still involved in the MBTA, as the executive director of the MBTA Retirement Fund.
2005-2009: Daniel Grabauskas (4 years, 3 months; resigned)
Grabauskas became GM under Gov. Mitt Romney, and was relatively popular. But then Deval Patrick took office, and made it pretty clear he didn't want Grabauskas around. Patrick claimed that Grabauskas's leadership created safety concerns and steadily mounting financial woes, leading to more layoffs, furloughs, and wage freezes. But Grabauskas refused to resign and had nine months left on his contract unless Patrick could make a case for him to be fired. He didn't have to. Grabauskas ultimately agreed to resign only after the MBTA board agreed to pay him $327,487—his remaining salary plus benefits. Patrick's spokesman told the Globe he was happy to see Grabauskas go, but was dismayed that he was paid to do so. Grabauskas is now the CEO of Honolulu's public transportation authority, which, considering the weather, seems like a win for him.
2010-2011: Richard Davey (1 year, 5 months; promoted)
After little more than a year in the job, Davey left to become the state's secretary of transportation, a position that, with the Big Dig fallout, came with its own history of leadership shakeups (Davey would be the fourth in the post in the last four years). Davey left the higher post in 2014 and is now the head of the Boston 2024 Olympic Committee.
2012-2015: Beverly Scott (2 years, 4 months; resigned)
Scott is out as of April 11 in a decision that appeared to be her own. Or perhaps she, an appointee from the previous administration, saw Gov. Baker's writing on the wall. One thing seems certain: Grabauskas better watch his back. If we were Scott, Hawaii is the first place we'd be looking for future employment.