Local
Daily Recaps of the Boston Marathon Bombing Trial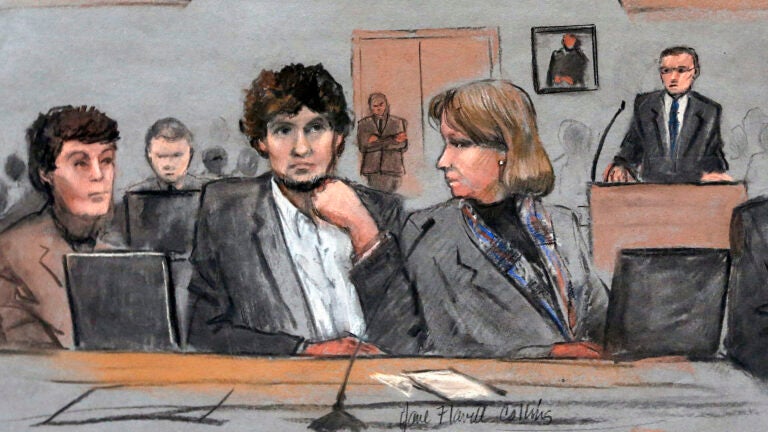 Dzhokhar Tsarnaev was found guilty in the 2013 Boston Marathon bombings. Tsarnaev carried out the deadly April 15, 2013 attack with his brother, Tamerlan Tsarnaev, who was killed during a shootout with police four days after the bombing. Dzhokhar Tsarnaev was found guilty on all 30 charges — 17 of which carry the possibility of the death penalty. The penalty phase now continues at the John Joseph Moakley Courthouse in South Boston.
May 11: Nun: Tsarnaev told her 'no one deserves to suffer' like victims
Dzhokhar Tsarnaev's defense team rested its case in the penalty phase of his trial on Monday morning. The government then launched a brief rebuttal case before resting as well.
Closing arguments are set for Wednesday. Then, the jury will decide Tsarnaev's fate.
Sister Helen Prejean, a Roman Catholic nun and death penalty opponent, testified as the last defense witness. She said that she has met with Tsarnaev five times to "help him come to grips and take responsibility'' for his crimes.
In talking with Tsarnaev about the victims of the marathon bombings, Prejean said, "He said it emphatically: He said no one deserves to suffer like they did.''
The government only called two witnesses during its rebuttal.
Michelle Nicolet, a unit chief on the FBI's Joint Terrorism Task Force, said that the "special administrative measures'' (SAMs) restricting Tsarnaev's activities while incarcerated could be modified over time to become more or less harsh.
John Oliver, the warden of ADX (the supermax facility that would house Tsarnaev if he avoids the death penalty), said inmates there can have visitors, send and receive letters, exercise, hold jobs, earn college degrees, and even write books if they choose.
Further freedoms, or even a transfer to a different facility, are possible if SAMs are lifted by authorities. On cross, the defense worked to show that it is highly unlikely that that could ever happen, and that Tsarnaev would almost always be isolated at ADX.
– Hannah Sparks, Boston.com Staff
May 7: Prosecutors: Prison Life Not as Bleak as Defense Says
In its cross-examination of Mark Bezy, a former prison warden, the government attempted to show that Dzhokhar Tsarnaev's life at ADX, the Colorado supermax facility, would not be as bleak as Bezy previously testified. With an aggressive line of questioning, prosecutors also tried to discredit Bezy, bringing up that 90 percent of his income comes from testifying in death-penalty cases.
Under cross-examination, Bezy confirmed that if sentenced to life in prison, Tsarnaev would be able to write and receive an unlimited amount of letters to people on his approved list and his unlimited legal letters would not be read by prison staff.
The prosecution raised questions about the picture of the supermax prison previously painted by the defense as a miserable place where no one would hear from Tsarnaev again, bringing up that prisoners find ways to talk to each other. There is also no way, Bezy confirmed, to prevent a person on the prisoner's contact list from posting a prisoner's letters or communicated information on the Internet. But Bezy said if that should occur, that contact would be be banned from visiting or removed from the contact list.
The defense is nearing the end of its argument for why Tsarnaev should receive life in prison, and not the death penalty, for his role in the Boston Marathon bombing. Court finished early on Thursday and will resume on Monday.
– Dialynn Dwyer, Boston.com Staff
May 6: Former Warden: Prison Would Be Bleak for Tsarnaev
Mark Bezy, a former prison warden, described the "special administrative measures'' (or SAMs) that Dzhokhar Tsarnaev has been held under since his capture as "a mechanism to cut off an inmates communication with the outside world.''
Bezy, who took the stand for the defense Wednesday, said the "most appropriate'' place for inmates under SAMs is ADX, the Colorado supermax facility Tsarnaev will be sent to if he is not sentenced to death. He explained in painstaking detail just how bleak and devoid of human contact Tsarnaev's life would be there.
The prosecution presented a testy cross-examination of Bezy, questioning his familiarity with ADX, where he admitted he has never worked.
Deputy U.S. Marshal Kevin Roche, who was part of the detail watching Tsarnaev after his capture, testified that Tsarnaev apologized to him for acting out and flipping off the camera in his federal holding cell in July 2013.
Earlier in the day, Dzhokhar's ex-brother-in-law said that he always followed his older brother's lead. Elmirza Khozhugov, who was married to Dzhokhar's sister Ailina for two years, testified from Kazakhstan via video feed.
Of Dzhokhar and older brother Tamerlan's relationship, Khozhugov said that, in Chechen culture, the younger brother is obligated to do what his older brother tells him. He related the Chechen saying, "Better to be a dog than a younger brother,'' to the court.
Despite that dynamic, he said there was a lot of love between the brothers.
"Tamerlan couldn't find enough words to express his love to his younger brother,'' Khozhugov said.
As for Dzhokhar, Khozhugov said, "He listened to Tamerlan. He went along anytime Tamerlan said lets do this or that, he would just go along.''
Khozhugov said that he was close with Tamerlan, describing him as "an interesting young man … charismatic, friendly, goofy sometimes. Overall fun to be around.''
He said Tamerlan was the one to bail him out of jail and counsel him on his temper after he was arrested for hitting Ailina, with whom he has a young son. Still, the couple eventually split.
Khozhugov said Tamerlan was influenced by a man named "Misha'' who preached about Islam, encouraging him to stop boxing because it was inconsistent with the religion. Khozhugov said he did not really like the nature of those conversations, which also contained conspiracy theories.
Dzhokhar was close to Khozhugov's son, Ziyaudy, he said. Still, the Tsarnaev brothers set off bombs at the Boston Marathon on Ziyaudy's birthday, Khozhugov said.
On cross-examination, the government zeroed in on some inconsistencies between what Khozhugov said today, and what he told the FBI in 2013.
– Hannah Sparks, Boston.com Staff
May 5: Defense Focuses on Tsarnaev Father's Mental Health
Defense attorneys for Boston Marathon bomber Dzhokhar Tsarnaev continued to detail the dynamics of his family Tuesday, including his father's medical history.
Dr. Alexander Niss, who diagnosed the family's patriarch, Anzor Tsarnaev, with PTSD, took the stand for the defense. He said Anzor was tortured in a camp during the Russian-Chechen war and thought the former KGB was following him.
"He had typical signs and symptoms of PTSD. A lot of anxiety, panic attacks. Flashbacks. He had nightmares,'' Niss testified.
According to Niss, Anzor also had neurocognitive issues and auditory hallucinations. Niss said he prescribed different combinations of drugs to treat Anzor's symptoms, but after three months of improvement, his symptoms worsened. Niss then expanded his diagnoses to include agoraphobia and encephalopathy (brain disease), which he said was likely from a childhood head injury and from boxing.
Michael Reynolds, who is an associate professor of Near East Studies at Princeton University, gave the jury background on Chechen history and culture. He said the family structure is very important and very patriarchal. He testified that if the father can't be responsible, the older brother, a position of honor and responsibility, becomes the new authority in the family.
"The younger brother owes his deference to the older brother,'' he said.
The defense's continuing focus on older brother Tamerlan was present in testimony earlier in the day.
Amanda Ransom, a former roommate of Tamerlan's widow Katherine Russell, said Tamerlan emotionally abused Russell. She testified Tamerlan once joked to Russell that he had AIDS after they had sex.
Henry Alvarez, who was on the wrestling team with Dzhokhar at Cambridge Rindge and Latin, said Dzhokhar spoke of his brother's boxing with pride. Both Alvarez and Roy Howard, the wrestling coach, said Dzhokhar came to help with wrestling practices after he graduated. Howard said he never saw Tsarnaev's parents at any of his wrestling matches.
Another former high school classmate of Dzhokhar's testified that though she knew he was a Muslim, he never talked about politics or religion. She said the one time she met Tamerlan, she was intimidated.
– Dialynn Dwyer, Boston.com Staff
May 4: Tsarnaev Cousin: 'I Categorically Reject What He Did'
Smiling at her cousin Dzhokhar Tsarnaev throughout her testimony, Raisat Suleimanov said through a translator, "I don't think there is anybody in our family who didn't like him — who didn't love him.''
Recalling him as a "sunny child,'' she said the last time she saw Dzhokhar was just before his family moved to the United States. Of the Boston Marathon bombing, which she called "a great tragedy,'' Raisat said, "I categorically reject what he did.''
Raisat was the first of several women of the Suleimanov family from Russia to testify in the penalty phase of the Tsarnaev trial Monday after one juror's illness put proceedings on hold Thursday.
The Tsarnaev family lived "like gypsies,'' Raisat said, often moving and forcing their children to switch schools. Prior to their move to the United States, Dzhokhar's parents were "kind of removed'' from Islam, she said.
So when she saw Zubeidat, Dzhokhar's once stylish and outspoken mother, in a hijab in 2010, she said, "I was in shock.'' Her sister, Naida, and mother, Shakhurzat (who is Zubeidat's older sister), also felt alarmed by the change.
"I'm a little scared of people who are completely covered. Many become extremist Islamists,'' Naida testified.
Shakhruzat was very close with Zubeidat and said the extended family cried when the Tsarnaev family left for the United States. "It was so far,'' she said. "We didn't want our little sister to be so far. She was like a daughter to me. I raised her.''
There was also a lot of affection for Dzhokhar, whom his aunts and cousins described as a cute, happy, but shy child. Shakhruzat said that he and his brother Tamerlan "wouldn't hurt a fly.''
Naida said Dzhokhar loved Tamerlan "very much'' and often followed his lead. "The custom in our family is you would always listen to your older sibling and follow his example,'' she said.
Both Naida and Shakhruzat said they saw Tamerlan for the last time during his 2012 trip to Russia and were disturbed by his suddenly radical religious beliefs.
Nabisat, Shakhruzat's eldest daughter, was often sent to watch the Tsarnaev children for months at a time. She said that there was some conflict between Zubeidat and the family of her husband, Anzor, because they did not come from the same ethnic group.
Growing emotional, Nabisat said of Dzhokhar, "he was an unusual child. He was a wunderkind.''
Nabisat was not the only one to become emotional during her testimony. Patimat Suleimanov, Dzhokhar's aunt, briefly took the stand but had to be excused when her uncontrollable sobbing made testimony impossible. Her anguish drew reaction from Dzhokhar, who was seen wiping his eyes, showing emotion for the first time in his trial.
– Hannah Sparks, Boston.com Staff
April 30: Tsarnaev Trial Suspended Until Monday
Judge George O'Toole announced that due to a juror's "temporary illness,'' court is in recess until Monday morning.
Relatives of the Tsarnaev family were expected to testify Thursday for the defense in the trial of convicted Boston Marathon bomber Dzhokhar Tsarnaev.
With the witnesses it has called so far, the defense has focused on the character of the older Tsarnaev brother, Tamerlan. The defense's argument has been that while Dzhokhar Tsarnaev undeniably participated in the 2013 bombing, he was following his older brother, who was the ring leader.
Paralegal Sonya Petri read two excerpts of government reports on Wednesday that revealed both the FBI and the CIA received tips about Tamerlan Tsarnaev and his mother. Petri also read from a summary of an FBI interview with Magomed Kartashov, a cousin of the Tsarnaevs, who said after he heard about the bombings, he thought it could have been Tamerlan.
The jury also heard testimony on Wednesday from ambulance drivers who contrasted the behavior of the brothers. Jurors also heard from a string of character witnesses for Dzhokhar that included former friends and teachers.
April 29: After Bombings, Tsarnaev Relative Thought 'It Could Have Been Tamerlan'
Paralegal Sonya Petri read excerpts from two government reports Wednesday, which revealed that the United States was warned several times about Tamerlan Tsarnaev by Russian authorities, who were concerned he could radicalize. Petri also testified for Dzhokhar Tsarnaev's defense team on Tuesday.
According to her testimony, in response to a 2011 tip, the FBI investigated Tamerlan and his mother, but closed the case in June of that year, having not found evidence of terrorist activity by either. The CIA received a similar tip in September 2011, prompting authorities to add Tamerlan to the terror watchlist. Still, his trip to Russia mere months later "did not prompt additional steps,'' according to Petri's testimony.
Petri also read from a summary of an FBI interview with Magomed Kartashov, a cousin of the Tsarnaevs. When he heard about the bombings, Kartashov told the FBI, he "had a thought'' that "it could have been Tamerlan,'' Petri testified.
The backbone of the defense strategy is that, while Dzhokhar undeniably participated in the 2013 attacks and ensuing acts of violence that killed four and injured hundreds, his radical older brother, the ringleader, manipulated him into it.
Two paramedics who treated the Tsarnaev brothers after their separate captures took the stand Wednesday afternoon, followed by a string of character witnesses who recalled fond memories of Dzhokhar.
Several of his teachers characterized Dzhokhar as a once-promising student and athlete, and they smiled warmly at him in court.
Tiarrah Dottin was a friend of his sister Ailina and attended both Cambridge Rindge and Latin School and UMass Dartmouth at the same time as Dzhokhar. She said that she, Dzhokhar, and several peers from Cambridge who also went to UMD would regularly gather for "bro nights.'' She described Dzhokhar as "loyal, fun, laid back.''
Under cross-examination, she said that he was not a follower, and was also private, keeping his faith a secret.
Alex Guevara, who also attended both schools, detailed her friendship with Dzhokhar through tears. When asked why she was crying, Guevara said, "Because I really miss the person that I knew.''
In March 2013, a month or so before the bombings, Guevara said that she, Dzhokhar, and other friends met to eat, shop, and set off fireworks near the Charles River. The last time Guevara said she saw Dzhokar was about two weeks before the bombings; she said she didn't notice anything different or amiss.
Court will begin tomorrow with the cross of Guevara.
– Hannah Sparks, Boston.com Staff
April 28: Tsarnaev Followed Brother 'Like a Puppy,' Defense Witness Says
Attorneys for convicted Boston Marathon bomber Dzhokhar Tsarnaev continued to focus on his older brother Tamerlan's character with witness after witness on Tuesday, as well as the brothers' relationship with each other.
"He was like a puppy following his brother,'' said John Curran, Tamerlan's ex-boxing coach, of the two times he met a 9- or 10-year-old Dzhokhar.
Curran described Tamerlan as "kind of charming'' when he first met him, and he said Tamerlan was eager to participate. But he did not follow instructions, Curran said.
"He was reluctant to change the style,'' he said. "It was the style he learned in Russia.''
Curran said in 2009 Tamerlan made it to the national Golden Gloves competition but was sick with the flu and didn't get far. The next year he again won the regional finals, but USA Boxing did not allow foreigners to participate in the national championship during Olympic years. After that, Curran said he no longer trained Tamerlan and only saw him a few more times.
Brandon Douglas, the owner of Wai Kru gym, said Tamerlan thought the rule change was an intentional slight, directed at him personally. Douglas said he saw a change in Tamerlan in the way he dressed and and said their was an insanity to his political discussions.
Tamerlan was high and drunk most of the time, according to Rogerio Franca, who was the first witness of the day for the defense. Franca, originally from Brazil, lived in Allston and became friendly with a group of Russians. He later met Tamerlan, and when he moved to Cambridge with one of the Russians, he said Tamerlan came over several times a week to smoke marijuana in the apartment.
Sam Lipson, whose mother was the Tsarnaev family's landlord, was the last witness called to the stand on Tuesday. Lipson said there were six people who lived in the three-bedroom Cambridge apartment. He described the brothers' father, Anzor Tsarnaev, as a strong, warm guy and their mother, Zubeidat, as lively and excitable. But he said that in later years, Anzor seemed to change, losing weight, and seeming unhappy in general.
"He appeared to be in pain,'' he said, adding that Anzor told him he was sick.
He said that Zubeidat too went through a change, wearing simpler, darker-colored clothes, and it became clear she had anxiety. Both Zubeidat and Anzor seemed to lose the sense of optimism they had early on, he said.
He described an 8-year-old Dzhokhar as a shy, but "very sweet'' kid. Alternatively, Lipson described 15-year-old Tamerlan as gregarious and charismatic. But, he said, Tamerlan grew a full beard in the last few years and became more reserved and distant.
He said he last saw Dzhokhar in 2012, the same year that Anzor and Zubeidat moved back to Dagestan. Once they moved, he said Tamerlan and his wife moved into the apartment with their daughter. Though he almost never saw him, Lipson said when he did, Tamerlan acted as if he didn't know him. Lipson's testimony will resume Wednesday.
During testimony by digital forensic consultant Mark Spencer, who also testified during the first phase of the trial for the defense, the jury was shown photo after photo found on Tamerlan's laptop that showed graphic images of death and destruction in the Middle East, interspersed with photos of children reading the Arabic script.
The defense also continued to examine the relationship between Tamerlan and his widow, Katherine Russell. According to Spencer, days before Tamerlan went to Russia, Russell searched online for: "If your husband becomes a shahid what are the rewards for you'' and "rewards for a wife of a mujahideen.''
– Dialynn Dwyer, Boston.com Staff
April 27: Tamerlan Had YouTube Playlist Titled 'Terrorists'
Referring to Boston Marathon bomber Dzhokhar Tsarnaev as "Tamerlan's younger brother'' and "the 19-year-old younger brother,'' the defense tried to paint a picture of a lost teenager under the sway of his domineering older brother, who witnesses said could be manipulative and violent.
Judith Russell — the mother of Tamerlan's widow, Katherine — and Katherine's best friend, Gina Crawford, took the stand Monday afternoon, each describing Tamerlan's offputting demeanor and the changes Katherine went through during her relationship with him.
She became more religious, serious, and isolated, they said, speaking to a theme that carried throughout the day: Tamerlan's radical religious views, which were also on display when Gerald Grant Jr., a computer forensics analyst, showed the court a selection of emails the brothers exchanged.
In one, Tamerlan said, "I am educating myself more and more about Islam.'' Grant later told the court that Tamerlan had also watched radical Islamist videos on Youtube and had a playlist on the site titled "Terrorists.''
The day's other witnesses testified mostly to Tamerlan's bad temper and often violent behavior.
Abderrazak Razak, who works at the Middle Eastern food shop where Tamerlan bought cookies after the bombing, said Tamerlan was angry that the store was selling turkey near Thanksgiving.
Loay Assaf, a visiting imam preaching at the Cambridge mosque Tamerlan attended, testified to two incidents in which Tamerlan became angry and started shouting in the mosque, one time disrupting services.
Ten years ago, Robert Ponte taught Tamerlan in a jazz ensemble elective at Cambridge Rindge and Latin School. He said that he gave the not-quite-good enough Tamerlan a spot in the band as a piano player but had to remove him when he couldn't keep up. When Tamerlan learned that he had been kicked out, he stared Ponte down, making him feel "uncomfortable,'' he testified.
Prosecutor Nadine Pellegrini slammed Ponte's testimony on cross-examination, asking "So he wanted to be in the class but he couldn't play the piano very well?''
When Ponte confirmed, she said, "I have nothing further.''
During opening statements, defense attorney David Bruck said it is up to the jury to distinguish "who drove the plot, and who just followed.''
Regardless of how jurors decide to punish Tsarnaev, he "will be severely punished either way,'' Bruck said, emphasizing just how miserable his life would be in prison.
– Hannah Sparks, Boston.com Staff
April 23: Prosecution Rests Its Case in Penalty Phase
The prosecution rested its case Thursday afternoon in the penalty phase of the Boston Marathon bombing trial of Dzhokhar Tsarnaev. The defense will begin its case on Monday.
Earlier in the day, the jury heard from Dr. David King, a trauma surgeon at Massachusetts General Hospital. King, a combat surgeon who treated patients in Iraq, Afghanistan, and Haiti, said he knew immediately what "the wounding mechanism was'' when he arrived in the emergency department and saw the injuries coming in from Boylston Street.
King reviewed the autopsy for the youngest bombing victim, Martin Richard. He testified that the 8-year-old boy died from blood loss and that he did not die instantaneously. His injuries would have caused him both somatic and visceral pain, according to King.
King also gave technical testimony on treating the injuries of bombing victims, focusing on the impact of blood loss on a patient, the process of trying to save a patient's limb, and the pain associated with the injuries.
The jury continued to hear heart-wrenching testimony from bombing survivors as well. Steve Woolfenden, Marc Fucarile, and Heather Abbott spoke about their experiences the day of the explosions and described the injuries they received. The jury was saw Fucarile's X-rays, which showed BB's and shrapnel still embedded in his body. They were also shown a series of photos of the survivors who lost limbs as a result of the 2013 attack during the testimony of Heather Abbott.
FBI Photographer Michelle Gamble, who previously testified during the guilt phase of the trial, re-created a full-size photographic model of a grate the Richard family was next to before the explosion. Based on the model, Gamble said Martin Richard was standing about three-and-a-half feet from the bomb.
The jury was also shown a new video that had audio of the explosion outside Forum Restaurant.
During the first two days of testimony, jurors heard the heart-wrenching accounts of survivors and from family members of those who were killed. Family members of murdered MIT Police Officer Sean Collier and bombing victim Lingzi Lu took the stand on Wednesday.
– Dialynn Dwyer, Boston.com Staff
April 22: 'It Just Felt Like She Was a Part of Boston,' Lingzi Lu's Aunt Recalls
Describing her niece Lingzi Lu as "a bubbly, innocent girl,'' Jinyan Zhao told jurors that it was difficult for Lingzi's parents to let their only child move to the United States to attend Boston University, but that they were happy for her. Her death in the 2013 Boston Marathon bombing was so devastating that they were unable to come to court for the trial, said Zhao, the last witness to testify Wednesday.
Lingzi loved her adopted city, Zhao said, and was looking forward to seeing what it would look like in the spring. She is buried here, in a pink bridal gown and a tiara, her casket containing a music box and her favorite books. She had lived in Boston for less than a year.
"How she died and why she died, it just felt like she was part of Boston, part of the city,'' Zhao testified.
Earlier in the afternoon, Deputy U.S. Marshal Gary Oliveira told jurors that he was monitoring video cameras showing the inside of Dzhokhar Tsarnaev's cell before his arraignment at Moakley Courthouse on July 10, 2013. A video from that day shows Tsarnaev flipping off a security camera in his cell.
Before Oliveria took the stand, jurors heard heartwreching testimony from Adrienne Haslet-Davis, who lost a leg in the bombing. After she heard the first explosion, Davis said she knew it was a terrorist attack and braced for impact from the second blast she believed was coming. It came, and knocked her to the ground.
"I thought that because I couldn't hear myself scream that I was dead,'' she said through tears.
During the chaos, she said she was briefly separated from her husband, Adam, who was also severely injured. When they were reunited at Forum Restaurant, Davis said she thought both of them were going to die. She called her parents, telling them, "This might be it for me.''
Adam survived but was not in court today, Davis said, because he admitted himself to a mental health facility at a VA hospital.
Her testimony followed that of Eric Whalley, who said that he and his wife, Ann, were near Forum Restaurant when he heard an "almighty boom and the smell of fireworks.'' They too were separated following the blasts, and thought the worst.
"She thought I was dead and I thought she was dead,'' Whalley told the court, choking up.
To begin the day, MIT Police Officer Sean Collier's brother, Andrew Collier, and stepfather, Joe Rogers, took the stand.
– Hannah Sparks, Boston.com Staff
April 21: Jury Shown Childhood Photos of Bombing Victim Krystle Campbell
The jury was shown family photos of bombing victim Krystle Campbell with her older brother William Campbell III, who was called as a witness for the prosecution on Tuesday during the first day of the penalty phase of the trial of Dzhokhar Tsarnaev. Some jurors were brought to tears when William Campbell Jr., Campbell's father, testified about the day his daughter died and told stories about the photos shown to the court.
Earlier, the jury heard gruesome testimony from survivors of the Boston Marathon bombing. Survivor Celeste Corcoran was the first government witness called, and she was followed by Gillian Reny, who was 18 when she was injured at the bombing. Survivor Nicole Gross, who was standing outside Marathon Sports with her husband and sister when the first blast went off, also testified. Corcoran, Reny, and Gross each recounted their experience the day of the bombing and the injuries they received. The jury was shown graphic photos and video of the bombing aftermath.
"Why is the death penalty the appropriate and just sentence? Because Dzhokhar Tsarnaev planned and plotted to kill,'' said prosecutor Nadine Pellegrini during her opening statement. Pellegrini showed the jury photos of the victims of the 2013 bombing and named survivors of the attack.
The government also showed a previously unseen photo of Tsarnaev flipping off a camera in a holding room of the Moakley Courthouse.
The defense for Dzhokhar Tsarnaev will delay making their opening statement for the penalty phase of the trial until next week, when they begin their case.
The death penalty phase of the trial of Boston Marathon Bomber Dzhokhar Tsarnaev began just a day after the 2015 Boston Marathon. The same jury that determined Tsarnaev is guilty of all 30 charges he was accused of will now decide whether he will be sentenced to death or spend the rest of his life in prison.
Over the past week, bombing survivors, including the parents of bombing victim Martin Richard, have weighed-in on the debate over whether Tsarnaev should spend the rest of his life in prison or receive the death penalty.
– Dialynn Dwyer, Boston.com Staff
April 8: Verdict Delivered
After about 11 hours of debate, the jury in the Boston Marathon bombing trial returned with a verdict just after 2 p.m. Wednesday, finding Dzhokhar Tsarnaev guilty of the Boston Marathon bombings that took place almost exactly 2 years ago.
Dzhokhar Tsarnaev faced 30 charges in the trial, 17 of which can carry the death penalty.
Because Tsarnaev has been found guilty on those death-eligible charges, the trial will now move to a death penalty phase, where lawyers will argue whether Tsarnaev should be sentenced to die or live out his life in prison.
Earlier today, former Boston Police Commissioner Ed Davis had told Boston Herald Radio that, while he expected the jury to hand down a guilty verdict, "it's going to be a long, drawn-out process, I think.''
While Davis is "not a big proponent of the death penalty,'' he said "in this particular case I think that it should be considered.''
Also on Wednesday, Judge George O'Toole addressed two questions jurors submitted Tuesday afternoon.
Closing arguments for the prosecution and defense were delivered on Monday.
– Hannah Sparks, Boston.com Staff
April 6: Closing Arguments Delivered
Prosecutor Aloke Chakravarty delivered the government's nearly 90-minute closing argument in the trial of Dzhokhar Tsarnaev late Monday morning. The silent courtroom viewed graphic video footage and photos of the chaotic moments after the explosions, which showed the carnage and horror Tsarnaev and his brother — who prosecutors said were "a team'' — wrought.
Chakravarty told jurors:
"There was nothing about this day that was a twist of fate. This was a cold, calculated terrorist attack. It was intentional. It was bloodthirsty. Now is the time to hold him accountable, to find him responsible for each of the charges in the indictment. We ask you to do that now.''
"They chose a day when the eyes of America were on Boston,'' Chakravarty said, emphasizing Tsarnaev's radicalized desire to terrorize and punish America for the wrongs he believed it had committed.
Contesting the government's assertion that the Tsarnaev brothers were equal partners in the bombings and events in the days after, defense lawyer Judy Clarke said Dzhokhar followed Tamerlan's lead — "the brother that he loved and the brother that he followed.''
"If not for Tamerlan it would not have happened,'' she said during her closing argument, asking jurors to consider in their deliberations the roles that each brother played.
"We are not asking you to go easy on Dzhokhar,'' Clarke said, saying that his inexcusable actions "deserve to be condemned.''
During the government's rebuttal argument, prosecutor William Weinreb said that both of the brothers are guilty of the murder of Sean Collier, regardless of who pulled the trigger. He said Tsarnaev's actions during the firefight and in the hours before his capture show that he was independent and committed — not just a passive follower.
He said Tsarnaev revealed his true self in the note he wrote on the side of the boat in which he hid. Of the defense's strategy to defer blame to Tamerlan, Weinreb said, "That's not a defense.''
Now that closing arguments are complete and Judge George O'Toole has finished jury instruction, the jury will deliberate, starting at 9 a.m. Tuesday, and come back with a verdict on all 30 charges.
Tsarnaev faces 30 charges, 17 of which carry the death penalty. If he is found guilty of one of those 17 charges, the trial will move to a second phase in which lawyers will again argue, not about Tsarnaev's guilt, but whether he is sentenced to death or life in prison without parole.
It is anticipated that the trial will reach that second phase, and that the bulk of the defense team's strategy will be employed then.
The defense rested its case on Tuesday, after calling only four witnesses over two days. The government rested its case last Monday, after calling 92 witnesses to the stand over 15 days.
– Hannah Sparks, Boston.com Staff
March 31: Defense Rests Its Case
The defense attorneys for Dzhokhar Tsarnaev rested their case on Tuesday after calling four witnesses in two days during the Boston Marathon bombing trial. Sidebars and recesses delayed proceedings after the defense asked to be allowed to introduce a series of photos. The prosecution rested its case on Monday after calling 92 witnesses over 15 days.
Earlier Tuesday, the defense called Elena Graff, a fingerprint examiner for the FBI, to the stand. Graff testified which of the brothers fingerprints were on bomb-making materials discovered. She said Tamerlan Tsarnaev's fingerprints, and not Dzhokhar's, were found on the transmitter recovered at the scene in Watertown. Prints from both the brothers were found on the tupperware bomb, but only Tamerlan's were on the lid of the pressure cooker, she said.
The first witness called for the defense on Tuesday was Mark Spencer, the president of Arsenal Consulting, a digital forensics company. Spencer said his company examined multiple devices for the case, including the laptops and cell phones prosecutors say were used by Tsarnaev.
Spencer testified that the search history on Tamerlan Tsarnaev's computer included "Ruger p95,'' "radio transmitter,'' and "detonator,'' but he said the search history on the laptop belonging to Dzhokhar Tsarnaev did not show any of those search terms. He also testified that there were no searches on Dzhokhar's computer for the "Boston Marathon'' prior to the bombings and that his most visited sites included Facebook, VK.com (a Russian social media site), YouTube, and Google.
In his testimony, Spencer linked the external hard drive found in Watertown after the shootout to Tamerlan Tsarnaev's laptop, and he said all the files, including MP3s of Anwar Awlaki speeches, the radical jihadi leader who founded the al-Qaida magazine Inspire, and bomb-making instructions from the magazine, were all created on Tamerlan's computer.
During Spencer's testimony, the defense tried to show that Tamerlan transferred the radical files on his brother's computer before he went to Russia.
The prosecution pointed out that terms in Dzhokhar's search history included "the call of jihad,'' searched the weekend before the bombings during cross-examination. Under questioning by the prosecution, Spencer showed that the hard drive transferred files between the brothers' computers.
The defense team resumed its case on Tuesday. Two witnesses for the defense were called on Monday afternoon, after the prosecution rested its case around noon Monday. Tsarnaev's defense team has already filed a motion for acquittal, a standard practice in many criminal defense proceedings.
– Dialynn Dwyer, Boston.com Staff
March 30: Defense Begins Case, Calls 2 Witnesses
Having called 92 witnesses over 15 days, the prosecution rested its case just after noon Monday.
The defense then began its case, re-calling FBI field photographer Michelle Gamble to the stand as its first witness. Gamble had testified for the prosecution Monday morning, focusing on photos taken on Boylston Street pre-blast, one of them showing a smiling Richard family. While testifying for the defense, however, she was questioned about her role searching other areas, such as the Tsarnaev family home in Cambridge and Tsarnaev's UMass Dartmouth dorm room.
Tsarnaev's defense team also filed a motion to acquit him on all counts, arguing that "the government failed to introduce evidence sufficient to establish each essential element of the offenses charged beyond a reasonable doubt.''
Motions for acquittal are standard practice in many criminal defense proceedings.
Matching up GPS and cell phone data, Gerry Grant — a computer forensics investigator with the New York federal public defender's office and the defense's second witness — presented evidence indicating that that Tsarnaev was not present when the pressure cookers and BBs used for the bombs were purchased.
On cross examination, however, prosecutor Aloke Chakravarty got Grant to admit that his training is for T-Mobile, not AT&T, the carrier Tsarnaev used. AT&T data does not reliably show where a phone is, Chakravarty said, also noting that Tsarnaev had a four-minute phone call with his brother the night the pressure cookers were bought. On redirect, Grant said that anyone could have come up with the GPS locations, and that no specialized training was necessary.
Earlier in the day, prosecutors concluded their case with the testimony of Massachusetts Chief Medical Examiner Dr. Henry Nields, who performed the autopsy of bombing victim Martin Richard. After showing jurors the clothes Richard was wearing at the time of the blasts and describing Richard's injuries in graphic detail, Nields showed the jury photographs from his autopsy.
Several jurors wept as they viewed the gruesome images. Nields said the cause of Martin's death was "blast injuries of torso and extremities,'' and ruled the manner of death homicide.
Richard, 8, was just 53 inches tall and weighed 69 pounds at the time of his death, Nields said.
Prior to Nields' testimony, Dr. Katherine Lindstrom, who conducted Lingzi Lu's autopsy, told the court that Lu died from "blast injuries of the lower extremities.'' Jurors saw photos from that autopsy as well.
– Hannah Sparks, Boston.com Staff
March 26: Jurors Brought to Tears by Autopsy Photos
Dr. Jennifer Hammers, the medical examiner who did the autopsy for bombing victim Krystle Campbell, was called to the stand late Thursday afternoon in the Boston Marathon bombing trial. Hammers testified that Campbell died from blast injuries to her torso and lower extremities. She detailed the injuries Campbell received, but the photos of her autopsy were only shown to the witness and jury. Members of the jury were brought to tears and visibly reacted the photos, according to media in the courtroom.
Earlier in the day FBI Supervisory Special Agent Edward Knapp, a bomb technician, testified that he examined five bombs—two pipe bombs and three pressure cooker bombs—and a three-pound container of explosive material, which were found on Boylston Street and in Watertown.
He led the forensics unit that investigated the explosives after the bombing, and he said the evidence that came into the lab from the bomb sites and from the state Medical Examiner's Office allowed him to re-create the devices used. Knapp made mockups of the devices used at Boylston Street and in Watertown, which were shown to the jury. Knapp demonstrated how each of the three pressure cooker bombs worked, and all the replicas were passed around by the jury.
With Knapp, the prosecution went through the steps laid out in the al-Qaida magazine Inspire for how to produce an elbow pipe bomb, like the one recovered in Watertown. Knapp said magazine's instructions were consistent with what he found on Boylston Street and Laurel Street.
David McCollam, a chemist and explosives team member for the FBI, was the first witness called for the prosecution. McCollam testified that he and his team could not tell where the bombs were assembled. He said the bombing explosives were consistent with "firework'' or "pyrotechnic'' type material and explosive residue was found in the Tsarnaev brothers' apartment and on rubber gloves in Tamerlan Tsarnaev's car. On cross-examination, McCollam said no explosive residue was found in Dzhokhar Tsarnaev's dorm room at UMass-Dartmouth.
Testimony related to the autopsies of the final two victims is expected to resume on Monday.
– Dialynn Dwyer, Boston.com Staff
March 25: Tsarnaev Texted Friend 'I Got a Plan'
Three months before the Boston Marathon bombing, Dzhokhar Tsarnaev texted a friend, saying "I got a plan ill tell yu later about it,'' FBI Agent Heidi Williams testified Wednesday in his trial.
Among Tsarnaev's other texts, according to Williams, was, "I wanna bring justice for my people.''
Tsarnaev's laptop history showed that he read several news articles about the bombings. Also on that laptop were files in Russian, including a guide to shooting guns and a file named "Why do we hate them?'' These were translated by FBI linguist Olga LaFond, who also took the stand.
Earlier in the day, FBI Special Agent Christopher Derks told jurors that the Tsarnaev family home on Norfolk Street in Cambridge "looked like a construction site.''
In a search of the home, Derks said that investigators found BBs, gun-cleaning equipment, a jar of nails, Dzhokhar's passport, and a large black flag with Arabic writing, along with other tools and debris.
Some of those items included gaskets, fuses, gorilla tape, a wire cutter, and part of a pressure cooker lid.
Continuing her testimony from Tuesday, FBI Supervisory Special Agent Kimberly Franks said a box of BBs, the book Soldiers of God (which describes the Taliban's rise to power in Afghanistan), and a Big Snow "Megabanger'' firework were found in Tsarnaev's UMass Dartmouth dorm room.
FBI Special Agent Christian Fierabend said that data from the Tsarnaev brothers' portable GPS device showed a trip to the Saugus Mall — where receipts show two pressure cookers were bought in cash, at Macy's, on January 31, 2013. Fierabend matched up GPS data to other receipts as well, indicating other purchases made leading up to the bombings. However, it's unknown who was driving the vehicle at those times or even which vehicle was used.
– Hannah Sparks, Boston.com Staff
March 24: MIT and Watertown Shell Casings Came From Same Gun, Expert Testifies
Massachusetts State Police Lieutenant David Cahill, who is trained in firearms identification, testified Tuesday in the Boston Marathon bombing trial that casings found on the scene at MIT matched those in Watertown. He testified that the five casings found at MIT were all shot by the same gun, and 56 casings were found at the Watertown scene from the Tsarnaevs' Ruger pistol.
Both Tamerlan and Dzhokhar Tsarnaev listed their experience with handguns as "intermediate'' on forms filled out at the Manchester Firing Line Range a month before the bombing, according to FBI Special Agent Matthew Riportella, who also testified Tuesday.
Christopher Donahue, who is with Massachusetts State Police crime scene services and helped process Laurel Street in Watertown, testified that Tamarlan's partial palm and partial fingerprint were found on the magazine of the Ruger. The prints on the 9mm ammunition box and the pellet gun belonged to Dzhokhar, he testified. During cross by defense attorney Judy Clarke, Donahue said the prints on the live rounds inside the ammo box were Tamarlan's.
State police DNA analyst Jennifer Montgomery was recalled to the stand by the prosecution. She testified that MIT Police Officer Sean Collier's blood was found on Dzhokhar's car keys. She previously testified on March 18 that the Collier's DNA was on a pair of bloodstained gloves found in the Tsarnaevs' Honda.
The jury heard from FBI Supervisory Special Agent Kimberly Franks of the Criminal Investigation Division who went to search Dzhokhar's room on UMass Dartmouth's campus. She testified a box of BBs and a receipt from Dick's Sporting Goods for a Wesson BB gun were found. Franks also confirmed that a white Polo hat found in the room was the same Dzhokhar wore at the bombing. Franks is expected to return to the stand on Wednesday.
– Dialynn Dwyer, Boston.com Staff
March 23: Tsarnaev Written Message Was Similar to Jihadi Literature, Expert Testifies
The note Dzhokhar Tsarnaev wrote on the wall of the boat where he was hiding was similar in message to radical jihadi literature, an expert on Islamist counter-terrorism testified Monday in the Boston Marathon bombing trial.
"This note is intended to explain to a broad public'' his actions, Dr. Matthew Levitt, who works at The Washington Institute think-tank, said. "This is speaking to an American audience.''
Levitt also testified as to the teachings of Anwar al-Awlaki, the radical jihadi leader who founded the al-Qaida magazine Inspire. Levitt testified that one of Tsarnaev's tweets — "they will spend their money and they will regret it and then they will be defeated'' — is a quote taken from al-Awlaki.
Audio lectures from al-Awlaki — two of which were played out loud for the court — and copies of Inspire were found on several digital devices owned by Tsarnaev, according to earlier testimony from FBI agent Kevin Swindon.
In a prickly back and forth, defense attorney William Fick zeroed in on Swindon earlier Monday, questioning why certain types of files were chosen as evidence.
Fick called the 151 exhibits presented on Thursday a "fly-speck'' of the total 500,000 digital files found on Tsarnaev's laptop. The defense sought to show that Swindon had cherry-picked some files and ignored the majority on the devices.
At one point, prosecutors objected to the defense's "argumentative style'' of questioning directed toward Swindon. The objection was swiftly overruled by Judge George O'Toole.
Levitt will continue his testimony on Tuesday.
– Eric Levenson and Hannah Sparks, Boston.com Staff
March 19: Radical Islamist Files Found on Tsarnaev's Laptop and Thumb Drive
Day 10 of the trial of accused Boston Marathon bomber Dzhokhar Tsarnaev on Thursday focused on forensic testimony.
FBI agent Brian Corcoran told the jury that shrapnel from the pipe and pressure-cooker bombs in Watertown were found in roofs, walls, yards, driveways, and streets. He said the lid of a pressure cooker landed in a children's hockey net. The brand of the pressure cooker, Fagor, was the same brand as the ones used on Boylston Street, he said.
Jurors were shown photos of items, including Tamerlan Tsarnaev's diploma from Cambridge Rindge and Latin School, found in a computer bag inside the Honda Civic in Watertown.
The prosecution called FBI Supervisor Special Agent Kevin Swindon, who supervises the Cyber Squad in the Boston office and was qualified as an expert in computer forensics. He said over 600 pieces of digital media were collected, and he testified that Dzhokhar Tsarnaev's laptop files included PDF's from the al-Qaida magazine Inspire including "Make a Bomb in the Kitchen of Your Mom'' and numerous files related to Anwar al-Awlaki, the late American born terrorist leader. The thumb drive recovered from Tsarnaev's dorm room also included an Inspire magazine download, he said.
The Middlesex District Attorney's Office announced Thursday its intention to bring criminal charges against Tsarnaev for the murder of MIT Police Officer Sean Collier after the federal trial is completed.
– Dialynn Dwyer, Boston.com Staff
March 18: Law Enforcement Officials Detail Evidence Collected
Law enforcement officials from the Massachusetts State Police and FBI took the stand on the very technical ninth day of the trial of accused Boston Marathon bomber Dzhokhar Tsarnaev, detailing how they collected evidence from the crime scenes and what that evidence reveals.
Jennifer Montgomery, a forensic scientist with the state police crime lab, testified that the DNA of MIT Police Officer Sean Collier was on a pair of bloodstained white gloves found in the Honda sedan Tsarnaev drove the night Collier was killed.
Earlier in the day, Patrick Moynihan, a state trooper and fingerprint expert who analyzed prints taken from the two vehicles used by the Tsarnaev brothers, discussed other items found in that sedan, including Tamerlan Tsarnaev's wallet.
Under cross examination, it was revealed that the wallet contained receipts for a soldering gun bought at Home Depot, two backpacks from Target, and purchases made at a New Hampshire gun and ammo store days before the bombings. Another receipt was for a $900 Moneygram transfer to Russia.
The first witness of the day, trooper Robert McCarthy, described the improvised explosives that the bomb squad collected in Watertown, including pipe bombs and a tupperware container filled with fuses and two to three pounds of gunpowder.
– Hannah Sparks, Boston.com Staff
March 17: Tsarnaev's Former Friend, Stephen Silva, Testifies
Stephen Silva, Dzhokhar Tsarnaev's former friend who has pleaded guilty to drug and gun charges, gave Tsarnaev a Ruger P95 gun in February 2013, he testified on Tuesday.
Tsarnaev told Silva he wanted the gun to "rip [rob] some kids from URI,'' Silva said. When Silva asked for the gun back a few weeks later, Tsarnaev came up with excuses to avoid doing so.
That gun was later recovered in Watertown. Prosecutors say it was used by the Tsarnaev brothers to kill MIT police officer Sean Collier and shoot at other officers.
Tuesday's testimony began with David Henneberry, the Watertown owner of the boat where Dzhokhar Tsarnaev was ultimately captured. Jurors were shown a photo of a panel from inside the boat with a message scratched into it. "Stop killing our [arrow pointing down] innocent people and we will stop,'' it read. Jurors viewed the bullet-riddled boat in its entirety on Monday morning.
The jury heard testimony from FBI Agent Michael Nealon, a member of the FBI's Evidence Response Team and who was in charge of the evidence at the boat scene, and FBI Agent Jessica Ulmer, who also responded to the Watertown boat scene after Tsarnaev was arrested.
Judge O'Toole announced there will be no afternoon session today, saying only that the lawyers need to attend to other business. Court is in recess until 9 a.m. Wednesday.
– Dialynn Dwyer, Boston.com Staff
March 16: Watertown Police, Residents Recount Tsarnaev Shootout
Focus in the trial of accused Boston Marathon bomber Dzhokhar Tsarnaev turned on Monday to the dramatic events in Watertown that led to Tsarnaev's arrest on April 19, 2013. Three members of the Watertown Police Department — Officer Joseph Reynolds and Sergeants John MacLellan and Jeffrey Pugliese — took the stand to begin the day, recalling their roles in a gun battle with the Tsarnaev brothers.
After "nonstop'' gunfire, the brothers began throwing explosive devices at police, Reynolds said. Pugliese managed to tackle Tamerlan Tsarnaev to the ground; Reynolds and MacLellan said they tried to help handcuff him, but had to jump out of the way as Dzhokhar sped toward them in the SUV the brothers had stolen from Dun "Danny'' Meng hours earlier.
Dzhokhar ran Tamerlan over — dragging him for a distance before he was "dislodged'' — despite having enough room to avoid doing so, according to testimony. Even after being struck, Tamerlan continued to resist arrest before he was finally handcuffed and put in an ambulance, officers said.
Amidst the chaos, MBTA police officer Richard "Dic'' Donohue was shot. He "looked like he was dying,'' Reynolds said. Dr. Heather Studley, the ER physician at South Shore Hospital who treated Donohue, testified that he had lost nearly all his blood.
Two residents of Laurel Street, James Floyd and Andrew Kitzenberg, saw the scene unfold just outside their homes on Laurel Street. Kitzenberg wrote about the shootout for Boston.com last year, and the photographs he captured of the scene were shown in court. Floyd said that, "without question,'' whoever threw the large explosive that knocked pictures from his walls also drove the SUV away from the scene.
That SUV was found abandoned nearby, Massachusetts State Police Major Frank Hughes told the jury. Hughes described the manhunt for Tsarnaev, which culminated at the home of David Henneberry, the owner of the boat Tsarnaev hid in before his arrest.
Henneberry is expected to be the first witness tomorrow.
Before court began, jurors and trial teams visited an undisclosed off-site location to see that boat.Fox25 reported that the boat was transported closer to the courthouse overnight.
– Hannah Sparks, Boston.com Staff
March 12: Dun "Danny'' Meng Recalls A Terrifying Ride
The victim of a carjacking in his Mercedes SUV recalled a fearful drive at gunpoint as part of his testimony on Thursday in the trial of accused Boston Marathon bomber Dzhokhar Tsarnaev.
Dun "Danny'' Meng identified Tamerlan Tsarnaev as the carjacker who held him at gunpoint and forced him to drive.
"He told me he did the explosion, and that he just killed a policeman in Cambridge,'' Dun "Danny'' Meng said of the older Tsarnaev.
Meng identified Dzhokhar Tsarnaev as the man who followed behind in a sedan and later entered the backseat of his vehicle. The younger Tsarnaev, who Meng said claimed to have a gun, then took Meng's credit card and PIN code to withdraw money from a Bank of America.
Earlier, several jurors were brought to tears by graphic autopsy photos of MIT police officer Sean Collier. The photos were not shown to the rest of the court due to their sensitive nature. Jurors were also shown other photos of blood and shell casings at the scene of Collier's shooting.
– Eric Levenson, Boston.com Staff
March 11: MIT Student Places Dzhokhar Tsarnaev at Scene of Sean Collier's Death
The fifth day in the trial of accused Boston Marathon bomber Dzhokhar Tsarnaev ended with testimony about the murder of MIT Police Officer Sean Collier.
While jurors will be able to view photos from Collier's autopsy, the media and public will not have access to them.
To start the day, FBI agent Sarah DeLair resumed her testimony, presenting evidence collected from the bombing scene to the court before a short cross-examination by Judy Clarke.
FBI Agent Chad Fitzgerald, who analyzes cell phone data, took the stand next. Fitzgerald went through the locations and times of the brothers' calls around the time of the explosions and in the days after. In an important bit of new information, Fitzgerald said the FBI "received information from a witness that the people involved had stopped at a Whole Foods.'' On a hunch, he told a team to check surveillance footage there.
Defense attorney Miriam Conrad then questioned Fitzgerald about the accuracy of the duration of the calls between the brothers. He admitted he had no way of knowing the true length of any phone call — or whether a conversation even took place. All he could testify to was the length of time a given phone accessed the network, which includes connection time.
Prosecutor Aloke Chakravarty then conducted a redirect of Fitzgerald. He tried to get Fitzgerald to testify to the times of the phone calls relative to the bombings, as well as to whether changes in which towers that signals "ping'' off of indicate movement. The judge sustained defense objections to these questions, agreeing that they were inappropriate for redirect, which is supposed to stem only from content brought up in cross-examination.
Conrad followed with a brief re-cross of Fitzgerald, after which FBI Office of Public Affairs Web Manager James Eppard began his testimony on the press conference in which images of the not-yet-identified Tsarnaev brothers were presented to the public for the first time. Bruck then did a short cross-examination of Eppard, in which he established that the bureau's focus was on both brothers, not just Dzhokhar.
Next up was MIT Police Chief John DiFava, who described the Smith & Wesson pistol officers are outfitted with and the special "triple threat'' holsters that make those weapons difficult for anyone but the officer to access. DiFava recounted his last words to Collier, who he saw for the last time sitting in his police car just after 9:30 on April 18, 2013.
He said, "I told him to be safe, and left.'' The defense opted not to question DiFava.
After lunch, the court heard from MIT Police Officer David Sacco, who was working dispatch the night Collier was murdered. Jurors listened to the initial call from the scene as well as distress calls from a responding sergeant yelling, "Officer down!'' Sacco helped get surveillance footage from near the scene showing two people walking toward Collier's cruiser.
MIT Police Sergeant Clarence Henniger, who responded to the shooting, took the stand next. He described Collier's injuries — "I observed a wound to the head, the temple. I observed a wound to the neck.'' — and his own calls for backup. He confirmed that, while one of the three "detention'' latches on Collier's holster had been compromised, the gun was still secured.
Cambridge Police Detective Brendan O'Hearn, who also responded to the scene while on foot patrol in the area, was called next. He found Collier face-up on the ground and began to perform CPR. "There was blood everywhere … all over me,'' O'Hearn said.
Matthew Isgur, who maintains the 1,200 cameras in MIT's video surveillence system, took the stand to discuss footage of the shooting taken from a nearby camera.
Both the far-off and close-up versions of the video show two people, said to be the Tsarnaev brothers, approaching the crusier, and the car's break lights flickering. The close-up showed an arm extending and a muzzle flashing, as someone rode by on a bike. Isgur said another nearby camera showed a car "fleeing Ames Street'' just after the shooting.
The last witness of the day was Nate Harman, a graduate student studying math at MIT. He had stayed late finishing work on campus on the night of April 18, 2013. As he rode past Collier's cruiser on a bike, he made eye contact with someone, who he identified as Dzhokhar, standing beside the cruiser, after the person stood up, startled.
Judge O'Toole has not yet ruled on whether jurors will see the entire boat in which Tsarnaev hid before his capture, or only panels on which he wrote his note.
– Hannah Sparks, Boston.com Staff
March 10: Lawyers, Judge See the Boat
Testimony ended early on Tuesday afternoon in the trial of accused Boston Marathon bomber Dzhokhar Tsarnaev so lawyers and the judge could examine the boat where Tsarnaev hid in his final moments before being captured.
Judge George O'Toole has not yet ruled on how much of the boat jurors will be shown. Prosecutors want to show jurors the panels of the boat on which Tsarnaev wrote a message, which they say is a written confession. The defense has argued that jurors should see the entire boat to better understand the context of the written message.
Earlier, Boston Police Dept. bomb technician Todd Brown testified on what he found written inside the boat after Tsarnaev was captured. "I'm jealous of my brother who ha…ceived the reward of jannutul Firdaus (inshallah) before me,'' part of the note reads. Some words and letters were obscured by bullet holes and blood smears.
Tsarnaev defense attorney Judith Clarke grilled an FBI agent on the meaning of messages sent from Tsarnaev's two Twitter accounts. Clarke pointed out that his two accounts, the personal use account @J_tsar and the previously undiscovered Islamic-minded account @Al_firdausiA, were both accessed after Tsarnaev was in prison. She said this suggests others had access to the account.
Clarke also pointed out that many of the tweets were pop culture references, quotes, and other typical teenage interests. "There a lot of tweets about things like girls, cars, sleep, homework … complaining about studying,'' she said.
The defense also said that the background of the @Al_firdausiA account was not a photo of Mecca, as FBI Agent Kimball had said the day before, but of Grozny, a city in Chechnya. Kimball then testified that he had not looked up a photo of Mecca to confirm the photo.
Prosecutors pointed to one tweet that coincided with the 2012 Boston Marathon, and they said Tsarnaev attended that event with friends (as The Boston Globe has previously reported).
– Eric Levenson, Boston.com Staff
March 9: Survivor Jessica Kensky: 'These are war wounds'
Day three of the trial began with graphic, emotional testimony from two survivors—Jessica Kensky and Danling Zhou—about the events of April 15. Eleven witnesses testified in all.
Kensky, a nurse at Mass. General, took the day off to watch the race with her husband, Patrick. After the two went to the gym — where Kensky "ran for the last time with two legs''—they got a spot near the finish line. Though Kensky went into what she described as "nurse mode'' when she saw her husband's injuries after the explosion, she didn't notice the extent of her own. She had to have one leg amputated that day, and had the second removed in January 2015.
Kensky and her husband, who also lost a leg, are now patients at Walter Reed Hospital. "These are war wounds,'' she said.
Zhou, a BU student and close friend of Lingzi Lu, who was killed that day, took the stand next. They were near the Forum restaurant as the first blast occurred. Zhou was trying to comfort Lu, who was frightened, when then the second bomb exploded. Zhou saw that Lu was injured, but thought that she would be OK. When she tried to stand, Zhou realized that she had a severe abdominal wound, and had to physically hold her insides to keep them from falling out.
Giving much of her testimony through tears, Zhou said she learned of her friend's passing in the hospital, after asking doctors and nurses about her condition every time she woke up.
The next witness, Matthew Patterson, a Lynn firefighter and paramedic, was attending a party nearby when the blasts occurred. He tended to Jane Richard, tying off her leg with a bystander's belt to stop the bleeding. Of Jane's 8-year-old brother Martin, Patterson said, "There was nothing that could be done.''
Dr. James Bath, a family physician who was in the area of the finish line, was next. He testified to the carnage he saw, including the injuries of victim Lingzi Lu and survivor Adrienne Haslet-Davis, who lost part of her leg in the bombing.
The last witness called before the court broke for lunch was Anthony Imel, who works at the FBI digital evidence lab in Quantico and came to Boston the day after the bombings to analyze video evidence collected from around the scene. Footage presented to the court showed Tsarnaev dropping a backpack and making a phone call—which Imel said was to his brother Tamerlan—just before the first bomb went off. Tsarnaev had bought the phone used to activate the bomb the day before the marathon, prosecutors said.
During cross-examination, the defense challenged the accuracy of the timestamps in the video footage presented as well as which brother called whom. Prosecutor Willaim Weinreb then conducted a brief redirect.
Next up was James Hooley, who was overseeing Boston Emergency Medical Services operations on Marathon Monday. He testified to the triage response immediately after the bombing and the number of people transported to hospitals via the city's vehicles.
The prosecution's case moved along quickly: Boston Police Chief William Gross testified next, explaining the securing of the scene and the city. Following Gross was Caitlin Harper, an associate store manager at the Cambridge Whole Foods where Tsarnaev bought milk almost immediately after the bombing.
Two UMass Dartmouth employees — Gregory Homol, the director of the university's fitness center, and Christopher Frias, who works in the IT department — then discussed surveillance footage that shows Tsarnaev at the gym the day after the bombing.
The last witness of the day was FBI Agent Steve Kimball, who walked jurors through Tsarnaev's online activity, focusing most intently upon his tweets from two accounts, one well-known, the other more private and used mostly for religious subject matter.
Tomorrow will begin with a defense cross of Kimball.
– Hannah Sparks, Boston.com Staff
March 5: Bill Richard: 'I can still hear the beautiful voices of my family'
The second day of testimony in the trial of alleged Boston Marathon bomber Dzhokhar Tsarnaev was heavy with emotionally fraught testimony from witnesses near the finish line.
Bill Richard, a bombing survivor and the father of 8-year-old marathon victim Martin Richard, recalled the moments when Martin was killed, his daughter Jane lost a leg in the blast, and his wife partially lost some of her vision. "When I saw Martin's condition, I knew that he wasn't gonna make it,'' he said. "It was at that time I saw my son alive, basically for the last time.''
Richard testified that he called his wife later in the day at the hospital with Martin. "She told me that Martin was dead. I said, 'I know,''' Richard testified. Though he has lost some hearing, "I can still hear the beautiful voices of my family,'' he said.
Survivor Jeff Bauman, who lost both legs in the bombing, testified about bumping into a "suspicious'' man, who was later identified as Tamerlan Tsarnaev. He also recalled the "pure carnage'' of the scene after the explosions left his "bones and flesh sticking down,'' he said.
Tuesday featured powerful testimony from Roseann Sdoia, who lost her leg during the blasts. "It was like a zombie movie,'' she said of the bloody scene. Sdoia recounted being taken in a paddy wagon to the hospital as her leg bled. "I couldn't die, so I fought,'' she said.
Testimony has moved swiftly through the day as Tsarnaev's defense team has refrained from questioning most of the witnesses.
Boston Police Officer Lauren Woods described graphic new details about the final moments of Lingzi Lu, who was killed in the explosions. Woods stayed with Lu as she lay on the ground, and later spoke to her parents when they visited Boylston Street. "I told them she wasn't alone when she died,'' Woods testified.
– Eric Levenson, Boston.com Staff
March 4: 'It Was Him,' Defense Says
Defense attorneys for accused Boston Marathon bomber Dzhokhar Tsarnaev told jurors that their client carried out the Boston Marathon bombing.
"It was him,'' defense attorney Judy Clarke told the packed courtroom during opening statements.
The 21-year-old's legal team will instead focus on Tsarnaev's motivations while making their case to jurors, arguing older brother Tamerlan Tsarnaev was the mastermind of the plot. In his opening remarks, Assistant U.S. Attorney William Weinreb graphically described the aftermath of the bombing to jurors, adding prosecutors will present enough evidence to warrant a guilty finding.
New footage from the bombing (watch here) was seen for the first time, including surveillance footage from a Marathon Sports store near the attack and amateur video from witness Colton Kilgore.
Testifying witnesses included:
• Thomas Grilk, the executive director of the Boston Athletic Association.
• Shane O'Hara, the manager of Marathon Sports on Boylston Street.
• Colton Kilgore, who captured graphic video footage from the scene.
• Rebekah Gregory, an injured spectator who later had her leg amputated.
• Sydney Corcoran, who was injured in the bombing. Her mother lost her legs.
• Karen Rand McWatters, who was with victim Krystle Campbell when the bombings occurred. McWatters lost her leg below the knee and wears a prosthetic.
– Chris Caesar, Boston.com Staff