Local
Deval, Mitt, Marty, and More: The Politics of the Boston Olympics Bid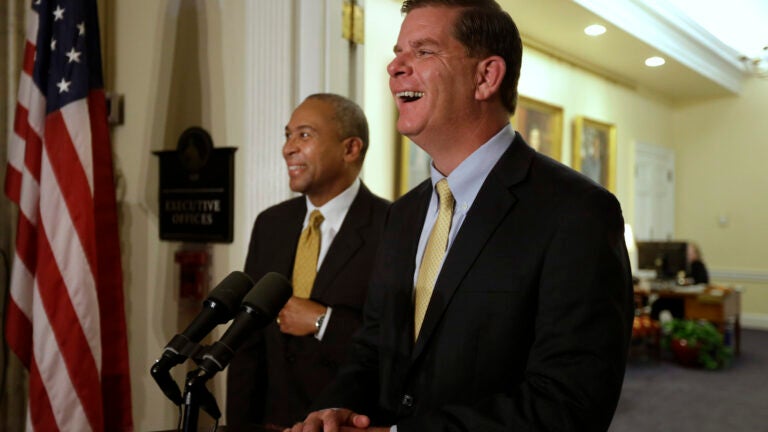 For those keeping track at home, Olympic organizing group Boston 2024 now has:
• The state's last sitting governor, Deval Patrick, working as a consultant to promote the Boston bid to members of the International Olympic Committee;
• The full-fledged support of Boston Mayor Marty Walsh, whose backing was necessary for the city to be chosen by the United States Olympic Committee;
• Support behind the scenes from the second-to-last sitting governor of Massachusetts, Mitt Romney, a Republican;
• Several members of the Patrick administration either working for or closely involved with the bid, including but not limited to: Rich Davey, CEO of Boston 2024 and former Secretary of Transportation; Dan O'Connell, an economic development and housing chief under Patrick who served as president of Boston 2024 throughout 2014; Doug Rubin, a former Patrick chief of staff who is helping lead Boston 2024's marketing and PR efforts; Mo Cowan, another former chief of staff, who is working on government outreach for the bidding group, and who was appointed by Patrick to serve as an interim senator after John Kerry was appointed Secretary of State; Juliette Kayyem, Patrick's homeland security undersecretary, now co-chairing Boston 2024's innovation and technology committee; and Nikko Mendoza Patrick administration operations director turned Boston 2024 VP.
That level of government experience isn't all that surprising, given how closely Boston 2024 will need to work with government at both the state and city levels over at least the next two years. But it does open yet another window into the wide political structure of the Boston Olympic bid.
Patrick, who left office in early January, is the most recent big name to be brought into the fold. Patrick's role will essentially be to keep his political muscles active overseas, in an attempt to woo IOC members into choosing Boston when they select a 2024 host in two and a half years, according to The Boston Globe:
Serving as an international salesman for the Boston Olympics could be a natural fit for the 58-year-old former governor. A persuasive speaker, he frequently traveled overseas during his two terms in office, schmoozing business executives in more than a dozen countries, from Israel to Colombia to Japan.
The Globe had reported in January that Boston 2024 was "in the early stages of developing a team to promote the city and the bid internationally, a job as important as planning the venues and honing the technical specs for the proposal, experts say.'' Patrick would appear to be a high-profile piece of that team.
Patrick was supportive of the bid in his final days in office, and he had some involvement with getting the bidding process underway in the first place. When he was governor, in 2013, the legislature passed a bill that created a committee to study the feasibility of hosting the Olympics. The law allowed Patrick to appoint three people to that committee. Among his choices was Suffolk Construction CEO John Fish, who would chair the committee and is now chairman of Boston 2024.
Asked how Patrick would be paid in the weekend following his hiring, Boston 2024 COO Erin Murphy said Patrick will be paid in the role based on the amount of travel and work he does, "the extent of which has not been determined at this time.'' Boston 2024 changed course on Monday and released all salary and consultant pay info. Patrick is getting $7,500 per day when he travels. (Update: Patrick will no longer be taking a fee.)
Meanwhile, elected officials who remain in office also have their hands on the bidding process.
Walsh, of course, is among the most visible of champions for the bid, and he spoke at length about it in a speech to the Boston Municipal Research Bureau last week. "Whether you oppose or support the games; whether you are a business leader or a community activist; whether you live in Boston or work here: we can all agree that having a two-year, public conversation about the future of our great city is a good thing,'' he said.
Walsh told Boston Public Radio two weeks ago that he would hope to see 70 percent support for an Olympic bid in 2017. (Support has fluttered from poll to poll, but hasn't gotten above 54 percent, and recently dipped as low as 44 percent.)
Walsh and Boston 2024 are working closely together. The mayor's chief of operations left City Hall to work as Boston 2024's chief administration officer, a move designed to give Walsh a "trusted adviser in a key role'' for Boston 2024, the Globe reported. The mayor's administration is hosting its own series of public meetings related to the Olympic bid, though after two meetings they've been largely indistinguishable from Boston 2024's public meetings—except for the presence of Walsh. Walsh, meanwhile, urged Boston 2024 to release its salary information, to which Boston 2024 said it would oblige.
The Boston City Council has formed its own special committee to talk Boston 2024, and it held its first hearing last week. No councilor spoke out in favor or against the bid, but some seemed more skeptical than others. City Council President Bill Linehan, who is chairing the committee, says he is approaching the Olympics from a perspective of: "Why can't Boston host the games?''
At the federal level, Boston 2024 has met with the state's congressional delegation to hear its input. The primary reason was to chat about federal funding to cover security costs for the Olympics—estimates have been as high as $2 billion. Federal funds for security are a crucial part of the bid; they would come from the games being declared a "national special security event,'' as are other major events held in the United States (including the 2002 Salt Lake City Olympics, the quadrennial Democratic and Republican National Conventions, and the Super Bowl every year). Davey has said that without the special event designation, the Boston Olympics would not happen.
And at the State House, legions of legislators have signed their support to a bill that would create a committee to keep tabs on the bid. The law, as proposed, would give the committee the ability to fully vet the bid, and if it includes any state funding, it would give Gov. Charlie Baker the final say on whether it goes forward to the IOC.
Speaking of Baker, the USOC gave him quite the inauguration gift, choosing to move forward with Boston's bid his first day in office. The governor has hedged himself more so than his corner office counterpart at Boston City Hall (Walsh) and his predecessor at the State House (Patrick). His general position has been that the prospect of hosting is an opportunity to show off the state and plan its future, but keeping costs low and public money out of the equation would be requirements.
That was a point of differentiation between Baker and his democratic opposition, Martha Coakley, during the gubernatorial election season. Coakley, as she put it at a debate between the two, thought Boston should "go for the gold'' in bidding. Top Baker campaign adviser Will Keyser is working as a consultant with Boston 2024.
Boston 2024 is now heavily characterized by Patrick's administration, but he isn't the only former governor involved with Boston 2024. Before his own predecessor, Romney, was elected as governor in 2002, and before his two campaigns as a Republican presidential candidate, Romney served as the CEO for the troubled Salt Lake City Winter Olympics in 2002.
Those experiences combined made him an important early contact for the group that would eventually become Boston 2024. Romney's role has reportedly been more foundational than Patrick's, offering advice and connections to organizers. Romney's presidential campaign fundraiser is consulting for Boston 2024.
Both former governors' involvement may suggest that both sides of the political aisle can get behind bidding for the Olympics.
"Historically, Olympic bids and other issues have rarely broken down in the U.S. on party lines,'' Mark Dyreson, a professor who studies the history of sport at Pennsylvania State University, told Boston.com. For example, the United States's boycott of the 1980 Moscow Olympics, initiated by Democratic President Jimmy Carter during the Cold War, was blasted by some democrats and had the support of some conservatives, Dyreson said.
Victor Matheson, a sports economist out of Holy Cross, took the discussion out of the Olympics context and into the broader discussion of sports in society, suggesting party politics tend to blur. For example, conservative politicians have often helped sports owners obtain public funding to build stadiums for their teams. And conservative owners of sports teams have often sought those funds.
Former New York Mayor Rudy Giuliani, a Republican, strongly supported the bid to bring the Olympics to that city in 2012, and tried multiple times to put public money toward building baseball stadiums for the New York Yankees and New York Mets with public funds. His successor, billionaire independent Michael Bloomberg, did not support those stadium plans, but was supportive of the city's eventually failed Olympic bid—including the use of public funds to build an Olympic Stadium. (Boston 2024 has pledged that no public funds will be used to cover venue costs and has proposed a temporary Olympic Stadium in South Boston.)
Opposition to the Olympics can also take on a bipartisan air, said Dyreson. He pointed to the referendum effort in Colorado, after Denver had already been awarded the 1976 Olympics by the IOC, which led to the withdrawal of the bid.
"One of the most interesting political dynamics in Olympic history came in the early 1970s when a coalition of anti-establishment radicals, suburban environmentalists, libertarian free thinkers, and the emerging anti-tax conservatives joined forces to force Colorado to deny public spending on the games,'' Dyreson said.
In Boston, Olympics opposition has been seen in a few different pockets. No Boston Olympics, the group that has received the most attention, is composed of three politically active young professionals: Chris Dempsey, Kelley Gossett Phillips, and Liam Kerr. Dempsey, like many members of the Boston 2024 team, previously worked in the Patrick administration himself as an assistant secretary of transportation.
A second group, No Boston 2024, is comprised of veteran area activists, some of whom had been involved with efforts like Occupy Boston and Black Lives Matter protests, and who wouldn't object to the label "progressive.''
However, their ideals may have appeal to fiscal conservatives as well. While Boston 2024 is pledging public money will not be put to use to fund Olympics operations or venue costs, some are skeptical—and point to guarantees required of Olympic host cities to pick up operating costs that can't be covered privately. "In terms of the right wing, they don't like to see government spend money. And the progressive wing doesn't like to see the government waste money [that could be spent elsewhere],'' said Andrew Zimbalist, a Smith College economics professor who has long argued the supposed economic benefits of major sporting events do not exist. (Boston 2024, for its part, says it plans to take out insurance policies to protect the city, and has already locked in a $25 million policy to cover the city through the bidding phase.)
At a meeting held by No Boston Olympics in January, a former candidate for state representative named George Boag hit on Zimbalist's point: "I ran for office as a tea party Republican. Let me tell you, this is an issue that will unite left and right.''
That may be true, but it swings both ways; the question of whether to host the Olympics pays little heed to party lines in terms of support and opposition, according to a recent poll from WBUR and MassInc. It found:
• 48 percent of Democrats support bidding on the Olympics, compared to 44 percent who oppose it;
• 44 percent of Republicans support to 42 percent opposed;
• and 40 percent of independents support to 49 percent opposed.
A poll from the same outfit, a month earlier, found broader support for the Olympics, but there still wasn't much in the way of a partisan division.
For all the talk of the politics of bidding, its zenith may yet come. A solid 75 percent of Boston-area voters have said they would like to vote on the Olympics, and there are a couple of efforts to bring the issue to a ballot box near you.
Boston City Councilor Josh Zakim is pushing for four non-binding ballot questions to be put on the ballot this fall, asking city voters whether they: a) support hosting the Olympics; b) think the city should commit any public money to support the games; c) think the city should guarantee to cover any cost overruns related to a potential Boston Olympics; and d) think the city should be able to use eminent domain for Olympics purposes.
If they come to pass, those questions would be non-binding, and would be limited to Boston voters. Evan Falchuk, who ran for governor last year as a candidate for his newly formed United Independent Party, is looking to put the question to voters statewide in the 2016 election.
During the gubernatorial camapaign, in the limited number of times it came up, Falchuk carved out a more critical perspective on the Olympics from Baker and Coakley, saying the state's time and resources were better put elsewhere. The issue, he said, has become something of a microcosm of why he is looking to launch a third viable political party in the first place: He was hearing from "a broad coalition of people from across the political spectrum who are saying the same things about the Olympics issue,'' he told Boston.com. "It would be interesting if the issue was partisan. It's not.''
And what was it that he was hearing? "The system is not talking to them,'' he said. "It was clear that a statewide referendum is the only way to do this.''
Falchuk told Boston.com that he has been batting around ideas for what potential ballot question language could look like. A question would aim at keeping state money out of the bidding process. In other words, it wouldn't be a "yes or no'' vote about the games. Falchuk said that, given the promises Boston 2024 has made about the bid, such a question "should be non-controversial from what they're saying.''
No Boston Olympics, too, has suggested it does not necessarily need to see the bid sunk like Denver's in order to be satisfied. At last week's City Council hearing, Dempsey said if the city and Boston 2024 were to take certain financial measures—by not guaranteeing to cover cost overruns, and the use of an independent auditor to monitor Boston 2024's plans and activities—would be a start. "We could see ourselves potentially supporting a different bid or a changed bid,'' Dempsey told the council. "We're just not there at this point in time.''
The Olympics are a massive global event, and the IOC is a global organization. But they say all politics is local, and that's probably especially so when it comes to hosting the games—from neighborhoods organizing to oppose them to City Council and State House efforts to vet them, and all the way up to a former governor globetrotting in effort to bring them home.