Local
Patrick to Make $7,500 Per Day When Traveling for Boston 2024 Work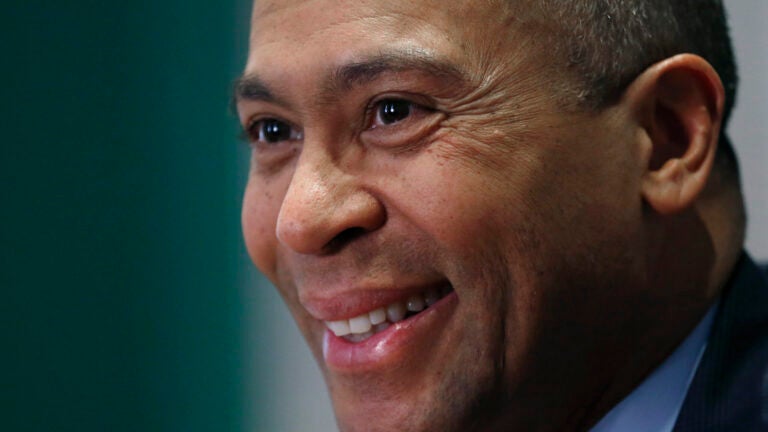 Former Governor Deval Patrick will be paid $7,500 per day as a consultant when he travels to promote Boston to members of the International Olympic Committee, according to information released by Olympic bidding group Boston 2024 on Monday.
Boston 2024 has brought on Patrick, just two months after he left office. The disclosure of his pay came after Boston 2024 declined to provide Patrick's compensation to Boston.com and other outlets Saturday and Sunday, except to say that it would be commensurate with the amount of work and travel he does on its behalf. The group reversed course on Monday.
"We are thrilled that [Patrick] has agreed to help our team,'' said Boston 2024 COO Erin Murphy. "Governor Patrick will not be a full-time salaried employee but will be compensated based on the amount of his travel and efforts on behalf of Boston 2024 – the extent of which has not been determined at this time. When he does travel on our behalf he will be compensated at a rate of $7,500 per day.''
Boston 2024 released pay for all staff and consultants. The full staff list:
Richard Davey, Chief Executive Officer ($300,000)
Erin Murphy, Chief Operating Officer and Chief Bid Officer ($215,000)
Joe Rull, Chief Administrative Officer ($175,000)
Loreen Watts, Executive Assistant and Office Manager ($55,000)
Paige Scott Reed, General Counsel ($182,500)
Nikko Mendoza, Vice President of Engagement and External Affairs ($120,000)
Amy Sennett, Vice President of Strategic Initiatives and Assistant General Counsel ($120,000)
Ingrid Oelschlager, Project Manager ($80,000)
Sarah Caruthers, Director of Special Projects ($70,000)
Chris Ciampa, Executive Assistant ($73,000)
Earlier Monday, Boston Mayor Marty Walsh called on Boston 2024 to release salary information for its staff and consultants.
"The success of Boston's bid for the 2024 Olympic and Paralympic Games relies on transparency. I urge Boston 2024 to release the salaries for all staff and consultants as a testament to the transparency and openness of this process,'' Walsh said in a statement.
"After consultation with Mayor Walsh and to continue our efforts to promote a transparent and open bid process, we are releasing the salaries and compensation of our current staff and consultants,'' Davey said in a statement accompanying the salary information.
Boston 2024 intends to pay for its expenses during the bidding process—which will run through 2017—using private donations.
As for consultants, Boston 2024 is paying, among others:
• $15,000 per month to Northwind Strategies, led by Doug Rubin, who is co-chairing the group's marketing and PR efforts. Northwind has been handling Boston 2024's media inquiries;
• $15,000 per month to Keyser Public Strategies, for further communications work. Will Keyser was a top adviser on Governor Charlie Baker's campaign;
• $5,000 per month for communication work to Josiane Martinez of Archipelago Strategies Group. Martinez worked as a spokesperson under Patrick and later as executive director of the state's Office for Refugees and Immigrants;
• $5,000 per month to Reverend Jeffrey Brown for "grassroots and community outreach'' work. Brown has spoken in support of the bid at Boston 2024 public meetings;
• $10,000 per month to CK Strategies, which provides political and media consulting. The firm was started by Chris Keohan, who worked on Walsh's campaign for mayor, and recently hired Walsh press secretary Kate Norton as its VP of communications;
• $10,000 per month to Walsh Strategies, a new firm led by John Walsh, former chairman of the Massachusetts Democratic Party and campaign manager for Patrick in his first gubernatorial election;
• $10,000 per month to attorney William Coyne and former South Boston State Senator Jack Hart for government outreach. Coyne is co-chair of Boston 2024's government and community outreach committee;
• $20,000 per month to political fundraising firm SCR & Associates for fundraising work. Among its past clients: Mitt Romney and Scott Brown.
Overall, the list of consultants (excluding Patrick) is earning at least $124,000 per month from Boston 2024, according to the information provided by the bidding group.