Local
Why the Almost All-White Jury in Dzhokhar Tsarnaev's Trial Is 'Troubling'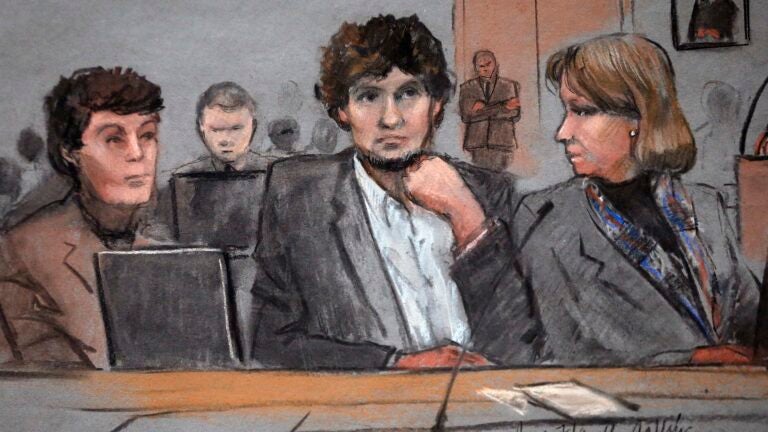 The 18 jurors who will decide the fate of accused Boston Marathon bomber Dzhokhar Tsarnaev are almost all white. For reasons of perception, racial equality, and legal practicality, the racial composition of this jury is "troubling,'' said Suffolk University law professor Jeff Pokorak, an expert on the intersection of race and the death penalty.
"Not necessarily from an outcome standpoint but from an image of justice standpoint,'' Pokorak said. "It's not a good image.''
The seated jury has some diversity in one young student of Iranian descent, who said his mother fled Iran and converted from Islam to the Baha'i faith. Otherwise, the jury consists of middle-aged white men and women. While the social construction of race is somewhat malleable, CNN described the jury as "almost exclusively white.''
The lack of minorities on Tsarnaev's jury is likely due to the practicality of choosing a death penalty-qualified jury, several legal experts told Boston.com. In order to sit on a death penalty trial, potential jurors have to be open to the idea of applying the death penalty if the defendant is found guilty.
However, minority groups are, on the whole, less in favor of the death penalty. Pokorak said this opposition is due to the fact that capital punishment in the United States has often been used against minority defendants in murder trials with white victims.
"They understand the death penalty, at least historically, has been used in a discriminatory fashion,'' Pokorak said. "There's a very sad, long history of all-white juries.''
That's how a case in Suffolk County, which is 63 percent white, can end up with almost all white jurors. From an initial field of 1,373 prospective jurors, 64 people were deemed acceptable options to sit on Tsarnaev's jury. Just one was black.
"I doubt … that intentional racial bias was going on [here],'' said Richard Dieter, the executive director of the Death Penalty Information Center, "but it can happen inadvertently because of the death penalty qualification question.''
"It's not racial prejudice per se, it's the practicality of how all this plays out,'' said Douglas Berman, a professor at Moritz College of Law and creator of the Sentencing Law and Policy blog.
In a thorough investigation of death penalty cases last fall titled "Bias in the Box,'' author and justice reform activist Dax-Devlon Ross argued why it's so important to have diverse juries in capital punishment cases.
"Alongside the right to vote, the right to serve on a jury is an enduring pillar of our democracy,'' he wrote. "Nevertheless, there is perhaps no arena of public life where racial bias has been as broadly overlooked or casually tolerated as jury exclusion.''
This jury's racial composition could have an impact down the road, too. Defense attorneys may use the jury's racial composition in appeal processes if Tsarnaev is given the death penalty, Dieter said.
"If [a juror disqualification] looks like race, that can cause a retrial,'' he said.
Death penalty trials have two sections: the guilt phase and the sentencing phase. Tsarnaev's lawyers have all but conceded the first phase in perpetrating the bombings.
"It was him,'' defense lawyer Judy Clarke said in her opening statement.
The defense strategy is to position Tsarnaev, who was 19 at the time of the bombings, as a pawn of his now-deceased older brother Tamerlan. The goal is to influence the sentencing phase as they attempt to get Dzhokhar Tsarnaev life in prison rather than lethal injection, according to legal experts.
Experts disagreed on whether the racial composition of the jury would change the ultimate sentence in the case.
Berman said having a minority person with "distinctive experiences'' on the jury can change the decision-making dynamics. He compared this to the influence Thurgood Marshall had on the Supreme Court as its only black justice.
But Pokorak rejected that idea. Juries don't act like the movie 12 Angry Men, in which one determined juror holds out and eventually changes the minds of everyone in the deliberation room.
"That is not how things happen in juries, according to jury science,'' Pokorak said of the movie's plot. "The idea that one juror can really bring forward a different perspective just is not borne out.''
"I don't think there's any reason to conclude that, were there black jurors, there would be any greater sympathy for the defense,'' said Robert Blecker, New York Law School Professor and death penalty advocate. "I don't think it makes much difference that it's an all-white jury in this case.''
For Dieter, the uniqueness of Tsarnaev's case makes comparisons and general statistics somewhat irrelevant.
"This defendant doesn't necessarily fit into that, plus the crime is so unusual,'' Dieter said. "If he had been pink or green or whatever color, it probably would be a similar case.''