Local
Watch: Dramatic Video Shows Riders Jumping Off Sugarloaf Ski Lift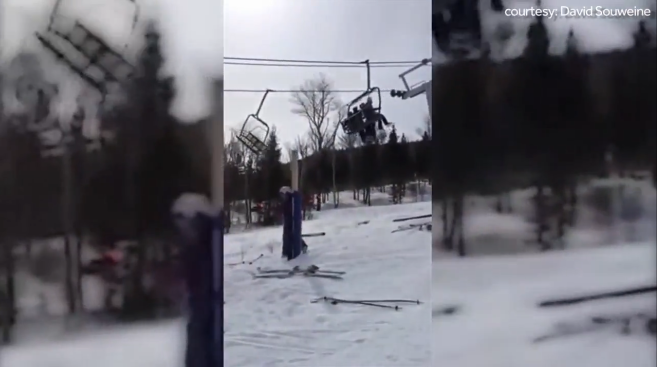 When the King Pine ski lift at Sugarloaf Mountain began rapidly moving backward in an accident Saturday that injured seven, David Souweine captured the incident on video.
"I was standing next to the lift when it happened,'' said Souweine, of Rumford, Maine, a season pass holder who was skiing with his family Saturday. "People were kind of thrown off in disarray at the bottom … It was quite chaotic.''
Souweine described how the lift began to move more rapidly, as the weight of all the riders on one side pulled the empty chairs on the other. He said that some people standing in the loading area were knocked over by reversing chairs.
"We were encouraging people to jump off into the soft snow to avoid the chaos at the loading area,'' said Souweine.
Souweine added that he thought the response from nearby skiers and from the mountain itself was "very positive,'' and said that everyone nearby was running to help.
After crews were able to stop the lift's descent, riders were left dangling for hours before they could be rescued, with some tweeting out photos of their rescue. A Second video posted by The Boston Globe shows riders being belayed down from the halted lift by ski patrol.
http://brightcove.vo.llnwd.net/v1/unsecured/media/245991542/201503/2553/245991542_4126698367001_IMG-4111.mp4?pubId=245991542&videoId=4126601984001
Seven adults were injured Saturday morning after a ski lift on Maine's Sugarloaf Mountain suddenly rolled backward and stopped with about 230 skiers and snowboarders suspended in the air, according to resort officials.
"We knew that there were some who did jump from the lift, and that's where a number of injuries occurred,'' Sugarloaf's Director of Marketing Ethan Austin told Boston.com Sunday. "I'm sure it was a very scary situation for anyone who was involved and who was on the lift.''
Austin said there was no new information on the incident since Saturday's press release from the mountain, but that the investigation was ongoing Sunday.