Local
Boston 2024: Let's Have a Vote on the Olympics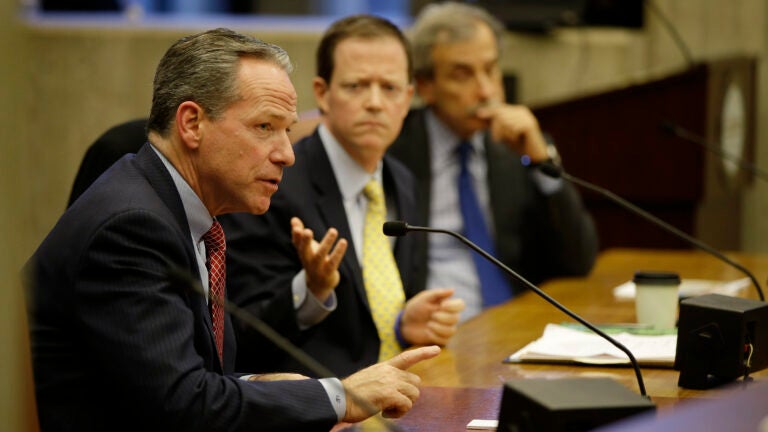 Boston 2024, the group that wants to bring the Olympics to Boston, has endorsed a statewide referendum on whether the city should bid to host the Summer Games.
"Let the voters vote,'' Boston 2024 Chairman John Fish said in a speech at a Tuesday morning Greater Boston Chamber of Commerce breakfast, announcing the group's new position.
A question would be on ballots in November 2016, Fish said, during a presidential election year. Fish said that even if a referendum passed statewide but did not have the support of Boston voters, the committee would drop its bid to host in 2024.
"We want to build consensus statewide, but we also want to build consensus in the city,'' Fish told reporters following his talk. "We're making a statement that if we can't have success both statewide and citywide that we won't move forward. … The International Olympic Committee does not want to bring those games to an area where they're not wanted.''
A recent poll showed Boston's Olympic bid to have just 36 percent support in Greater Boston.
Fish said he spoke with Governor Charlie Baker and Boston Mayor Marty Walsh on Monday night. And he said the United States Olympic Committee also supports the idea.
"They [the USOC] are supportive of what we're doing,'' he said. "If they weren't supportive, I'm not sure I would have made the recommendation or had the conversation with the mayor and the governor, because I don't think that would be appropriate if one of our partners didn't really support the strategy we're implementing.''
The announcement comes the day after Boston 2024 committed to not submitting a final bid to the International Olympic Committee, due in 2017, if it did not have majority support in the state.
There has been talk of a possible referendum on the Olympics since before Boston was selected by the USOC in January as its host city. In January, Evan Falchuk, the founder of the United Independent Party and a 2014 gubernatorial candidate, started to explore putting a statewide question in front of voters next year. City Councilor Josh Zakim has also called for four non-binding city ballot questions for Boston residents this year.
Boston 2024 had previously been resistant to the idea, as had Walsh. Walsh since softened his stance, and Boston 2024 CEO Rich Davey said this week that a statewide vote could be one way to measure support for the bid.
Fish said Boston 2024 would collect signatures to get a referendum on ballots. Doug Rubin, whose firm Northwind Strategies is serving as a communications consultancy for Boston 2024, told Boston.com that it's too early to say how the language of a ballot question will read.
"I think it's very early. We're going to sit down with stakeholders, we're going to talk with people and work on a question that we think is very fair and transparent,'' Rubin said.
No Boston Olympics, the group opposed to bringing the games to Boston, issued a statement Tuesday morning, focusing on the language of the statewide question.
"We hope to work constructively with Boston 2024 to craft language that accurately and fully reflects the difficult choice facing our Commonwealth,'' the statement read. "We need to ask voters if taxpayers should be on the hook if things don't go according to Boston 2024's plan.''
No Boston Olympics also said it continues to support holding the proposed non-binding Boston referendum this fall.
A referendum will likely turn Boston's Olympic bid—to the extent it wasn't already—into a key political conversation over the course of the next year and a half. Boston 2024 is already working with a group of consultants who are highly tapped into the state's political network. Among them is CK Strategies, whose founder Chris Keohan worked on Walsh's 2013 mayoral campaign, and which on Monday sent an email to Walsh supporters to drum up support for the bid.