Local
They Just Don't Want the Olympics
Chris Dempsey, Kelley Gossett, and Liam Kerr—the three leaders of No Boston Olympics—are politically polished, with backgrounds rooted in government, campaigns, business, and advocacy.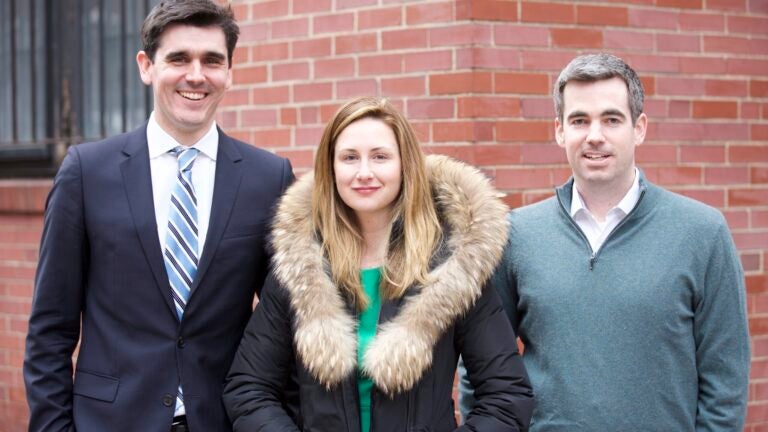 Ahead of a recent public meeting about the Boston Olympic bid, Chris Dempsey marched into Burden Hall, a building at Harvard Business School, and found a seat square in the middle of the auditorium. The venue's name was fitting. As one of the three co-chairs of No Boston Olympics, he has served as a thorn in the side of the city's bid to host the 2024 Summer Games for more than a year.
Dempsey would be joined after the start of the meeting by co-chair Kelley Gossett. Liam Kerr, the group's third leader, would catch up on what happened in the early morning while rocking his 6-month-old son back to sleep.
The three co-chairs are young-ish professionals (Gossett is 34, Dempsey, 32, and Kerr, 31). But they're politically polished, with backgrounds similar to many of those working with the Olympic organizing committee Boston 2024—rooted in government, campaigns, business, and advocacy.
"People have said: 'Well, aren't you worried about your network? Don't you think [you might upset] some people you might meet down the road?''' Kerr said. "If we're not thinking critically about major public policy issues and speaking our mind forcefully, then it seems like our thesis for our professional and personal life is off.''
The recent city meeting was the first since Boston 2024 announced its backing of a 2016 referendum on whether to go forward with the bid. That announcement came amid plummeting support for the plans, and served as a big boost of confidence for No Boston Olympics. The falling support can likely be attributed in part to Boston 2024's numerous bungles in the past couple of months, but No Boston Olympics has been a central part of the debate.
For several months, Dempsey has regularly appeared on talk shows to voice his criticisms. The group has been invited to participate on panels, and to testify in front of Boston's City Council. At the city's meetings about the Olympics, at which Mayor Marty Walsh, Boston Redevelopment Authority official John FitzGerald, and Boston 2024 officials have responded to citizens' questions, multiple attendees have said they wished No Boston Olympics had been included in the panel to help flesh out a fuller picture.
In October, Boston 2024 Chairman John Fish criticized the group, saying to The Boston Herald: "Who are they and what currency do they have?'' (He'd later walk that back a bit while talking to The Boston Globe.)
But things have changed quite a bit since. Dempsey, Gossett, and Kerr have met with Walsh and with Boston 2024. They're involved enough in the conversation that when Fish announced that Boston 2024 would back an Olympics referendum, "it didn't come as a shock,'' Dempsey said. He'd been told in advance that it was happening. Had Boston 2024 told him? He wouldn't answer.
It's gotten to the point that pollsters are asking how voters feel about the group. In Greater Boston, a WBUR/MassINC poll found, 34 percent view the group favorably, 29 percent say they view it unfavorably, and there's a whole lot of room in the middle. (Boston 2024, by contrast, has a 19 percent favorability rating, compared to 34 percent who view the group negatively.)
"They've created a lot of interest and discussion about the complexities of the bid. And as a result of that, I think that if Boston does stay in the race, the bid will be less expensive and less destructive than it may have otherwise been if they hadn't been involved,'' said Andrew Zimbalist, a Smith College professor whose research into, and skepticism of, the supposed economic benefits of hosting the Olympics has been cited often by No Boston Olympics.
***
In November of 2013, No Boston Olympics held its first meeting. It was informal. Dempsey and Kerr sat on the couch in Kerr's Beacon Hill living room, with a dog wandering around the condo. "It was literally a living room conversation,'' said Kerr, who is originally from Needham. "But it was about how this could be a really big topic down the road.''
Kerr got his friend Conor Yunits on speakerphone. Like Dempsey, Yunits had told Kerr he didn't see the Olympics as a very good idea for the city. While Dempsey and Yunits didn't know each other, they ran in similar circles.
Dempsey, a Brookline resident and native, was a Bain & Company consultant who had earned his MBA from Harvard in 2012. He had worked campaigns, and previously worked in the Deval Patrick administration as an assistant secretary of transportation.
Yunits, who would later leave No Boston Olympics and switch his position to one supportive of the bid, is from Brockton and is the son of the city's former mayor. He works as a senior VP with the communications and political consulting firm Liberty Square Group. Previously, he worked for the Greater Boston Chamber of Commerce and had tried his own hand in a run for state representative in 2008.
Playing the role of mutual friend, Kerr is a 2012 Dartmouth MBA who had also worked campaigns and who is the Massachusetts director of Democrats for Education Reform. He too had been recruited by Bain, and though he never worked there, he and Dempsey met at a weekend for potential new hires.
So No Boston Olympics was formed boasting some experience with Boston political and power structures—and little else.
"We had a website and a Twitter handle,'' Dempsey said. "That's about it.''
The idea of the Olympics coming to Boston was far from a sure thing at the time. Boston was one of several cities that had been invited to compete to become the United States Olympic Committee's representative bid for the 2024 Games, but hadn't been named to the U.S. shortlist and was more than a year from being named the nation's candidate city.
"We thought the general public underestimated the possibility, when you broke it down in pieces,'' Kerr said. "If you went straight to, 'Could Boston host the Olympics?' People thought that was nuts. But if you said, 'Could Boston be a U.S. finalist?' Sure. 'If Boston's a finalist, could it get picked?' East Coast time zone, really concentrated power structure—uh, yeah, Boston could get picked. 'OK, the U.S. hasn't hosted since 1996, a [28]-year lag, there's a big NBC contract, so could an American city win?' Well, yeah, obviously.''
None of them were Olympic experts, but they didn't like what they were hearing. Yunits recalled that around the time they decided to organize against the bid, Sochi's shadow was stretching across the world as word of the most expensive Olympics ever—$50 billion for the 2014 Winter Games—came out of the Russian city. History may prove the costs of Sochi and the $40 billion 2008 Summer Games in Beijing to be outliers, but Sochi served to further darken a black eye for the International Olympic Committee as it had become more and more clear that the costs associated with hosting the games were spiraling out of control.
Dempsey, however, said his issues with hosting were less based on the examples overseas and more focused on the nature of the bidding process itself.
"Seeing that there were these three parties—the International Olympic Committee, the public, and the boosters [who are] in the middle saying different things to each of them,'' he said.
Dempsey pointed to a committee formed by the state legislature in 2013, around the same time No Boston Olympics formed, to study the feasibility of holding the Olympics in Massachusetts. The committee that was formed lacked anybody with sports economics expertise. It was chaired by Fish, who is now leading the Boston Olympics effort.
"It was a sham commission,'' Dempsey said. "It told us even more that this needed to be balanced a little better.''
Dempsey, Kerr, and Yunits also just didn't buy that talking about hosting the Olympics was a good use of the time and brain power of the region. Criticisms of those "opportunity costs'' have been a constant for No Boston Olympics.
They attended the meetings, they reached out to Olympics experts, including Zimbalist, to gather information. They hit the books and they began to hit social media. In February 2014, just a few days before the legislative committee released a study saying a bid was doable, No Boston Olympics got its first press, from Boston magazine—with a focus on those opportunity costs.
"Boston being a really good place to live in, and work, we think this is a really bad idea,'' Dempsey said at the time. "We want to shift the conversation back to important issues like addressing inner city violence, health care costs, and job growth—the really, truly important issues.''
In June 2014, Boston was named to a shortlist of potential U.S. host cities that the USOC would evaluate and eventually choose from. The idea that Boston was even involved in the first place was news to Gossett, an attorney living in the Back Bay.
Gossett is a Concord native who moved to the West Coast with her family in the first grade. "People say I'm not from here because I didn't go to elementary and high school here,'' she said. "It's such a Masshole thing to say.''
She returned in 1999 to attend Boston College and never left. She earned a law degree from Suffolk, worked in the State House for a bit, and then went into the world of nonprofits. "I'm old enough to see how things are done in this town,'' Gossett said. "But young enough to think I can change it.''
When she heard about it, Gossett said she found the Boston Olympics idea "outrageous.'' She was working as director of policy for One Family Inc., a local nonprofit dedicated to fighting homelessness. "It was budget time,'' she said. "People are marching up to the State House and there's never enough money for things we want to do. … Nobody's been lobbying for a velodrome.'' While Boston 2024 has said it would pay for venues privately, Gossett said that even if that's true, she still felt the energy and time that goes into an Olympic bid would undermine other causes.
Shortly thereafter, by coincidence, Gossett met Kerr at a fundraiser for then-Democratic gubernatorial candidate Martha Coakley (who supported the bid). They got to talking about the Olympics, exchanged emails, and before the summer had hit the dog days, No Boston Olympics counted its fourth chair in Gossett.
The group would shrink back to three in December, though. Yunits said he had been planning to cut back his time working with No Boston Olympics in 2015 anyway. His wife had just welcomed a second daughter and the volunteer effort amounted to a whole lot of work.
But in a Boston Globe article, Yunits revealed he was getting out of the opposition effort and now supported the bid. He swears he felt no pressure from Boston's power structure—which he mingled with as part of his job, and which was increasingly becoming involved with Boston 2024.
Rather, he said, he had come to like Boston 2024's plans by the end of last year, when the bidding group started to share a few of its ideas with the public. The use of existing venues, the proximity of the venues to one another, the plans for an Athlete's Village that would yield housing for UMass Boston, the pledge that all venues and operations would be privately funded—these were "creative'' ideas, Yunits said, that would help avoid a Sochi-like budgetary catastrophe. That was, after all, the fear that had brought him to Olympics opposition in the first place.
Yunits said he is still friendly with his former comrades. "They respected my decision,'' he said. "There was no fall-out.''
A few weeks after Yunits left No Boston Olympics, the USOC announced that its hopes for hosting in 2024 would fall on Boston. Yunits said he's glad that, even as he walked away, Dempsey, Gossett, and Kerr remained active.
"When you have rational, intelligent people debating the other side of an issue, the public discourse is only strengthened,'' he said.
***
At a recent forum they both spoke at, Boston 2024 CEO Rich Davey handed Dempsey a large printout that said "Maybe Boston Olympics.'' "My job is to get you to yes,'' said Davey, who once worked with Dempsey in the state's Department of Transportation, which Davey later led. Dempsey laughed, and later said the gag was "friendly.''
Throughout the fall and into early winter, No Boston Olympics spent much of its effort trying to convince the USOC not to select Boston as its bidding city, and called on Boston 2024 to reveal the details of its bid. Boston 2024 eventually did so in late January, a couple of weeks after its pitch was chosen by the USOC.
Since those plans were made public, No Boston Olympics has mostly engaged on Boston 2024's own terms.
At this point, you likely won't hear comparisons to Sochi. If the Olympics come to Boston, the Sochi bid just isn't very similar, Dempsey said. They're more likely to argue that while Boston 2024 has said it would get insurance to protect Boston and the state from incurring any operating costs, its budget does not list any premium payments. Or, when in March a report came out showing a Boston Olympics could generate billions in economic activity—a report Boston 2024 has since touted—No Boston Olympics didn't outright dismiss it or dispute it, but instead highlighted some of the risks mentioned within the report.
This kind of wrangling over the details of Boston 2024's plans has suggested that No Boston Olympics is willing to negotiate—that maybe "Maybe Boston Olympics'' is an appropriate way of thinking about the group.
No Boston 2024, an allied but separate group organizing against the Boston bid, has said there is nothing that can be done to change its members' minds—they have staked out their position, and even if they were promised the very best Olympics of all time with no cost overruns and no residual social issues and everybody gets a pony, they'd turn it down. "It's too late. They waited too long,'' said No Boston 2024's Robin Jacks. "They submitted a bid without our consent. It makes [Boston 2024] inherently untrustworthy.'' (Read more on the differences between the two groups here.)
But No Boston Olympics has hedged a little more. "We could see ourselves potentially supporting a different bid or a changed bid. We're just not there at this point in time,'' Dempsey told the City Council in March.
They've said there are a few things that may help to get them there.
• They think Boston should refuse to guarantee that the city or the state will pick up the tab on any budget shortfalls related to the bid, as the IOC has required of past host cities. (The insurance policy Boston 2024 plans to take out would protect the city from these requirements, Boston 2024 has said, but No Boston Olympics has countered with doubts that such a policy would provide adequate coverage.)
• No Boston Olympics has also called on Boston 2024 to employ "an independent watchdog organization'' with full audit power, which would be fully funded for a year past the games' conclusion.
• And the group thinks Boston 2024 should withhold a $600 million payment to the USOC, which would be made over a six-year period ahead of the Olympics, until and unless Boston comes out on the other side of the 2024 Olympics financially intact. (To do so would deny the USOC any sponsorship or licensing revenue whatsoever for the six years ahead of the 2024 Olympics. More on that here.)
At least two of those three suggestions—that Boston refuse to sign a financial guarantee and that it withhold the USOC's marketing money—can probably be considered major reaches.
But for the sake of argument, what if they were all fulfilled? Would No Boston Olympics drop its opposition? It's not so clear.
"We oppose the bid,'' Dempsey said when asked that question.
The bid, sure. That means the documents we've seen, the plan that No Boston Olympics has railed against for more than a year. But does No Boston Olympics oppose bidding, under all circumstances, even if the bid were better, if all of its suggestions were met? Dempsey paused, his hands crossed in front of his mouth for about 10 seconds.
"Yeah,'' he said. "We oppose bidding. Absolutely.''
Even then, however, there's some nuance to the position. Dempsey said that if the group's suggestions for improving the bid were met, it would make No Boston Olympics "a lot more comfortable.'' He said he's not sure whether they would continue to oppose the bid even if those comforts were granted. He called the scenario "hypothetical.''
But if No Boston Olympics were to close up shop someday, Dempsey, Gossett, and Kerr would still think bidding on the Olympics was a bad idea in the first place. The thing they can't get over, the one they've been talking about from the start, are those perceived opportunity costs. The thought that so much time and energy will and must be put toward the Olympics if Boston winds up hosting them, and in the meantime even if it doesn't—that for every public meeting held on the bid, it's a meeting that isn't being held about housing or education or transit. That's the impasse. The Olympics are a distraction that plays out every time it graces a newspaper's front page, the group believes.
"I wish we weren't talking about this,'' said Gossett. "The amount of great influencers in this town who are working on this … if we could be putting all this knowledge power and political momentum behind [other priorities], I'd be thrilled.''
At the same time, if there's going to be a bid, No Boston Olympics thinks the conversation ought to be thorough.
"We've been saying since day one that we don't think it's inconsistent to oppose the bid and want to work to make the bid better,'' Dempsey said. "We want to be seen as rational and constructive in the debate, not just people who are digging in their heels in ideological opposition.''
Dempsey, Gossett, and Kerr seem to be having some fun with it all, though. Dempsey is comfortable in front of a camera or a crowd, debating the merits of the bid. (He's also the only one of the three who didn't give a steadfast "no'' when asked whether he plans to run for elected office someday, though he said that is not a factor of his Olympics opposition.) In a group interview with Boston.com, the trio laughed at one another when one sounded a bit too politique with their answers. Kerr, who arrived last to the meeting, showed up giddy about a piece that had just appeared on the Globe's website.
Dempsey recently left his job at Bain. He said he has a job offer. Gossett was laid off by One Family in February, after her position was eliminated, she said. (One Family did not respond to a request for comment.) She is seeking work, and said she has also had offers. For the time being, though, both are happy enough to be putting most of their efforts into the Olympics debate. Gossett has taken on more of a public face in representing the organization—a role that had previously been occupied mostly by Dempsey. Kerr, who said he will not leave his job, is less active in-person; the three have gotten together face-to-face less than 10 times they say, though Kerr has been active in hundreds of email and text message threads.
Dempsey and Gossett won't rule out the notion that they'll do No Boston Olympics full-time for a while.
"I think we work at a startup,'' Gossett said. "And if it gets funding, I'd do it. If not, then it's on to the next adventure.''
They said that was never the plan to begin with, when they first got involved. But now they may be in for a long haul. All signs suggest that a referendum would take place in November 2016, when voters will be deciding on presidential candidates who have not even formally declared their candidacies yet. You can bet No Boston Olympics will be closely involved with, if not at the front of, those pushing for a "no'' when it comes time for that vote.
"I think there's a degree of ownership on this issue,'' Gossett said. "I can't necessarily let it go.''
No Boston Olympics has faced some criticism. At every turn, the group has called on Boston 2024 to be transparent. But when asked by the Globe in March to reveal its own donors, the group declined to do so. While Kerr called the point a "good clean hit,'' No Boston Olympics is holding that position, and won't even say how many donors it has or the amount of money it has raised. Dempsey said that position could change.
"I think we have a principled stance on this issue,'' he said. "We are going up against some very powerful folks, people who are not to be met with. There needs to be an opportunity for dissenters without jeopardizing their business or personal relationships.
"But do we have the right political stance? Somebody gave me some advice on this issue, which was: 'You should seek to be everything you want your opponent to be.' So if we want our opponent to be open and transparent, books wide open, then we should also be open and transparent. … It's something we'll reassess, something we'll continue to reassess.''
***
No Boston Olympics isn't getting into its electoral strategy at this point. The group will very likely be out-fundraised and outspent when it comes time for a ballot question. But that would come a year and a half from now, and we don't know what exactly it will ask. In the short-term, the trio seems to be putting its efforts toward convincing the USOC to pull the Boston bid and go with another American city (which, on March 31, the USOC said it is not planning to do).
But what if the referendum passes? And what if Boston winds up the 2024 host? Jules Boykoff, a Pacific University professor who has studied and written about activism and the Olympics, said that in the past, these types of efforts have evolved once the host city selection process has passed and attention turns toward actually hosting the games. Usually, he said, focus shifts from preventing the Olympics from happening, to things like civil liberties and housing issues in the run-up to the event, as well as the guarantees required of cities by the IOC.
Gossett said there's been little consideration of how large a role the IOC will play if Boston winds up hosting.
"We haven't even gotten to the IOC,'' Gossett said. "We haven't even started that debate. … When you invite somebody into your backyard, do you even know who you're inviting?''
On the other hand, it's possible the group would be out of operation at that point. They've left the door to the debate cracked open just wide enough that they could still some day exit through it.
For now, No Boston Olympics's goal is defined in its name. If the by-product is a better Boston bid, that would at least be a positive outcome.
"The only thing scarier than this taking all this time from the civic conversation,'' Dempsey said, "is [the bid going forward without] taking any time from the civic conversation.''
Boston 2024 officials were not available for an interview, and did not respond to emailed questions about their relationship with No Boston Olympics, before this article was published. Boston 2024 has said in public settings that No Boston Olympics is helping to improve its bid with its criticisms, and its CEO, Davey, has told The Boston Herald he's "optimistic'' No Boston Olympics will be involved in crafting a 2016 ballot question.
More on Boston's bid for the Olympics:
Meet the Guys Who Got the Boston 2024 Movement Started
Looking Back at Boston's Olympic Plans From 1993
The Politics of the Boston Olympics Bid