Local
District Attorney Says Tewksbury Police-Involved Shooting 'Justified'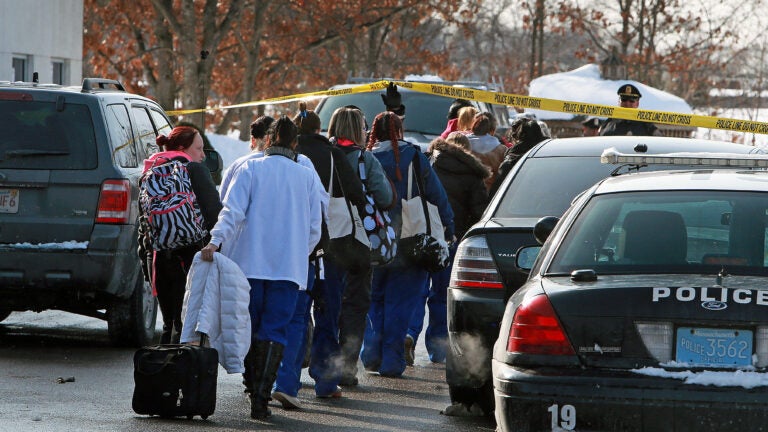 The fatal officer-involved shooting of stabbing suspect Douglas Sparks in Tewksbury in February was "justified,'' Middlesex District Attorney Marian Ryan said in a statement Friday.
Police responded to the Salter School just after 9 a.m. on February 17, where Sparks, 30, of Medford, had allegedly confronted a man and a woman, both employees of the school. The victims had arrived at the school in the same car; Sparks slashed two of its tires and broke one of its windows before stabbing the two employees in the hands and arms, according to the DA's office.
Sparks had previously dated the female victim and had called and texted her in a "prolific, threatening'' way in the days before the encounter, the DA's office said in its findings report.
Both of the stabbing victims were taken to Lowell General Hospital with non-life threatening injuries. The school was placed on lockdown.
Officers saw Sparks in the nearby area, holding a gun. When repeatedly asked to drop the gun, Sparks refused, and police then opened fire, authorities said. Sparks was pronounced dead at a Lowell hospital. Police later determined the gun to be a BB gun, though it did not have an orange tip, according to authorities.
The DA's findings report read, in part:
"A thorough investigation into the circumstances surrounding the fatal shooting of Mr. Sparks has revealed that Detective (Michael) McLaughlin and Detective (Edward) Jackman fired only after Mr. Sparks pointed his gun at Detective Jackman and his partner Detective (Michael) Donovan, and had already refused the detectives repeated commands to 'Drop the gun.' Under the circumstances, Detective McLaughlin and Detective Jackman acted reasonably and lawfully. Therefore, no criminal charges are warranted.''
The incident was investigated by the Middlesex DA's Office and Massachusetts State Police assigned to it. The investigation included interviews with responding officers and witnesses, reviews of radio transmissions, police reports, and the medical examiner's findings, and the examination of ballistics and other evidence.