Local
Marathon Bombings Report: 'Weapons Discipline Was Lacking' in Watertown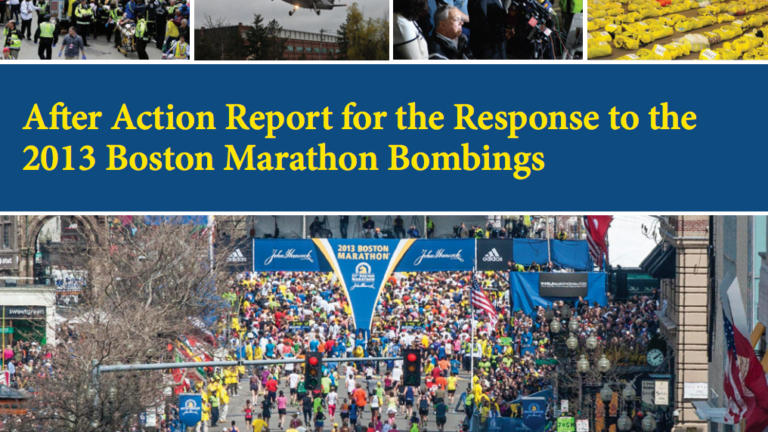 A newly released report by local authorities details the response of law enforcement following the Boston Marathon bombings.
The full report is available here.
The report says that during the early morning shootout in Watertown on Friday, April 19, 2013, the first officers to arrive "practiced appropriate weapons discipline while they were engaged in the firefight with the suspects.'' But it added that "additional officers arriving on scene near the conclusion of the firefight fired weapons toward the vicinity of the suspects, without necessarily having identified and lined up their target or appropriately aimed their weapons.''
After the firefight, one officer fired upon plain-clothes officers in an unmarked Massachusetts State Police vehicle that was wrongly reported as stolen, according to the report, which also cites lack of weapons discipline by law enforcement during efforts to apprehend Dzhokhar Tsarnaev when he was hiding in a boat behind a Watertown home.
The report also highlights what it found to be successful elements of the response to the bombings, such as a well-prepared medical operation near the marathon finish line, the reopening of Boylston Street after evidence collection and cleanup, and coordination between agencies and leaders following the bombings. Boston Mayor Marty Walsh pointed to these "key best practices'' in a statement Friday.
"I am proud that this report highlights the tremendous efforts of so many city workers following the violence that struck our City two years ago, including the re-opening of Boylston Street in the aftermath of the bombing, and the incredible response of our hospitals and medical personnel,'' he said.
The report was produced by several state agencies, including Massachusetts Emergency Management Agency, the Department of Public Health, State Police, MBTA Transit Police, and the Massachusetts National Guard, as well as the cities of Boston and Cambridge, and the Town of Watertown. MEMA led the team that produced the report, which was based in part on interviews with former Gov. Deval Patrick, the late Mayor Thomas Menino, law enforcement officials, healthcare personnel, and the Boston Athletic Association, which oversees the marathon.
Key findings:
∙ Lack of weapons discipline in Watertown: "Weapons discipline was lacking by the multitude of law enforcement officers in the field during both the firefight with the two suspects near Dexter and Laurel Streets, and the standoff with the second suspect who was hiding in a winterized boat in a residential back yard.''
∙ An officer shot at an unmarked State Police vehicle in Watertown: "At 12:51 a.m., immediately after the gunfight, an unmarked MSP black pickup truck was incorrectly reported as stolen. The truck was then spotted driving on Adams Street, a few blocks from the scene of the firefight, with two occupants. The moving vehicle with unidentified occupants was fired upon by an officer. Upon further inspection, it was determined that the occupants of the vehicle were a BPD officer and MSP trooper in plain clothes, who were unhurt.''
∙ Shots fired at boat, where Dzhokhar Tsarnaev was hiding, were "without appropriate authority'': "At 6:54 p.m., an officer, without appropriate authority, fired his weapon in response to perceived movement in the boat and concern the suspect had a weapon. After this first shot, many other officers on scene opened fire at the boat, assuming they were being fired upon by the suspect. Weapons continued to be fired for several seconds even while on scene supervisors ordered a ceasefire. After the shooting stopped, the suspect did not emerge. At 7:05 p.m., movement was observed in the boat.''
∙ Pursuit of Dzhokhar Tsarnaev in Watertown delayed by "multitude of police vehicles'': "The second suspect ultimately drove out of the area, while being shot at by the numerous law enforcement officers lining the streets. The multitude of police vehicles parked in the roadway delayed the pursuit of the second suspect, and he was able to make it approximately one-half mile down the road before abandoning the vehicle on Spruce Street and fleeing on foot.''
∙ EMTs believed Transit Police Officer Richard Donohue would not have survived longer ride to trauma center: "At 12:51 a.m., Officer Donohue was loaded into the Watertown Fire ambulance for transport, but egress from the area was challenging given the numerous police vehicles parked in the vicinity and blocking street access. To circumvent the congestion made by the multitude of police vehicles and allow for the two paramedics to remain in the rear of the ambulance with the patient, a Watertown PD officer drove the ambulance to Mount Auburn Hospital, the nearest medical facility. Mount Auburn Hospital was approximately two miles away from the shooting scene, but did not have a trauma center. Nevertheless, the EMTs aiding Officer Donohue believed he would not survive a longer ride to a facility with a trauma center, and directed that he be brought to Mount Auburn. Officer Donohue had to be resuscitated upon arrival at the hospital, but the medical team at Mount Auburn was able to save his life.''
∙ Law enforcement only wanted partial shutdown of MBTA during lockdown: "Because the suspect was on foot, there was potential he would seek access to the transit system, which, because the suspect was considered armed and very dangerous, could have placed the ridership of the transit system at great risk. Discussions initially focused on closing MBTA subway stations and suspending bus routes in the immediate area. However, the MBTA advised the [Unified Command] that a targeted suspension of subway and bus services was not feasible. This led the UC to the conclusion that the safety of the public required the immediate suspension of all public transportation services.''
∙ Swift communication and decisive action in the aftermath saved lives: "The medical system activated to support the Marathon …was able to quickly adapt and transition from a system designed to support runner casualties to one that was able to respond to a mass casualty incident involving large numbers of critical patients … Sixty critical patients were quickly triaged and made ready for immediate transportation to hospitals. Within 40 minutes, all critical (red) patients were identified and readied for transport. Although many patients sustained grave injuries, every patient that was transported to area hospitals survived.''
∙ However, there was some lack of communication at hospitals: "At 2:53 p.m., area hospitals received alerts via radio, email and the Health and Homeland Alert Network (HHAN) notifying them of the mass casualty incident. Once patients arrived at hospitals, they were triaged upon intake and then again in surgical units, to determine the priority of surgeries. Although it was known at the scene that the IEDs did not contain contaminants, this information was not transmitted to the hospitals. This slowed down the intake process, as hospitals had to make determinations about whether or not to decontaminate incoming patients.''
∙ Agencies acted fast after bombings: "Unified Command began to form moments after the explosions when senior law enforcement officials from (Boston Police), (Massachusetts State Police), and Transit Police, as well as the MEMA Director, came together on Boylston Street and rapidly started to establish priorities and coordinate response activities. It was quickly decided that a command post needed to be established away from the scene where a Unified Command could collectively direct response operations. At 3:28 p.m., less than 40 minutes after the bombings, an ad hoc Unified Command Center (UCC) was established at the nearby Westin Hotel with key leadership already in place under Unified Command and actively coordinating response efforts.''
∙ The Westin, however, was not optimal: "The Westin Hotel was very gracious and accommodating to representatives of the [Unified Command Center], providing space, food, and available resources to support emergency operations. However, UCC leadership soon learned that hotels do not necessarily have the capabilities and equipment on hand to support the activities of an emergency operations center, such as large quantities of phones, phone jacks, electrical outlets, computer equipment, and other resources necessary to support emergency operations.''
∙ Responders could have used more relief: "Many law enforcement officials experienced critical incident stress associated with observing and responding to an incident of the magnitude of the bombings, and continued to serve long shifts in the days and weeks afterward, compounding this stress with fatigue.''
∙ Lack of media coordination between agencies: "In addition to sharing information with the public through traditional media outlets, various agencies utilized social media to provide information. In contrast to the press conferences, which were well managed and provided periodic coordinated messages, there was no coordination or validation of messages delivered by numerous agencies and organizations through social media. This led to some misleading or incorrect information being widely distributed through social media outlets.''
∙ A smooth reopening of Boylston Street: "Boston [Office of Emergency Management] excelled at spearheading plans to reopen Boylston Street. The restoration of Boylston Street was extremely organized, enabling residents to access their homes, businesses to be re-opened, and the public to revisit in record time…Cleaning, restoring, inspecting and other activities were well thought out in a formal plan, and the plan was executed with strong coordination among several city agencies.''