Local
Law Schooled: Experts Predict the Aaron Hernandez Outcome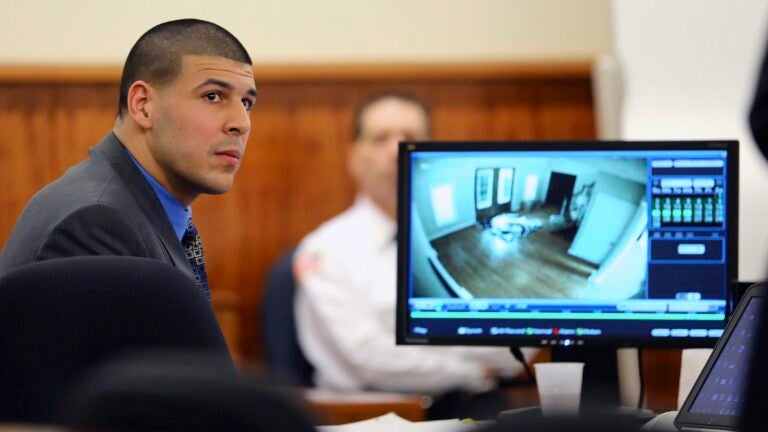 Over the course of the Aaron Hernandez trial for the murder of Odin Lloyd, Boston.com has talked to a number of local legal experts on a variety of topics in a series called Law Schooled.
We've covered topics ranging from Hernandez's laughter in court to witness emotion during the trial to a lesson in the immunity of Shayanna Jenkins. And after an attorney's attempt at humor with a Deflategate gag, we asked if there was any strategy behind lawyer jokes during the proceedings.
Now that both sides have rested and presented closing arguments, and the jury deliberates, we reached out to some of our contributors for their thoughts on how the verdict will play out for the former New England Patriots tight end.
Gerry Leone, Former Middlesex DA / partner at Nixon Peabody Verdict: Guilty or hung jury. Doesn't think it will be a not guilty verdict. Why: "I think it was a strong, solid prosecution case which can certainly form the basis for a guilty [verdict], but I also think the circumstantial nature and joint venture theory provide the defense a hopeful option that at least one or more jurors won't find him guilty beyond a reasonable doubt.'' Key points of the case: "The profile of relationships between him [Hernandez] and his two cohorts is critical. The fact that he was the lynchpin, the sugar daddy for these guys … I think that's important. Because they haven't proven who the shooter is, I think it's important see him as the band leader.''
David Rossman, Professor at BU School of Law Verdict: "It's more likely he'll be convicted than he's acquitted, but I don't have a great deal of confidence in that prediction. It's a circumstantial case.'' Key points to the case: Surveillance video. "The thing I think would have the greatest impact on the jury of everything I saw or read was the video of the defendant in the parking lot of a police station in a car, seeming to take apart a telephone … that just doesn't look good.'' The amount of surveillance video entered into evidence "is startlingly different from what you see in a run-of-the-mill (murder) case.'' "Mr. Hernandez seemed to have an unfortunate predilection for doing stuff in front of video cameras.''
Rosanna Cavallaro Professor, Suffolk University School of Law Verdict: "I try to never second guess the jury … I think that it could really go either way.''
Key points to the case: The suspicious behavior the day after the murder. "His fiancee's behavior and the box being moved and the phone calls she was taking outside the presence of her sister. I think those pieces were very powerful.'' The defense also scored major points, she said, questioning how the case was investigated. "Were they as careful as they should have been examining those forensic tidbits? They only need to raise reasonable doubt to get a not guilty.''
Philip A. Tracy, senior partner at DiMento & Sullivan Verdict: Guilty for murder 1 and all weapons charges. "I think he'll be found guilty, but I don't think it'll be an easy verdict. [In] some murder cases, the jury comes back in a short time because the evidence is overwhelming. This case, it's going to have to be a jury deliberation that could go on for up to two weeks, maybe more. They've got to sift through a lot of evidence and eyewitness testimony.'' Key points to the case: "I think the circumstances surrounding his fiancee receiving immunity, then admitting she was doing things he was ordering her to do at the time when they were investigating him for murder, like removing that box .. .that's a powerful piece for [the prosecution].''
"There was some testimony, this is kind of subtle, there was a cleaning lady, any reason to throw out that box … it would go to the dump … it would not be [Jenkins] who would be doing it. They hired people to do stuff like that, that's a subtle piece of circumstance. Why was she ordered by him to throw out that stuff? She did not say what the government may have wanted her to say, 'there was a gun in the box and he ordered me to get rid of it,' but that stretched credibility, too, that she didn't look into the box.''
Martin Weinberg, defense attorney, Weinberg Law (via e-mail) Verdict: "I don't predict verdicts, not in my own cases, not in someone else's.'' Key points to the case: "The defense properly and predictably stressed the absence of any motive that would cause AH [Aaron Hernandez] to participate or plan the murder of his friend. Given the ultimate uncertainty as to what happened at the pivotal moment, the defense correctly emphasized the failure of the State to disprove that one of the others, without prior agreement, murdered Mr. Lloyd.
The State's best argument was to ask what other conceivable reason would AH [Aaron Hernandez] have to drive into the industrial park at an early morning hour and that it didn't matter who pulled the trigger – particularly given AH [Aaron Hernandez's] seeming leadership of the group – given the evidence of joint venture and the seeming closeness of the three parties before, and then after, the shooting.''
– Boston.com Staff members Braden Campbell, Eric Levenson, Allison Manning and Nik DeCosta-Klipa contributed to this report.