Local
Aaron Hernandez Guilty of First-Degree Murder, Sentenced to Life in Prison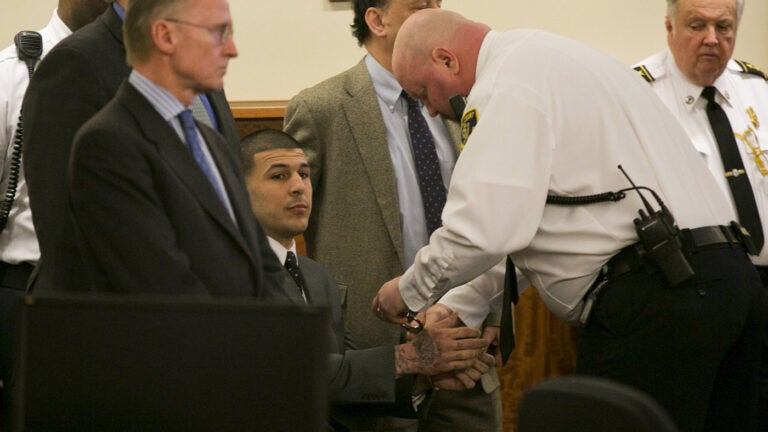 Former Patriots star Aaron Hernandez has been convicted on all counts in the June 2013 killing of Odin Lloyd, including first-degree murder. He has been sentenced to life in prison without the possibility of parole.
The verdict represents a stunning fall from grace for the former tight end, who just three years ago signed a five-year contract extension worth up to $40 million with the New England Patriots. Hernandez starred as a multi-sport athlete in his hometown of Bristol, Connecticut, and was a top player for the Florida Gators squad that won the 2008 national championship.
Hernandez's father Dennis passed away suddenly in 2006 at the age of 49, a turning point in his life.
"I truly believe that Aaron wouldn't be where he is today if his father were alive,'' Bob Montgomery, Bristol historian and Bristol Press columnist, told Boston.com back in February. "[He and his brother] loved that man and they loved each other. Made me feel kind of funny. Boy, I wish I could show my son that love.''
The Aaron Hernandez Trial in Pictures
[bdc-gallery id="316750″]
Hernandez comes from a long line of great athletes in the Hernandez family. His father and older brother D.J. were stand-outs at Bristol Central High School, and both went on to successful football careers at the University of Connecticut. Aaron was the youngest Hernandez, and lauded as the greatest of them all when he was in middle school.
In the summer of 2005, between his sophomore and junior years at Central, Aaron verbally committed to UConn to follow in his father's footsteps. Even after his father's untimely death, Hernandez remained committed to the Huskies.
"I may have committed a little too early, but I'm 90 percent sure, well, 95 percent sure, that I made the right decision,'' Hernandez told the Hartford Courant in February of 2006, just one month after his father passed.
But after an amazing senior football season earned him Connecticut's Gatorade Player of the Year and Rivals.com's top tight end recruit in the nation, football powerhouse Florida came calling. It was in Gainesville where Hernandez's legal troubles began.
Before football season even started in Gainesville, the 17-year-old Hernandez allegedly punched a bouncer at a bar over a disputed bar tab, according to police, while out with his Florida teammates. The punch allegedly broke the man's ear drum, but no charges were ever filed.
Later that fall, Hernandez was one of four former Florida players questioned in a late-night shooting after an altercation in a Gainesville club. He was also suspended a game for testing positive for marijuana.
In 2013, TMZ obtained a photo reportedly showing Hernandez holding a Glock handgun during his final year at Florida in 2009.
Despite his personal issues in Gainesville, Hernandez was selected by the Patriots in the fourth round of the 2010 NFL Draft with the 113th overall pick. Hernandez became a dynamic weapon in the Patriots offense alongside fellow tight end Rob Gronkowski, helping the Patriots to a Super Bowl berth in 2012 and AFC Championship appearance in 2013.
The future was bright for Hernandez.
But that loss to the Ravens in the AFC Championship game would be the last one he would play in a Patriots uniform. Turns out that will be his last football game ever.
Hernandez also faces two murder charges for a 2012 drive-by shooting in Boston's South End. That trial does not yet have a starting date.
Hernandez was also found guilty of two weapons charges. The verdict comes after jurors heard testimony from 135 total witnesses — 132 called by the prosecution — in the 10-week long case.
Prosecutors alleged that Hernandez and co-defendants Carlos Ortiz and Ernest Wallace drove Lloyd to a North Attleboro industrial park, where they shot and killed him around 3:25 a.m.
Ortiz and Wallace have both pleaded not guilty and will be tried separately.
Hernandez stood as he heard the verdict, and then sat down upon hearing the first guilty verdict. He did not show much emotion. His fiancée Shayanna Jenkins and his mother Terri Hernandez held each other and wept.
Lloyd's mother Ursula Ward, his uncle, his sister, and his cousin remembered Lloyd as a hard-working man and the "backbone'' of the family during sentencing.
"I forgive the hands that had a hand in my son's murder, either before or after,'' Lloyd's mother Ursula Ward said during sentencing. "And I pray and hope that someday everyone out there will forgive them also.''
"The day I laid my son Odin's life to rest, I felt my heart stop beating for a moment,'' Ward said. "I felt like I wanted to go into the hole with my son Odin.''
"A lot of people won't see from the outside the value and the riches he had,'' his uncle Vorn Samuels said. "It wasn't material, the wealth he possessed.''
"It feels like a bad dream, and I'm stuck between living and reality,'' Lloyd's sister Olivia Thibou said. "I have to go to his gravesite to look at his tombstone to tell him that I love him.''
[fragment number=0]
During the trial, prosecutors showed surveillance video of Hernandez carrying a semi-automatic pistol a few minutes after the murder. A Glock representative testified that it was similar to the model used to kill Lloyd.
Prosecutors never recovered a murder weapon, but police said Lloyd was killed with a .45-caliber Glock.
The prosecution said that Hernandez told his fiancée, Shayanna Jenkins, to dispose of the murder weapon the day after Lloyd's body was found. Jenkins testified Hernandez told her to remove a box — which she said weighed 30 pounds and smelled like marijuana — from their basement. She said that she discarded the box in a "random'' dumpster, but couldn't remember where.
Later, a former friend of Hernandez testified that the ex-NFL player had a basement safe that contained a semi-automatic gun, marijuana and cash. For the first time in the trial, the defense acknowledged during closing statements that Hernandez did have a gun in the home security footage shown in court.
They also admitted in closing that he was present at the crime scene and witnessed the murder.
"He was a 23-year-old kid, who witnessed something, a shocking killing committed by someone he knew,'' Hernandez's lawyer James Sultan said in his closing statement. "He didn't know what to do.''
Yet multiple surveillance videos and fingerprint evidence indicated Hernandez was the driver of the car that took Lloyd from his Dorchester home to the industrial park where he was murdered. Home surveillance footage showed Hernandez, Ortiz, and Wallace returning to the former Patriot's nearby home together minutes after the police say the killing occurred.
Prosecutors struggled to illustrate a clear motive, only pointing to witness testimony that Hernandez appeared angry with Lloyd at a club two nights before the murder, and that in another incident Hernandez remarked that Lloyd had acted "rude'' while visiting the former Patriot's home.
Hernandez's lawyers repeatedly asking jurors why Hernandez would ever kill his friend and soon-to-be-brother-in-law.
[fragment number=1]
– Chris Rattey also contributed to this report.