Local
Local Breweries Are Offering Way More Than Just Beer
With everything from food trucks to academic lectures, breweries are becoming a community hub.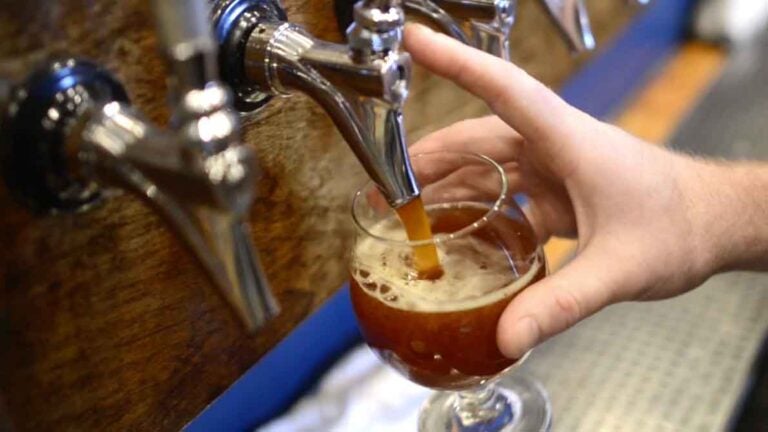 Brian Checkoway went to Somerville's Aeronaut Brewery for the craft beer, but stayed to hear an MIT professor give a talk on gravitational waves.
Checkoway was visiting from San Francisco. Rather than going to a bar and talking over the same pints that can be poured in any state, he wanted to find the local flavor. He ended up finding so much more.
Enter the craft brewery taproom.
Breweries in the Boston area have been gaining popularity not only for their beer, but also because they've started doing so much more than brewing. Along with one of a kind brews, taprooms have been incorporating food truck fare, board games, live music, lectures, yoga classes and fun runs—that end back at the brewery for a beer, of course. Night Shift Brewery in Everett and Aeronaut in Somerville have turned their taprooms into a destination for entertainment outside of just alcohol.
"With breweries in these different neighborhoods, it's the return of the public house,'' Checkoway said. "Fresh beer right in the neighborhood, and because they're local, it's where people congregate.''
When Night Shift first opened, it had a 90-square-foot taproom, but that quickly filled every night. Three years later, Night Shift is in a 2,500-square-foot space that owner Michael Oxton said allows them to serve more people and provide more opportunities in terms of entertainment.
"When we first started, we almost didn't have a taproom at all,'' Oxton said. "It's been enormous on our user experience—creating a taproom that can be treated like a visiting destination that you can hang out in and spend multiple hours. We added food trucks to the regular line up, added corn hole—that's been huge because people can do something other than just sit around—started offering board games, trivia nights, and we're doing taproom yoga and fun runs.''
Night Shift is available in liquor stores and local bars; retail sales are the lifeblood of any beer. But most bars dedicate only one tap to a local brewery at a time. The taproom allows breweries like Night Shift to showcase their variety and experiment with brews before they're ready to be bottled.
"I think there are a number of really unique opportunities offered at any given brewery's taproom,'' Oxton said. "I think the most obvious appeal is that you're going straight to the source—in the culinary world, the closer you get to the source, the better.''
At Aeronaut, the idea of "local'' is integrated into its more than 12,000-square-foot space. Along with the brewery, there's an in-house chocolatier, coffee roaster and farm-to-table delivery service. A greenhouse and restaurant are in the works to round out what Aeronaut founder Ben Holmes has called the 'Foods Hub.'
"I think at the heart, we're different because we try to go all the way with things,'' said Holmes. "When you have an idea to make a beer with local ingredients, we like the idea that coffee can come from a roaster 20 feet from the brew house; that the chocolate can be made from whole beans in the same building as the beer.''
Both Aeronaut and Night Shift have a Farmer's Brewery License, which requires a certain percentage of locally sources ingredients. Night Shift has used Somerville-based Taza chocolate to add a strong flavor to its stouts, and previously infused local Mem Tea in a brew. The brewery also sources spices from Cambridge and malts from Hadley.
Conversely, Night Shift's beers have been used as an ingredient in food, through its partnership with the Malden-based food truck Munch Mobile. Owner Justin Bucenec said he owed a lot of his success to the brewery and their relationship.
"They initially never had food in the tap room, so the thought of a food truck being there brings a whole new aspect of going out,'' Bucenec said.
Munch Mobile offers specials just for the taproom customers, incorporating the very beers they're drinking. Most food trucks set up in high-traffic areas and churn out quick dishes to a crowd on its lunch break, but, at the brewery, there's a more leisurely pace, allowing for more creativity. Bucenec's been able to do more with his business than he expected, and to work closely with a business he respects.
"First and foremost, they're making their own product—not just buying booze—they're making a product and showcasing it,'' Bucenec said. "'Local' has obviously become trendy, but people really grasp onto that. They want stuff from around here, they want local businesses to thrive. [For us] to be able to link up with someone around the corner, it's such a good relationship now, being both local businesses.''
Though both Oxton and Holmes said they didn't have concrete ideas of how their breweries would end up, they both started by working off this notion of forging connections.
"One of the biggest goals when writing our business plan was to establish a really strong community, connect with an audience and build really strong relationships—not just with beer,'' Oxton said. "We didn't necessarily know what those relationships would be, but it was always a part of our mission to do more than just talk about beer.''
As MIT drop-outs, Holmes and his co-founders, Dan Rassi and Ronn Friedlander, have used the experimental attitude so important in science to grow Aeronaut in all different directions.
"The idea that drives us here is that you're interacting with people. Whether the people you come here with or people you meet at the bar or people trying to roast coffee and grow greens, it's a place where you interact,'' Holmes said. "One thing that science in school taught us is that only with huge amounts of interaction and communication and life can you really get new ideas and carry them out and be inspired.''
Aeronaut teamed up with the Cambridge Science Festival for a series of science talks. Sung Kim, the events manager for the festival, said that the 'science cafe movement' has been a trend to talk about complex scientific topics in an informal bar setting, but this was the first time they've been at a taproom.
"These things always start in the fringes of communities—a warehouse in Somerville, Night Shift in Everett with nothing else around—where hundreds of young people are having a great time,'' Kim said of the breweries' dynamics. "Why wouldn't we want to take advantage of their space? Beer halls are a cultural space.''
But the feel of these breweries are far from extraneous, at least to those who go out of their way to visit a brewery rather than just any nearby bar.
"The public house—that's real,'' Chechoway, a clear beer buff in his San Francisco Cellarmaker Brewery sweatshirt, said. "It's not just a product you're selling, it's about integrating with the community.''