Local News
How I Live on a Burger King Salary
Life at $9 an hour, in an employee's own words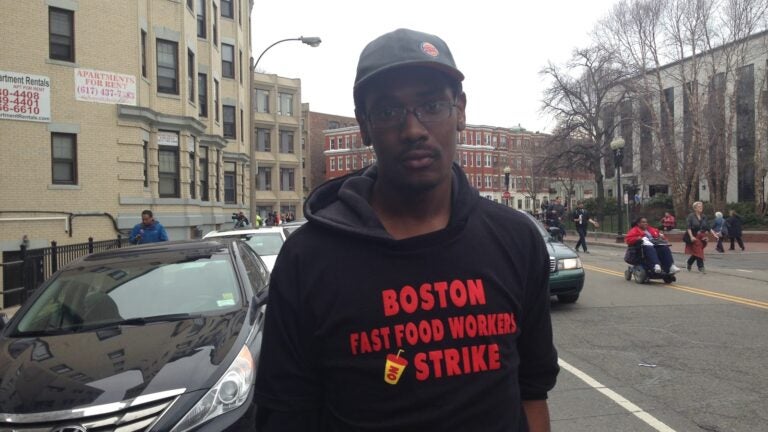 Boston.com spoke with Kenneth Brimage this week as he marched at the Fight for $15 demonstration seeking a raise in the minimum wage to $15 an hour. Brimage, a 25-year-old father of two, worked 45 hours a week at a Holbrook Burger King for two years, never earning more than $9 an hour. The Holbrook store has been closed for the last three months, so Brimage was transferred to work at other locations. But since he is not permanently on their schedules, he estimates he's only been working about six hours a week.
Here is Brimage's story, as told to Boston.com's Dialynn Dwyer, followed by a statement from Burger King. (You can read an interview with another fast-food worker here, and an argument against raising the minimum wage here.)
Kenneth Brimage:
Honestly, when I first started, it was alright. But after a while, it kind of alters your mind. It's mind-altering work. And it kind of demoralizes you in a sense. And even working there with other people, it kind of sucks because there's no teamwork or communication within the job guidelines, how they teach you how you should be, and what they're looking for to hire you. And it seems like they'll just hire anybody and everybody.
And sometimes to keep you under control, they try to always threaten you about losing your job: "You could lose you job, you could lose your job,'' all the time. But then, I come into work half of the time, and I'm the only person working that shift.
We continuously work. You know how breaks are required? Like 30-minute breaks every certain number of hours? We don't get any breaks at all. None at all. Besides myself, I know people get certain hours — I work 8 to 10 hours every day, and I get no breaks at all. None at all.
It seems like with time it's gotten worse and worse. It's quite sad. And what I mean, it changes your mind. It affects you to the point when you go home, you're not usually yourself. You know how you would usually work and come home and you'd relax and unwind — you're just continuously stressed. And sometimes I take it out on my wife, or I take it out on my kids sometimes in the way I handle them or take care of them when I shouldn't be. And it's just extra stress from the job.
I should be able to relieve or at least talk about it amongst the people on the job to try to rectify and find a solution. But it's like sometimes when you talk to them, they really don't care about your problems. It's really more about your output and what you can do for the job itself, and they don't really treat you like a person. They treat you more like a, I don't know, a possession. And it's demeaning.
Honestly, it's a struggle, considering the fact that I have two newborns. I have a boy and a girl, and it's hard because I know they constantly need diapers and they constantly need formula. They constantly need wipes. There's always something that they need everyday, and I thought it would be easier or simpler.
But I was unprepared for it. And making the wage that I am, I'm totally unprepared for it. … All the help from housing and DTA and food stamps — that's the only reason I feel like I'm able to provide for my kids when it comes to that. Because I have the extra help, and without that extra help, I honestly, I don't know where'd I be.
Brimage said he used to make $8.25 before the minimum wage was raised to $9.
It's still not enough. It seems like enough at first, when you think about it because you know it adds up over time. But then, once you get your money and you see your check, it's not what you thought it would be.
You're working 80 hours, 90 hours and still looking at $400 or $450, which is unacceptable. Because in the few hours after I get my check, it's gone. Because I have to make sure that there's food in the house and make sure I have the necessities to live.
And then when it comes to paying bills, that's even a harder choice because… I know how people used to talk about… it makes me want to cry… just thinking about it makes me want to cry.
At this point in the interview, he did.
Because I know how people used to talk about their needs and their wants, you know. Want to buy clothes and go to the movies and stuff. And then it goes from your needs and wants to your needs.
Like, will I be able to pay my electric? Or do I have to pick and choose? Or do I want heat this month? And sometimes you know when you're always pinching money, I can only do that for a certain amount of time.
But then when you can't pay your bills, everything gets shut off. And there's been times when I sit in the dark because I didn't have nothing. And that's why… the Fight for $15 is only right. It's only right so people can live regularly.
People can't save money, when you have no money to save. You know what I mean? It's just the fairness and equality, and there's no equality. That's all. That's all.
His wife also works for minimum wage, making about $80 or $90 a week.
People live more than comfortably, but we can't even live comfortably. That's what's so strenuous about it. The job's stressing me out, and then I come home and try to maintain my house. When it's hard to maintain when you don't even have the proper or adequate things to maintain it.
He commutes two hours to get to work every day, spending $10 on transportation to work.
When I work Burger King, I usually close, which is 4 to 12 or 5 to 12. Sometimes they'll call me in early when there isn't somebody there for the shift, which is usually what happens. So I always leave three hours before because sometimes the bus may mess things up, and then I end up late. So if I work at 5, I always leave around 2 or 2:30.
And then I get to the job. I always wear my uniform under my clothes in case I do come in late. All I got to do is strip down. I'm already in my uniform, and then I go in the kitchen. That's another thing about it, too. I do other people's jobs.
I'm a crew member in the kitchen, so I'm supposed to be in the kitchen. And they've got me running around sweeping and mopping and filling up ice and doing everybody else's job when there are people there that are supposed to uphold their area. Which means they're supposed to sweep or they're supposed to fill the ice or replenish any of the condiments that need to be replenished, which they don't do. And they always ask me. Honestly.
I know they have other workers, but they always ask me. I don't know why, I don't know if there's a vibe that I give off, but they always ask me. And I always do everyone else's work, but I'm not get anybody else's pay.
I get burned all the time. I get burned every day. And when I get burned, they don't even have any type of ointment. When I say they patch you up, they literally put a Band-Aid on you and put you right back in the kitchen or whatever station you were at.
But it's always the kitchen people that are getting hurt, and it seems like the people in the front, the cashiers and the drive-through people have the easiest time. The people that are in the back, that you don't see behind the scenes, that do everything. And the people that you do see hardly do anything besides take your order, put it in a bag, give it to you, and ask if you want ketchup.
Contacted for comment, a Burger King representative told Boston.com that all locations in the Boston area are franchisee-owned, so the company could not address the specific conditions Brimage described. BKC Global Communications sent this statement:
[For] decades, BURGER KING® restaurants have provided an entry point into the workforce for millions of workers, including many of the system's franchisees who began their careers working at local BURGER KING® restaurants. BKC respects the rights of all workers; however, BKC does not make scheduling, wage or other employment-related decisions for the franchisees who independently own and operate almost 100% of BURGER KING® restaurants. BKC and its franchisees comply with local, state and federal laws and support and invest in the thousands of restaurant team members across the system. In addition, through the BURGER KING McLAMORE(SM) Foundation, BURGER KING® employees and their families in North America are eligible for college scholarships to encourage further growth and education.
The franchise owner of the Holbrook location did not immediately respond to Boston.com's request for comment.