Local
Love at the Finish Line of the Boston Marathon
A marriage proposal at Boston's finish line "definitely isn't the most romantic in the world,'' one former proposer says. So why does it happen so often?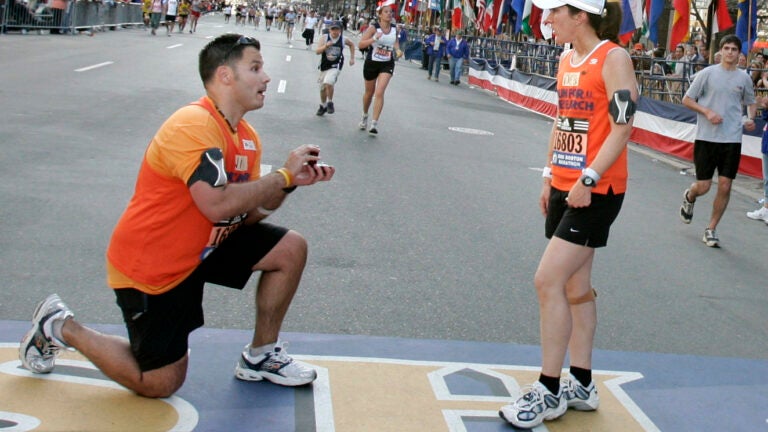 "I didn't have a well-formed Plan B,'' says Greg Picklesimer.
Picklesimer had already run 26.2 miles. He was, understandably, exhausted. As he crossed the finish line, he compulsively checked the back pocket of his running shorts, where he felt a bubble-wrapped baggy around a tiny envelope. The ring was still inside. It was all he could think about during the marathon.
Picklesimer had laid some, but not all, of the groundwork for his master plan. He got a parking spot for his girlfriend Carla's car nearby, and finagled a VIP pass from a friend to get her in the bleachers right by the finish line.
But after the explosions of 2013, he knew the heightened security at the finish line would pose a challenge to his plan. "I knew that was a wildcard,'' Picklesimer says. "I was just hoping I could sweet-talk or schmooze those last few people.''
That he did. Picklesimer crossed the finish line and began to work his way over to Carla when he was met by a "big, burly'' security guard. He wasn't allowed through.
"Hey, listen man, you see that girl headed this way?'' Picklesimer recalls saying. "That's my girlfriend, and I want to propose to her.''
He showed the man his bubble-wrapped baggy and the ring snuggled inside. The guard was convinced. He called to another man doing security to let Carla into the area just past the finish line.
"Carla walked through, we embraced, and then I made my move,'' Picklesimer says. "I went down on one knee.''
Picklesimer's proposal went viral last year as a testament to the city's resilience. But he's far from the first person to get engaged at the finish line. We spoke to three couples who decided to make the finish line their proposal spot. How'd they do it? And why?
The Boston Marathon is a special place for these relationships.
Nick Giordano, Jr. is the face of perhaps the most famous photo of an engagement at the Boston Marathon. His proposal to his now-wife, Deb, back in 2005 was captured by Boston Globe photographer Justine Hunt. A year later, a friend called him to ask why his face was on a massive billboard around the city as part of the marathon's ad campaign.
"It almost looks staged,'' Giordano says now of the photo.
[fragment number=0]
The couple met through a running club, and they later hit it off at a chance encounter at a bar. The two dated, and decided to run the Boston Marathon together in 2005. Where better to propose than while running, which had connected them in the first place, Giordano thought.
"I just felt like it was kind of a cool way of doing something, and also something memorable,'' he said. "I thought it would be cool [for her] to say, 'He popped the question after running 26.2 miles at the finish line.'''
"Running obviously plays a role in their life,'' says Bart Yasso, the chief running officer at Runner's World and a race announcer at a number of smaller marathons. "The finish line is a special place.''
Picklesimer, too, says that his memories with White at the Boston Marathon made it a special place. He had run Boston a number of times, and she would always be near the finish line cheering him on to the end. The explosions at the previous year's finish line had really solidified the importance of living in the moment, Picklesimer says.
"[The marathon] is such a big part of our experience together, I just wanted to do it there,'' Picklesimer says. "What better time and place than somewhere that has meant so much to us, which is the marathon.''
Geoffrey Escott has not run the Boston Marathon, but he knew it would be a special one for his girlfriend, Jaime Andrews (now Escott). She planned to run her first 26.2 last year, and so he decided to make it an extra special year.
"I knew it meant a lot to her,'' he said. "Assuming she was still breathing, not throwing up at the end, I was gonna go for it.''
Escott told his proposal plan to security, who let him through so that he could get closer to the finish line. As Andrews rounded the corner at Boylston Street and came into view, he decided she looked well enough for a proposal. He made his move.
Though she was shocked at the time — "I thought I was delusional,'' she says — it made for one of the best days of her life.
"He chose it because it'd be an incredibly memorable moment, and last year's marathon was incredibly personal to the city and to me,'' she said. "He wanted it to be even more memorable and more positive than it was anyway.''
"It definitely isn't the most romantic in the world,'' Giordano says.
All of those interviewed acknowledged that they didn't look or feel their best at proposal time. Giordano, for one, had soldiered through the marathon with a kidney stone, he says, and then had to use his last energy to go down on one knee.
"You're so tired, it's chaotic. But I think my goal was to catch her by surprise,'' he says. "I think she probably was thinking I had a heart attack, because she was completely caught by surprise.''
For his part, Escott had to make a snap decision based on how Andrews was feeling at the end.
"Honestly, I didn't really know if Jaime was going to be in any shape to make a major life decision at the end of it,'' he says.
In particular, going down on one knee and then standing back up proved to be difficult for the proposing men.
"It was physically a little difficult to get down,'' Picklesimer says. "It wasn't as hard as it would have been if I didn't have all that adrenaline going through me. … Getting up I needed a little help from Carla.''
"I knew I could get down, the question was could I get up,'' Giordano says.
"The crowds love it.''
Yasso has seen his fair share of proposals at marathon finish lines, so he knows what the everyman fans like.
And what they like is an engagement.
That's one reason Yasso thinks men choose to propose at marathons; they like the attention and cheers of thousands of people.
"I would say they definitely like the publicity,'' Yasso says. "I'm telling you, the crowd goes wild.''
Picklesimer says he didn't think about the potential for attention when he chose the finish line as the proposal spot. While running, he became frustrated with himself for not asking a friend to come down to the finish line to take photos.
"It never occurred to me that there'd be 400 cameras taking pictures of us,'' he says.
"The moment I [proposed], we were just surrounded, like every camera and microphone and notepad came out and pointed in my direction. And I was just like, 'holy crap,''' he says. "It felt like sharks to the kill. They saw blood in the water.''
There's also one more, important reason for public proposals.
"If you do it in a crowd, there's 10,000 people at a finish line, chances are you're gonna get a 'Yes,''' Yasso says.