Local
This Earth Day, Laura Corrales Will Tell You Where to Put Your Trash
How to take recycling one step further.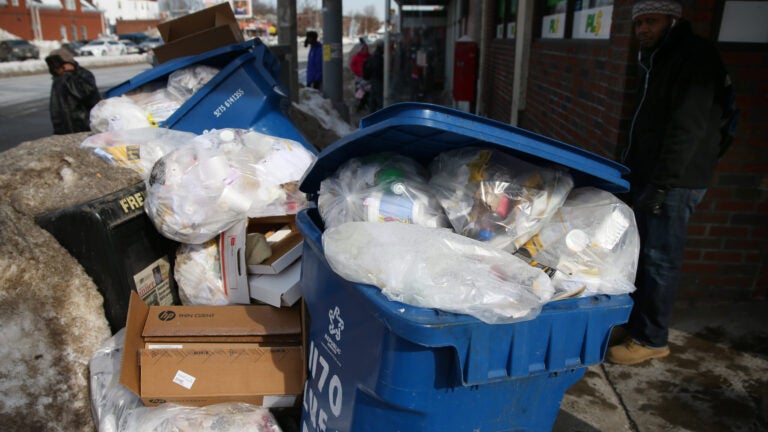 Laura Corrales worked in the restaurant business for years in her native Colombia. She remembered watching in shock as mountains of food were thrown away, and at the piles of plastic packaging that came from everything used in the kitchen.
I need to do something, she thought.
"There has to be a way to change things,'' she told Boston.com. "To motivate people to change the way they're destroying everything.''
She's taking a big step today, Earth Day. Corrales helped organize theSustainability unConference at Boston's District Hall, which is dedicated to finding ways to help the environment locally. And she's making it a zero-waste event, meaning nothing will end up in a landfill.
Zero waste is a a philosophy that piggybacks on the environmental ethos of "reduce, reuse, recycle.''
"Waste management has always been a part of sustainability. We're a throwaway society,'' Corrales said. "Zero waste isn't well known, but it can be implemented.''
Corrales is in Boston to get her masters in sustainability at the Harvard Extension School. Her dream is to go back to Colombia and help people in the restaurant business understand how they can reduce waste.
At the unConference, Corrales will be in control of everything, starting with what attendees can bring in. The site encourages people to bring their own utensils, cups, cloth napkins, and reusable shopping bags. There are also strict policies on how to get rid of things.
When Corrales was placed in charge of the waste management initiative by event coordinator Sierra Flanigan, she didn't know where to start. Still new in town, Corrales knew that it would be hard to tell 350-plus attendees what they could and couldn't throw away.
She reached out to Save That Stuff, a Boston waste-management company. It takes care of every kind of recycling, from the usual plastic bottles and batteries to electronics and oyster shells, and even managed the refuse from the Boston Marathon.
Elaina Blaine, the accounts manager and sustainability consultant for Save That Stuff, said that the group will provide an array of bins for things like regular recycling, organic waste, and hazardous materials—such as batteries and light bulbs. Volunteers will stand by the bins and help people sort their trash.
"It's exciting to really demonstrate that diversion of materials from landfills at events this large is possible,'' Blaine said. "We're able to capture so many different streams of materials, and to be able to report that back after an event is exciting—when you can say there's an 85 percent diversion rate at an event that, previously, had everything going to the trash.''
This is the third Sustainability unConference—named for its informal structure—but it's the first year that it will be zero waste.
The average person generates over four pounds of waste per day, according to Duke University's Center for Sustainability and Commerce. Over half of the 220 million tons of waste produced each year ends up in the 3,500-plus landfills in the United States.
Corrales said that zero waste is "something people need to know exists.''
"Here, it's a natural model that works like an economic system. A lot of businesses are working on that,'' she said. "They know it's something that works and makes a huge difference.''
The conference is a collaboration between nonprofits through the Cambridge Innovation Center and the City of Boston. The city's Greenovate organization tries to encourage zero waste by promoting more recycling options.
"It's not that you're not throwing away anything, but that you're able to divert it to a better place,'' she said. "With our volunteers, it can help start conversation about what happens after you throw something away.''