Local
Photos: Hilltop's Sad, Empty End
A Saugus native captures the inside of the once bustling and iconic restaurant.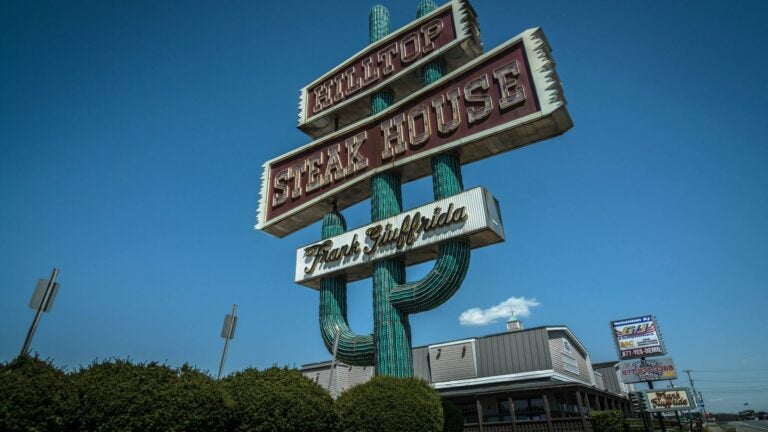 The inside of the once-bustling Hilltop Steakhouse looks bare and quiet in the photos taken by Brian Cummings.
"Seeing it like it was was a little bit depressing, but it was actually beautiful, just seeing the way it was,'' Cummings told Boston.com.
[bdc-gallery id="466129″]
The iconic restaurant closed in October 2013, and earlier this month the Saugus Historical Commission approved a demolition permit for the main building. The giant plastic cows that used to sit outside the steakhouse were relocated in 2014, but there are plans to retain the 68-foot sign on site.
Cummings, who grew up in Saugus, said he remembers every meal he had at Hilltop with his family.
"I remember going into the butcher shop in the middle of the summer in the blazing heat and my mother'd say, 'Grab your jackets, we're going to the butcher shop.' And you'd go inside and you'd be freezing cold,'' he said.
Cummings didn't want to disclose how he got to take pictures of the building. He said he is an urban explorer and likes taking photos of old buildings and old things that may soon no longer be around because of the history they hold.
"It's just bare and sad and basically all alone by itself and not hearing the numbers being called over the loudspeaker 'Sioux City 49' or things like that,'' said Cummings. "But it's pretty sad seeing it the way it is now.''
He said he likes the idea of the sign remaining where the restaurant used to be, but that seeing the building gone will be hard.
View the full gallery of photos Cummings took of the steakhouse here.