Local
Former FBI Agent Pleads Not Guilty to Perjury, Obstruction in Bulger Trial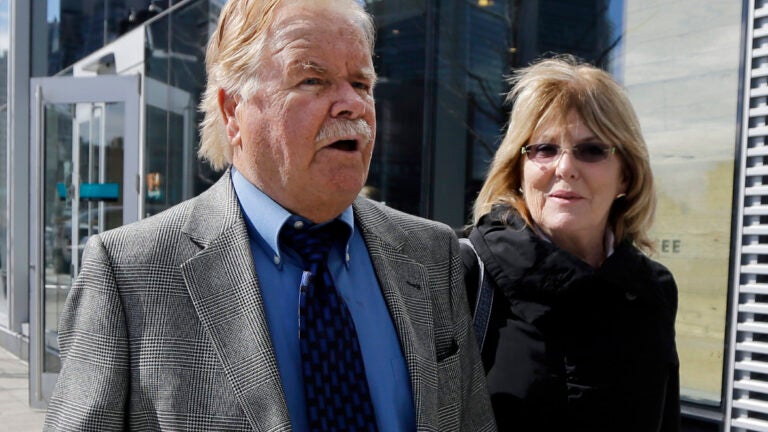 Retired FBI supervisor Robert Fitzpatrick was arraigned Thursday for lying under oath during the 2013 James J. "Whitey'' Bulger trial to help Bulger's defense and enhance his own credibility as a witness. The former FBI agent pleaded not guilty to the charges.
The federal indictment, filed on Tuesday, charges the 75-year-old Fitzpatrick with six counts of perjury and six counts of obstruction of justice. Fitzpatrick, who now lives in Charlestown, Rhode Island, worked for the FBI from 1965 to 1986. He worked in the Boston division of the FBI and supervised the organized crime department in the late 1980s.
Bulger was an informant to Fitzpatrick's organized crime division in Boston from 1975 to 1990, according to the indictment. In November 2013, Bulger was sentenced by a federal judge to two life sentences plus five years in prison.
The indictment says Fitzpatrick under oath made "false material declarations designed to aid Bulger's defense'' during his testimony on July 29 and 30, 2013 and testified falsely about his accomplishments to enhance his own credibility as a former FBI official.
According to Kevin Cullen's account of the trial at the time for The Boston Globe, at one point in the 2013 cross-examination, prosecutor Brian Kelly asked Fitzpatrick: "It's fair to say that you're a man who likes to make up stories?''
Fitzpatrick's attorney, Robert M. Goldstein, said after Thursday's hearing at John Joseph Moakley Federal Courthouse that his client "adamantly maintains his innocence and looks forward to challenging the government's accusations as soon as possible.''
Federal prosecutors said the government is not seeking detention of Fitzpatrick. Judge Donald Cabell released the defendant on a $50,000 bond, but Fitzpatrick must abide by travel restrictions and surrender his passport. The retired FBI agent must also surrender all three of his guns. He'll next appear in court on June 10.
The indictment
Many of Fitzpatrick's claims have also served as the basis for his public profile since the case. In April 2001, he was the subject of "The FBI and the Mob'' segment on 60 Minutes where he described himself as a the agent who tried to end the FBI's relationship with Bulger. His 2011 book, Betrayal, Whitey Bulger and the FBI Agent Who Fought To Bring Him Down, makes similar claims.
The indictment discredits the claims that he has made publicly for more than a decade: "From approximately 1998 through the present, the defendant Fitzpatrick has falsely held himself out as a whistleblower who tried to end the FBI's relationship with Bulger.''
The following is a list of the testimony Fitzpatrick is being indicted for. For each of these claims, he has been charged both with perjury and obstruction of justice.
Charge 1: Fitzpatrick claimed that he met with the assistant director of the FBI and received special instructions for his job and assignment to Boston.
Here is Fitzpatrick's testimony:
"I was given a sit-down by, I think, Roy McKinnon, I remember his name, and he basically told me they had problems up in Boston, major problems. He wasn't specific, really didn't outline the entire problem, but he said they were significant, and my job was to come…''
According to the indictment, Fitzpatrick's transfer to Boston was a "routine reassignment and he received no special instructions from Assistant Director McKinnon.''
Charge 2: Fitzpatrick testified that Bulger told him that he was not an FBI informant. According to the testimony, Fitzpatrick said: "At one point, he even said he wasn't an informant. He said, I'm not an informant.''
According to the indictment, Bulger "never denied to the defendant [Fitzpatrick] that Bulger was an informant.''
Charge 3: Also, with regard to "closing'' Bulger as an informant (referring to closing his file or terminating his role as an informant), the indictment tears apart Fitzpatrick's testimony.
"Well, there were some who didn't like the fact that I was making that proposal, to close Bulger,'' Fitzpatrick testified.
The indictment says "Fitzpatrick never advocated that [Bulger] be closed as an FBI informant.''
Charge 4: In reference to his demotion, when he was moved to Rhode Island, Fitzpatrick testified it was "absolutely not true'' that he was "reduced in grade from a 15 to a 13 because of charges related to an investigation into a shooting incident.''
The indictment says that Fitzpatrick lied about his demotion. Fitzpatrick resigned from the FBI shortly after an "adverse personnel action'' that resulted in a demotion and reassignment to the Providence, Rhode Island field office of the FBI. He was demoted because he falsified reports about his investigation into a shooting incident, not because he was facing retaliation from other agents for speaking up about corruption, which is what he testified. He resigned in 1986.
Charge 5: Fitzpatrick is also charged with perjury for saying in his 2013 testimony that he arrested Gennaro "Jerry'' Angiulo (a New England mob boss in the Mafia).
The testimony:
Fitzpatrick. "I did arrest Angiulo.''
Q: Okay. That's your testimony under oath, sir?
Fitzpatrick: Yes.
Q: Sir, isn't it a fact that the case agent on Angiulo was Ed Quinn?
Fitzpatrick: Yeah, he was a ride-along with me. I was the ASAC in charge. I went to the table and put the arrest right on Angiulo.
Q: That's a total bald-face lie, isn't it?
Fitzpatrick: No, it's not.
Charge 6: The indictment also charges Fitzpatrick with perjury for his claims that he found the gun that killed Martin Luther King Jr. when he was assasinated on April 4, 1968. The prosecution charges that Fitzpatrick was not the first officer at the scene to recover the weapon.
The testimony:
Q: Now, in addition to claiming credit for the Anguilo arrest, haven't you in fact pretended that you were the one who found the rifle that killed Martin Luther King? Haven't you made that claim in the past?
Fitzpatrick: I found the rifle when I was at the scene. I was the first FBI agent at the scene, and I found a rifle coming down the stairs, having just missed James Earl Ray, the shooter. The rifle was in the alcove, and there's a report to that.
[…]
Q: Isn't it true that three Memphis police officers found the rifle that was used to kill Martin Luther King, not Bob Fitzpatrick?
Fitspatrick: I found the rifle along with them. They could have been there, Captain Zach was there, Captain Zachary, but I'm the one that took the rifle …