Local
Romeo and Juliet: A Very Massachusetts Love Story Between Two Swans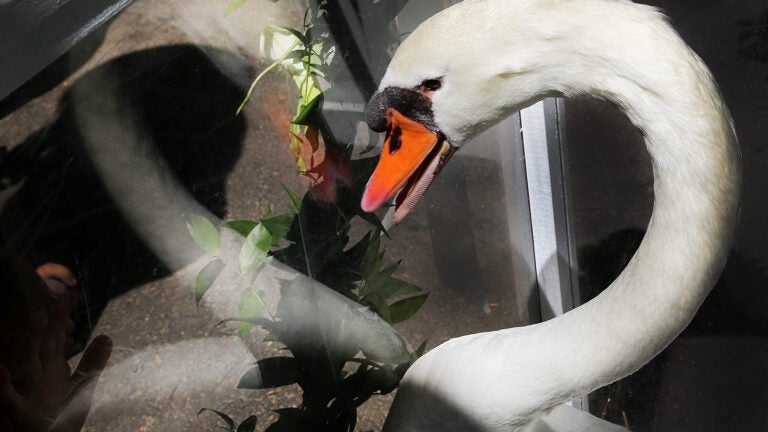 Romeo and Juliet, Boston's favorite swans, are back in the Public Garden after their trip down south for the winter.
Well, about four miles south; the pair spends the winter at the Franklin Park Zoo to avoid the cold. But when Mayor Marty Walsh lifted the plexiglass lids of their crates on Thursday, and the pair waddled out onto the grass, summer got even closer.
For Ryan Woods, the director of external affairs for the city's Parks and Recreation Department, the swans' return is the best event of the year. People come to the Garden every year to welcome the swans. They always ask which is which, he said.
"Juliet has pink legs, so that's how I remember: girl, pink,'' Woods said.
But this is the 21st century. Romeo's a female, too. Boston's bonded-for-life swans are a same-sex couple.
The birds' genders were discovered in 2005, shorty after Massachusetts led the way legalizing same-sex marriage. It wouldn't make sense to break them up and introduce a male, Fred Beall, general curator of Zoo New England, has said. The two have already paired for life. They do everything together, even sitting on eggs that will never hatch.
Romeo and Juliet summer in the Garden from May through September. After Labor Day, the duo heads to the Franklin Park Zoo for the winter.
Their celebrity status doesn't confer on them any special privileges. When Romeo and Juliet arrive, they're treated like every other new animal at the zoo and are initially quarantined to ensure that they're healthy. At the zoo, they lounge in an indoor pool area, where they can avoid the snow and cold temps. Swans don't do well in cold weather, Woods said.
For Romeo and Juliet, being transported—more like chauffeured—by animal control is just routine.
"These two are used to it by now, though it's always an adjustment in the beginning,'' said Woods. "These swans have been with us for years. They're familiar with the process. But then again, I'm not in their heads.''
Romeo and Juliet return to the Garden the first week of May, arriving after the Swan Boats dock in the lagoon. This pair's been a summer staple, along with the boats, for 12 years since 2003. But like the Leonardo DiCaprio and Claire Danes in the 1996 version of Shakespeare's classic, this duo is not the original cast. Another pair by the same name (but opposite sexes) ruled the Garden for 15 years before the current duo.
"I get calls throughout the year asking 'What's the date when the swans go in the water?' said Woods. "People can't wait for Romeo and Juliet to return.''