Local
Thundersticks and ESPN: Making mathletes 'the winners they are'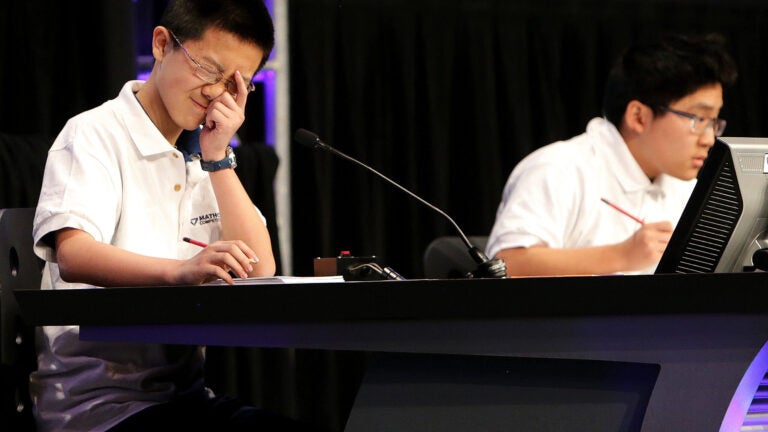 More than 200 competitors jogged into the arena as a booming voice announced their home state. The audience whooped, clapped, and banged thundersticks. ESPN3 captured the energy for a national audience.
This wasn't a soccer game or a wrestling match. It was a math competition.
The Raytheon Mathcounts National Competition is the Super Bowl of the middle school math, according to The Boston Globe. More than 100,000 adolescent arithmeticians are subtracted down to the 224 who participated in Friday's finals at the Sheraton Boston.
Lou DiGioia, the executive director of Mathcounts, said that students who pursue academic excellence aren't given the attention they deserve. The goal of the competition is "to make them feel like the winners they are.''
Each state enters with a team of four members. The penultimate stage of the competition, which began in the fall, is a written test. The results determine who advances to "Countdown,'' the final, televised round.
This year, Indiana's team took the top spot.
The Massachusetts team, including Richard Huang, Maxwell Wang, Nathan Ramesh, and Jeffrey Chang, placed third. Their coach, Josh Frost, teaches at Jonas Clarke Middle School in Lexington and has led the team for the past nine years.
Massachusetts has been a solid contender in the competition; DiGioia called Boston "a stronghold of math talent.'' The state team won in 2012 and 2013, and Alec Sun of Lexington took home the individual prize in 2013: a $20,000 college scholarship.
Read more about this year's Mathcounts competition in the Globe.