Local
Barstool Sports employees arrested during sit-in at NFL offices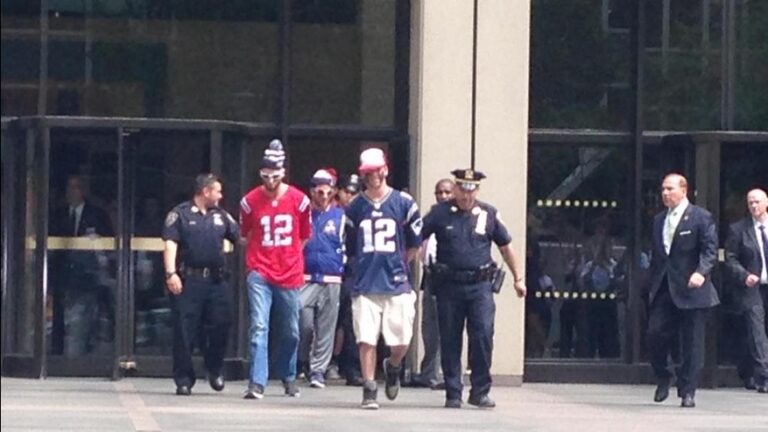 At least they brought their own handcuffs.
Four Barstool Sports employees were arrested Tuesday during a sit-in at the NFL headquarters in New York City, according to an NYPD spokesperson. They were protesting the league's punishment of Tom Brady and the New England Patriots for the Deflategate scandal.
According to Barstool Sports business developer Chris Spagnuolo, the four members of the sports and lifestyle website taken into custody were David Portnoy, John Feitelberg, Hank Lockwood, and Paul Gulczynski. They had hoped to speak to NFL commissioner Roger Goodell, he said.
No charges have been filed yet, but the men remained in custody Tuesday evening, police said.
They first picketed outside the NFL offices dressed in Brady jerseys and Patriots gear. Freelance writer Lisa Kraus Edwards tweeted photos from the scene.
[fragment number=0]
The four then staged the sit-in protest in the NFL's lobby and demanded to speak to Goodell.
[fragment number=1]
Portnoy, who is the founder of Barstool Sports, called into 98.5 The Sports Hub's Felger & Massarotti radio broadcast during the sit-in, minutes before they were arrested.
"This is a one-sided bogus investigation from the beginning,'' Portnoy told the show. "The NFL can tell as many lies as they want.''[fragment number=2]
The NYPD arrived at the scene around 3:30 p.m., roughly 15 minutes after the sit-in began, and made the arrests.
"They feel that the Patriots and Tom Brady were railroaded by the #Deflategate investigation and that the suspension is unprecedented for a ruling based on 'more probable than not' rather than hard evidence,'' Spagnuolo wrote in an email to Boston.com.
"If our guys weren't currently in jail, I think they'd just want Tom and the rest of the Patriots to know that they'll always defend the wall no matter what the consequence,'' he added.
A spokesman for the NFL said the league had no comment.
[fragment number=3]
[fragment number=4][fragment number=5]Newspaper headlines on Tom Brady's Deflategate suspension
[bdc-gallery id="465939″]