Local
Despite Dukakis's plea, Tsarnaev friend Robel Phillipos sentenced to three years in prison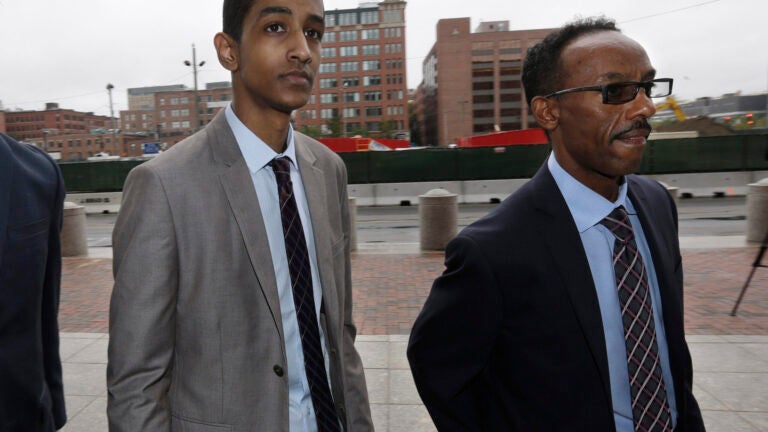 Despite a personal plea from former Gov. Michael Dukakis, Robel Phillipos was sentenced to three years in prison on Friday for lying to FBI investigators about where he was and what he saw when he and two friends visited Dzhokhar Tsarnaev's dorm room.
"I wholly reject the suggestion that this was a no harm no foul kind of offense,'' the judge said.
Federal prosecutors had asked for five years in prison. Phillipos declined to give a statement to the court. He was also sentenced to three years supervised release and a $25,000 fine.
"These lies were impulsive,'' prosecutors said. "They were calculated to deceive.''
Prosecutors said Phillipos, a U.S. citizen who grew up in Cambridge, visited Tsarnaev's room three days after the bombings along with two other friends. The government said those friends — Azamat Tazhayakov and Dias Kadyrbayev — removed a backpack and laptop from the room, impeding the investigation.
Under FBI questioning, then-19-year-old Phillipos knowingly lied and told investigators he did not go to the room and did not see anything being taken, prosecutors said.
His defense argued that he did not lie, and they said he was confused and "high out of his mind'' on marijuana after "fishbowling.''
A jury found Phillipos guilty of two counts of lying to investigators.
"Young people make choices. The use of marijuana is not a good choice,'' the judge said on Friday. "I don't think dope smoking makes you smarter.''
Prior to his sentencing, Dukakis pleaded for leniency for Phillipos in a letter to the court. Dukakis and Phillipos were family friends, and the former governor took a young Phillipos to the 2004 Democratic National Convention. Dukakis, who testified on behalf of Phillipos during his trial, said in the letter that Phillipos didn't deserve jail time.
"Robel is a young man who could and should have a great future ahead of him,'' he wrote. "For the life of me, I can't understand why justice would be served by incarcerating him.''
In the letter, Dukakis argued that ex-CIA director David Petraeus lied to the FBI about his affair and classified material, yet he did not receive jail time. Therefore, Dukakis argued that Phillipos should not be sentenced to jail time for a similar offense of lying to the FBI.
In contrast, the step-father of slain MIT Police officer Sean Collier submitted a statement asking for Phillipos to receive a heftier punishment.
"The defendant had the tools and the ability to change the course of history, to stand up for his community, to show up as honorable, and in turn this would have preserved our family as that strong and connected unit,'' Joseph Rogers wrote. "He chose to say nothing, and because of that, he has taken everything away from us.''
Phillipos is the third of Tsarnaev's friends to be sentenced this week. Kadyrbayev was sentenced to six years in prison on Tuesday, and Tazhayakov was sentenced to three-and-a-half years in prison on Friday.
The friends of Dzhokhar Tsarnaev facing prison sentences
[bdc-gallery id="318997″]