Local
Prosecutors release video of CVS police shooting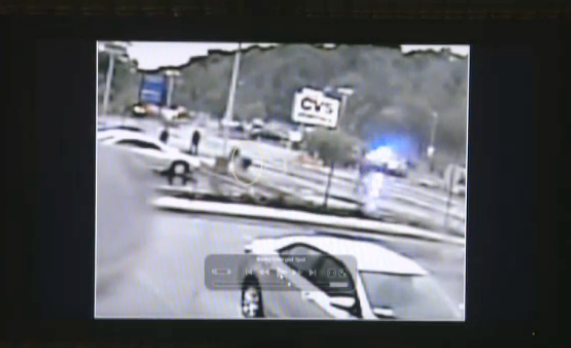 In the video, Usaamah Rahim is a blurry figure, striding across the Roslindale parking lot toward his Washington Street bus stop last Tuesday morning.
With him, police said, he carried a knife and a plot to kill.
Within 10 seconds, Rahim is greeted by other figures — FBI agents and Boston police officers, the targets of his planned violence. The blurs come together.
What was said — and exactly what Rahim did — isn't seen or heard.
The figures move over a 32-second period, coming as close as a few feet apart.
One raises his arms.
Rahim falls to the ground, shot three times by an FBI agent and a Boston police officer, becoming the second person killed by police in Boston this year.
Suffolk County District Attorney Dan Conley, whose office is investigating whether the shooting is justified and released the surveillance footage, said the video "speaks for itself.''
Police said Rahim lunged at officers with a knife before they fired, though that's not entirely clear in the footage, shot from what authorities said was about 50 yards away.
Religious and community leaders viewed surveillance video last week and said it mostly supported the police account of the shooting.
Rahim was buried by his family on Friday.
Investigators said they had been tracking Rahim around the clock, because they believed he planned to behead anti-Islam political activist Pamela Geller, before he changed his mind Tuesday morning and told his nephew he now wanted to "go after … those boys in blue.''
The agents and officer who approached Rahim knew about those plans, Boston Police commissioner Bill Evans said.
"They knew in their minds the intent of the individual,'' Evans said. "This guy had a malicious intent, and our officers were really faced with that.''
Rev. Mark V. Scott, pastor of Azusa Christian Community Church, was at the district attorney's office when the video was released. He said it didn't appear the officers had any other option.
"I think they exercised as much restraint as possible,'' he said.
Conley said that his office, which is investigating the case, has not yet made any findings or conclusions, but decided to release the video early for "transparency.''
"Releasing it earlier reflects our intention to make best practices even better,'' Conley said. "When it can inform the public … it's in everyone's best interests.''
The releasing of surveillance footage this early in the investigation is relatively new for Boston. After the March killing of Angelo West, who shot a Boston police officer in the face, Conley's office released the video within two weeks.
"It's become easier than ever for rumor, speculation, and inaccurate information to fill the vacuum if reliable facts aren't put out rapidly,'' Conley said. "For this reason, we've agreed to release certain video evidence earlier when it can help illuminate the facts, and when doing so won't compromise the integrity of the investigation.''
Rahim's nephew, David Wright, is being held on federal charges that he conspired with Rahim by telling him to destroy his cellphone before committing his attack.
Rahim's family on Thursday viewed the surveillance video of the shooting. They said through their attorney, Ronald Sullivan, that they had no idea Rahim was plotting any violence.
Ibrahim Rahim, the brother of Rahim and a respected imam, told WBUR last week that the video was difficult to watch. He added that the family is just a typical middle-class American family.
"We are patriotic, and we're loyal, and we're proud citizens of this country, and we're Bostonians, and we're proud of that fact, and that's who Usaamah was.''
[bdc-gallery id="146013″]