Local
It's illegal to donate beer to charity in Mass. and that's weird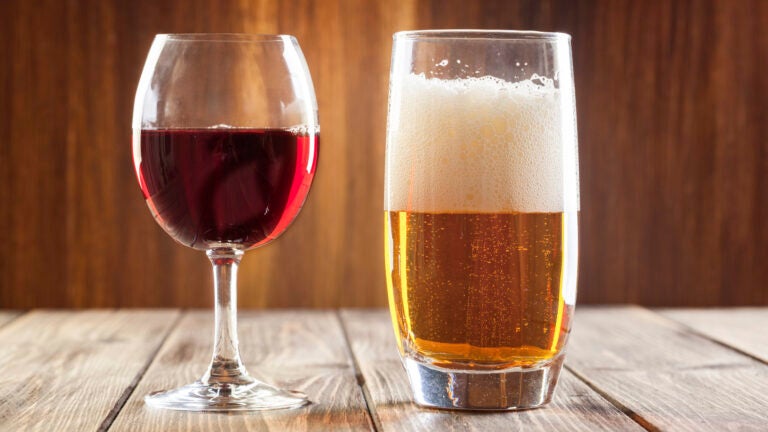 The stereotype of a fundraiser as a staid, wine-glasses clinking affair may linger, but today you're more likely than not to find craft beer or cocktails at a charity barbecue or clam bake, a fun run, concert, or softball game. Often, it's the beer, not the charity, that serves as the actual draw.
There's just one problem: Owing to Massachusetts' byzantine, entrenched weirdness when it comes to alcohol, every time you toast a local brew at a fundraiser, you're actually hurting the cause's bottom line.
The laws governing the sale and consumption of alcohol in the Commonwealth are notoriously complex. Some of those, the so-called "blue laws'', typically regarding the days and times of sale, can be credited to our Puritan history. But others seem to be almost arbitrary and nonsensical, like those involving the donation of alcohol to charity. Lawmakers will consider a pair of new bills to make sense of the process, and supporters say they'll be a boon for charitable giving.
As the law currently stands, it's illegal to donate beer or spirits — but not wine, strangely — to a charitable organization, either for sale at auction, or for serving at fundraising events. While the law doesn't specifically proscribe the practice, it's been interpreted as such by the Alcoholic Beverage Control Commission, the state agency tasked with enforcing alcohol-related rules.
Representative Alice Peisch introduced two bills to broaden the options available. One would insert language about "wine, beer, and malt liquor'' to the current law. The other would change the law to say charities "may accept donations of alcoholic beverages from any individual, legally operating manufacturer, wholesaler and/or package store to be served at fundraising events for the benefit of said nonprofit organizations.''
The ABCC declined to speculate on the prospects of the bills, but confirmed that the law restricting donations to wine is indeed how they interpret it. Neither they, nor any of the others I spoke with for this story, including Representative Peisch's office, really understand why the law was written that way in the first place. It may have just been an oversight, or perhaps when the law was written, in 1997, the idea of serving beer at a fundraiser was nowhere near as likely as it is today in the age of craft brewing.
The ability to serve one type of alcohol or another sounds like a minor distinction, but those who operate in the fundraising realm say that the current restrictive reading of the law has hindered their ability to raise money.
Jeff Wharton, one of the founders of the popular Drink Craft Beer festival and the charitable events Beer & Chocolate for Charity and Beer & Ice Cream for Charity, has been trying to organize opposition to the law for a while now.
"It's a big issue. It reduces what we can give,'' Wharton says.
Making matters worse, even if there's a brewer who wants to donate their product — and there very often is — he's still required to purchase it at full cost, because, again, owing to our curious laws, it's illegal to ever discount the price of alcohol under the so-called Happy Hour ban.
"When we're budgeting our next event, if we're aiming to give $10,000 to charity, and the beer costs are $2,000, it's going to knock it down,'' Wharton says. "That's pretty significant.''
Peisch was inspired to pen the bills when she was approached by a group of constituents who were trying to put on a charitable event, but found themselves coming up against the financial hurdle of trying to secure alcohol to serve without blowing their entire budget.
"Having to put forth the money to acquire alcohol to serve at the event was a significant financial burden, and also impacted bottom line of the money they were able to raise,'' her spokeswoman Allison O'Leary says.
Wharton says his events over the past few years have raised $30,000 for the Greater Boston Food Bank. The cost of a keg of beer might be around $40 for a brewer, but by the time it makes it to the charitable group it's marked up to around $200.
Multiple brewers I reached out to were reluctant to speak on the record about the issue, owing to a climate of anxiety in the wake of the pay-to-play investigations launched last year accusing certain distributors and brewers of essentially bribing bars to carry their beers. It's not worth attracting any extra attention to yourself, one beer rep from a prominent company told me.
Still, despite it's being illegal, beer is donated one way or another.
"It's like a don't ask don't tell,'' he said, adding that it's ridiculous that a giant beer conglomerate bribing an operator is considered under the same umbrella as donating a couple of cases to a good cause.
Often times brewers and charities will work around the law by donating the beer and invoicing the charity for it, then turning around and making a donation in the same amount.
"I talked to brewers about this and they'd like to be able to donate to different events, not necessarily big festivals, but they can't even bring a case or a keg of a beer to a 5k run right now,'' Aaron Cohen, who's behind the Bacon and Beer fundraiser, among others, said. "It's only illegal to donate beer right now because it's not specifically mentioned in the law, so it doesn't seem like there's any opposition to allowing breweries and distributors to do it, it's just not allowed right now. I think everybody benefits from it being allowed.''
Cohen says his various events have raised around $170,000 for different charities.
"Until now I thought that was fine, but it could be more in the future,'' he says. "There are so many nonprofit events going on every day, if none of them can get beer, that's going to be millions of dollars.''
Add Chris Lohring, founder of Notch Brewing, and a member of the board of the Massachusetts Brewers Guild, to the list of those who'd like to see a change.
"The law is antiquated and should be adjusted to fit with the times,'' he says.
While "there's no such thing as free beer in Massachusetts,'' he says, and donations still happen, it would be nice if it could be on the level.
"I think for the nonprofits it's a good fundraising vehicle, to have a local brewer that would like to support that nonprofit, and that nonprofit can do fundraising based on samples, or selling the beer. It seems to work out for everyone.''
Related: New England Breweries
[bdc-gallery id="122248″]