Local
A Massachusetts high school assigned the 'Serial' podcast as summer reading
And the teachers are on board.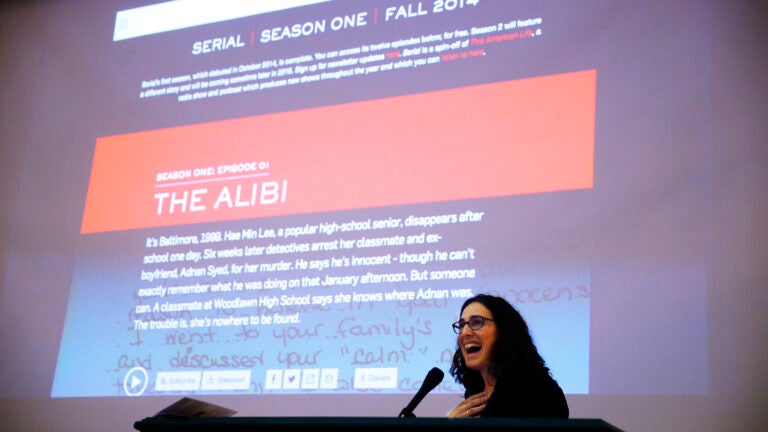 For high school students, summer vacation is the time for going to the beach, working a summer job, and ignoring your mom hectoring you about your required summer reading. Because even for voracious readers, summer reading can be a drag. There's something about being assigned a book that makes you not want to read it, and there's the inevitable quiz come September that makes the task even more daunting.
Waltham High School is trying something new to change all that. Rather than assign a novel for their One School, One Story program, they've asked the student body to listen to the acclaimed podcast Serial.
"I was surprised because I figured we'd be reading a book over the summer,'' said freshman Jack Duffy. "But it's a good change. When the school chooses a book, they have to find one that everyone can read, but everyone can listen to this.''
Waltham High's Emilie Perna is an English teacher and co-chairs the summer reading program with school librarian Kendall Boninti. She told Boston.com that the 'One School, One Story' program's mission is to create a culture in which reading is seen as a lifelong and community-building endeavor.
Last year, students read Ready, Player One and a back-to-school survey indicated that 10 percent of students listened to the audiobook instead of reading a copy of the novel. This year, the school decided to try to ride that phenomenon.
"Studies have shown that students can listen to two reading levels higher than their actual reading level,'' said Boninti. "We created vocabulary lists, chapter summaries…for students who might struggle, we've made a lot of resources accessible.''
Serial delves into the circumstances of the 1999 death of Baltimore student Hae Min Lee. Her ex-boyfriend, Adnan Syed, was convicted of murder and sentenced to jail. Through the dozen episodes of the series, host Sarah Koenig introduces listeners to a cast of other characters including Jay (a friend of Syed's), a problematic timeline, and a mysterious Best Buy phone booth that may or may not exist.
Boninti said that her own experience listening to Serial sparked a cascade of questions to look into. She hopes it will have the same effect on her students.
So far, Perna said that the students seem excited about the assignment. Many students have already begun listening, including Duffy and his classmates Caroline Finn and Jacqueline Zepeda. They're enjoying it, and though they're only a few episodes in, they have their own theories about the mystery at the heart of the podcast.
For those who were a part of the phenomenon when Serial swept the nation in 2014, the students' theories sound familiar. Finn thinks that Jay and Mr. S worked together to kill Hae. Caroline finds Jay "sketchy,'' and while she doesn't necessarily think he did it, she believes he knows more than he's letting on. Jacqueline said what many listeners thought: the evidence just doesn't lead to Adnan.
To kick things off, the entire school participated in a summer reading kickoff: a homemade whodunit. The Hawk, a mystery culprit, stole trophies from the school's display case and "terrorized'' classrooms with silly string attacks.
[fragment number=0]
It was up to the students to discover his identity through a series of clues meant to encourage observational thinking and logical deduction.
[fragment number=1][fragment number=2][fragment number=3]
Students went through all of the evidence and each class voted on the identity of the Hawk, gym teacher Russell Sorin, who was "captured'' by school police.[fragment number=4]
[fragment number=5]"It was a great change of pace,'' Duffy said. "It was really fun. School's winding down and everyone's getting ready for finals, so this was a good way to relax a bit.''
The fun will continue throughout the summer, said Perna and Boninti. There will be citywide Serial listening parties at the library (follow @WalthamReads for more details).
When students return in the fall, they'll have various Serial-related assignments and activities to complete. Boninti and Perna have compiled a list of ideas for teachers across disciplines to integrate the podcast into their curricula.
Perna said that when they first presented the idea, some of the teachers weren't exactly on board. Then, they started listening to the podcast and changed their minds.
"We had people coming up to us and saying, 'You know I was skeptical and felt angry, like 'we're not going to have our kids read?' But now that I'm three episodes in, I'm hooked and totally converted,''' said Boninti.
Because, despite the lack of metaphor or alliterative devices, Serial still has a lot to teach students, according to Boninti and Perna. With the 'whodunit' Hawk mystery, students applied their powers of observation, logic, and reasoning. The podcast's narrative brings up some pretty heavy questions about truth, memory, loyalty, and love. And there's also something abstractly educational about the real life narrative of high school lives gone awry.
"There's an episode where they talk about Adnan being angry, and say that he's not angry enough. You know—'if you didn't do it, why aren't you angry?' And he replies, 'I am angry, and I also did things wrong. And I hung out with people and made wrong decisions.' Those smaller things add up,'' said Perna.
She said she wants kids to see that breaking small rules – having one drink at a party, smoking a little bit of weed – can have some big consequences. She hopes the podcast helps to show that the decisions her students are making really do affect their lives.
For traditional summer reading, here are 15 books to add to your list:
[bdc-gallery id="316334″]