Local
A brief history of shark attacks in Massachusetts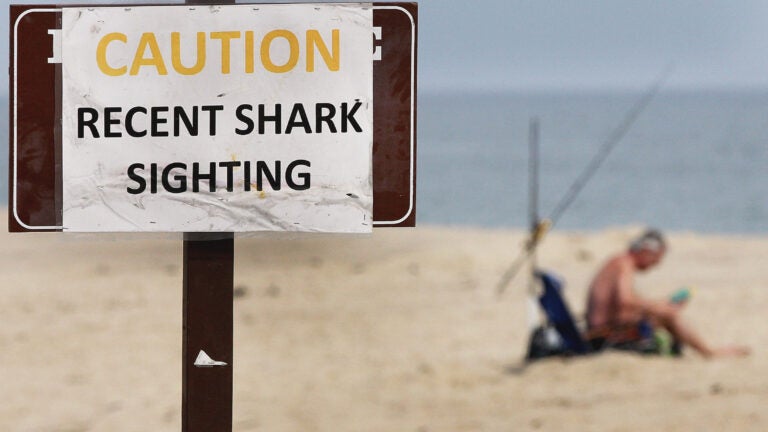 There's a better chance of being killed by a cow or a vending machine in the United States than by a shark (to be fair, if we had sharks in the office and vending machines lurking in the ocean, those statistics would likely be reversed).
The chances of being killed by a shark are even slimmer in Massachusetts.
In fact, there have been fewer people bitten by sharks in Massachusetts in the past 100 years than there have been in North Carolina in the last month.
But that doesn't make those few encounters any less scary.
September 3, 2014
Massachusetts has the second-most coastline of the six New England states, and also the most recent shark attacks. The last reported attack in the Bay State took place off Manomet Point in Plymouth, when two kayakers were knocked out of their boats by a great white shark. Ida Parker and Kristin Orr called 911 after the shark bit into one their boats.
[fragment number=0]
They were rescued uninjured 100 yards off the coast by the Plymouth harbormaster, according to The Boston Globe.
Officials confirmed the shark was a great white based off the bite radius and tooth fragments in the kayaks and estimated it was 12 to 14 feet long.
July 30, 2012
Eyewitnesses at Ballston Beach in Truro said they saw a dorsal fin circle Chris Myers, and then disappear.
The 50-year-old Myers was bodysurfing with his son 400 yards out in the sea. Suddenly, Myers felt teeth powerfully rip into both of his legs, and he was pulled down by something he later described as "massive and immovable — like an underwater refrigerator covered in skin.''
The eight to nine foot shark briefly rose to the surface, before again disappearing.
Myers and his son frantically began swimming back to shore and screaming for help, though it wasn't for more than five minutes before they were within earshot of the beach.
Eventually, other swimmers helped them to the beach, where Myers collapsed, exposing deep, bleeding gashes in both of his legs. Luckily, a beachgoer who said he was a surgeon directed others to create tourniquets to cut off the bleeding.
Myers got away with nerve and tendon damage, along with some grisly scars, and fully recovered after months of rehab. According to state officials, he was bitten by a great white shark.
July 21, 1996
Sixteen years earlier and just 10 miles farther down Cape Cod, 46-year-old car salesman James Orlowski says he was bitten by a shark while collecting starfish off the bayside beach in North Truro.
Orlowski was only in waist-deep water when something ripped into his ankle. According to officials, Orlowski said the six-foot shark tried to pull him down and wouldn't let go until he hit it in the face six to eight times. However, when he turned to get back to shore, the shark bit him again — this time in the other leg — but didn't hold on.
Orlowski needed 46 stitches to close the "deep wounds'' to his legs. Officials have suggested it was either a small great white shark or a blue shark.
Story continues below gallery:
13 sharks that roam the waters of New England
[bdc-gallery id="111399″]
February 4, 1965
Eighteen-year-old Ronald Powell of Wakefield was a Navy airman and avid diver. He was diving from Rockport's Granite Pier in 50 to 60 feet of near-freezing water to search for lobsters. According to Powell, at the exact moment he went to reach for a lobster inside a crevice, he felt a bump against his leg. Powell said he turned to see a shark and began to kick at it, before swimming away.
It wasn't until Powell resurfaced that he realized he was bleeding profusely from a tear down the side of his suit's leg. Two of his friends took him to the hospital in Danvers, where Powell was treated for six-inch cuts and bite marks in his upper left thigh. He took several weeks to fully recover.
Powell said the shark was about four feet long, but was never able to identify the species. A biologist at the time suggested it could have also been a wolf fish.
July 25, 1936
The last fatal shark attack in New England took place nearly 80 years ago.
Joseph Troy was spending one of his last summer weekends, before his senior year of high school began, at his uncle's house in Mattapoisett. Troy and his uncle's friend Walter Styles decided to go for a swim at Hollywood Beach.
According to reports, they were swimming in 10 to 15 feet of water when a black dorsal fin appeared. Moments later, Troy was pulled underwater. Styles attempted to rescue Troy, but couldn't locate where he was, until Troy floated to the surface, unconscious, covered in blood and gashes all over his arms, legs, and back.
A sailboater helped Styles bring Troy to shore in a dinghy and neighbors carried him on an old door to a car to take him for the hospital. Witnesses said it looked like a five-pound chunk of Troy's leg was gone.
At the hospital, doctors decided to try to amputate the leg, but before they could Troy died from blood loss. He was 16.
According to Styles, the shark, identified as a great white, was six-feet long.