Local News
The long, messy history of 50 Cent's Connecticut home
The newly bankrupt star's massive estate in an otherwise unassuming central Connecticut neighborhood is one of the largest in the country—and one of the hardest to hold on to.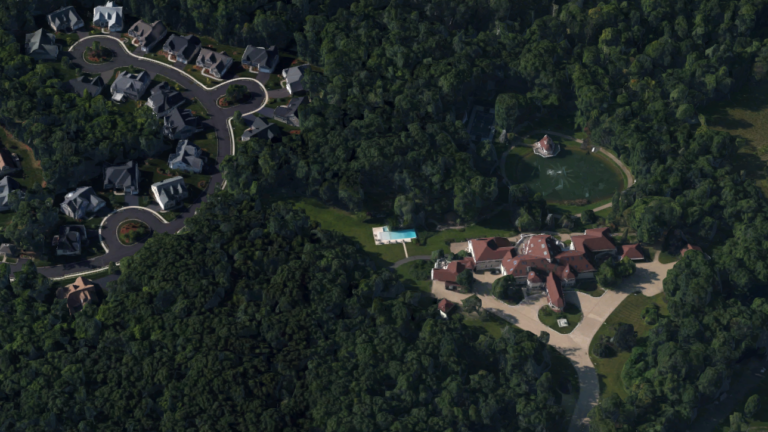 When 50 Cent declared bankruptcy on Monday, the world was shocked. How could 50 Cent, rapper, actor, and Vitamin Water investor, be broke?
50 Cent told Reuters that he filed for Chapter 11 bankruptcy as a "strategic business move.'' But the Connecticut address he listed as his home in the filing is no stranger to owners with financial difficulties.
Once described as "the most notorious house in Connecticut,'' the 50,000 square foot, 52-room estate rests on 17 acres in the town of Farmington. It has mountain views, nine kitchens, and a basketball court with G Unit's logo prominently displayed.
The mega-mansion was built in 1985 for Benjamin Sisti at the reported cost of $2.3 million. Sisti made his fortune as the co-founder of Colonial Realty. The Hartford Courant once described him as ostentatious and tacky, writing "Sisti is to good taste as Madonna is to modesty.'' His enormous mansion (a "monstrosity,'' the Courant said) far out of scale with the surrounding area in both size and price — at one point, it was five times bigger than Farmington's second-largest home. To this day, it's one of the largest homes in America.
Things quickly went south for Sisti. In 1990, Colonial Realty was forced into bankruptcy, as was Sisti. Investigators soon discovered that Colonial Reality was a ponzi scheme, and nearly 7,000 investors lost their money.
Sisti would claim in bankruptcy court that he had less than $15,000 cash to his name. This was true, but only because he had spent the months leading up to the bankruptcy filing transferring assets to family members. For this, Sisti pleaded guilty to bankruptcy fraud, among other charges, and was sentenced to nine years in prison.
In 1992, the mansion went into foreclosure and was sold to People's Bank for $3.5 million in an auction. The bank then sold it to Romas Martsinkiavitchous, a Lithuanian import-export business owner according to the Courant, for $2.7 million in 1993.
But the next year, Martsinkiavitchous put the home up for sale for $3.5 million. He was "fac[ing] bankruptcy'' at the time, but it isn't entirely clear if he ever filed for it. He managed to hold off creditors until 1996, when, facing foreclosure and back property taxes, he sold the house to boxer Mike Tyson for $2.8 million.
Tyson promptly spent millions to make the home his own. According to the Wall Street Journal, it featured:
… an indoor discotheque designed for 1,000 people, where a giant neon sign reading Club TKO casts a faint aqua glow on the blond-leather lounge chairs. One upstairs bedroom is entirely pink, from the pink twin bedspreads to the pink sponge-print walls and the TV set encased in pink Formica. Another room features a four-poster bed that juts out of a black-and-gold lacquer headboard in the shape of five huge banana leaves.
Also:
… an indoor gym; an indoor shooting range; a racquetball court; 110 phone extensions; and an NBA-regulation-size basketball court on the site of a former tennis court. Mr. Tyson also built the disco, complete with a smoke machine and computerized DJ booth …
These seem like very personal, individual touches and not exactly the kind of thing you install to flip a house. But just a year later, Tyson apparently hoped to do just that, putting the home up for sale for the ambitious price of $22 million — furnishings included. It did not find a buyer.
In 2003, the home was awarded to Tyson's ex-wife, Monica Turner, as part of a divorce settlement. Tyson then declared bankruptcy. His $400 million fortune, The New York Times wrote, had been "squandered.''
Months later, 50 Cent purchased the home from Turner for $4.1 million. Perhaps not a fan of Tyson's decorating taste, he spent $6 million renovating the property. (Although he told MTV Cribs that he kept Tyson's dining room chairs.)
50 Cent added an infinity pool, a grotto, a movie theater, and a helicopter pad … among other things, according to the Courant.
"He's put a lot into it, and it's all very tasteful, except the stripper poles,'' said a real estate agent who toured the home in 2007 — right before 50 Cent listed the house for sale at $18.5 million.
Over the years, the price would be cut and the home would be taken on and off the market. By the time Oprah Winfrey filmed a segment in the home in 2012, the asking price was $9,999,999.
Winfrey asked 50 Cent if he was ever concerned that what happened to his home's previous owner — wealthy beyond words, then penniless — would happen to him.
"Mike earned over $400 million,'' 50 Cent said. "He sold the property to me when he couldn't keep it. So it keeps you conscious of it.''
But 50 Cent seemed confident that he wouldn't have the same problems Tyson did.
"I never understand how artists get in a great situation and then not have time to count money. Like, I have plenty of time. I'll sit down and count the money with the accountant.''
Photos: New England castles that used to be private homes
[bdc-gallery bgmp-legacy-id="edfd6538-111f-11e5-b497-895fa5f39b27″ id=""]