Local News
'I'm out of money, and I'm out of hope': Rethinking custody battles
Massachusetts could become one of the first states with a shared parenting law.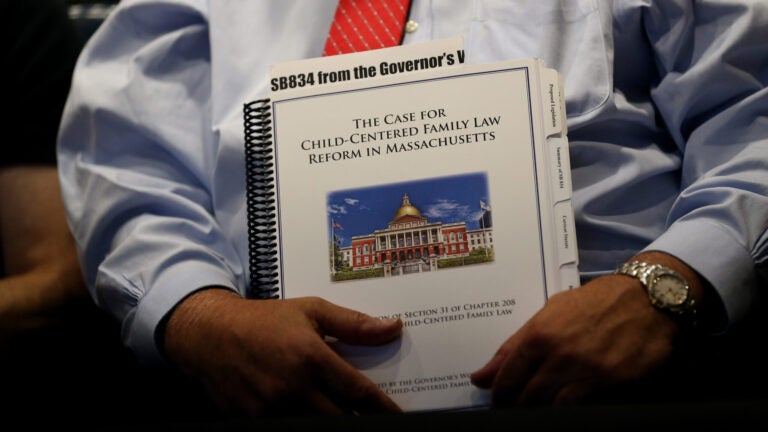 After spending more than $50,000 in legal bills trying to win custody of her daughters, Amy Andrade ran out of money.
Her two daughters go over a week every month without seeing her, since their father was awarded primary physical custody after what Andrade described as a "very brief hearing'' before a judge.
"I need meaningful time, quality time, with my daughters,'' she said.
Michael Reich's ex-wife won both legal and physical custody of their young son. Reich said he sees him just four hours every month, and his grandfather died last week without ever meeting his great-grandson.
"I'm out of money, and I'm out of hope,'' Reich said.
Edward Steiger is in the middle of what he described as a "high-conflict'' divorce. He wants shared parenting, he said, but his wife doesn't, and their judge has been reluctant to make a custody ruling, urging them to come to an agreement.
"How do I know you're a good parent?'' Steiger said the judge asked him. She did not, he noted, say that to his wife.
In the meantime, Steiger said, he doesn't spend nearly as much time with his children as he did before the divorce. This summer, he's supposed to get two weeks with his kids. So far, he said, he's only gotten three days.
Andrade, Reich, and Steiger were three of several non-custodial divorced parents who offered moving, occasionally emotional, testimony before the Massachusetts Joint Committee on the Judiciary on Wednesday. The parents testified about how child custody is determined in this state, a process they said left them with too little time to spend with their children and too much to pay in child support and legal bills.
They believe two bills currently in front of the legislature could change that.
Senate bill 834 and House bill 1207 favor joint custody between divorcing parents if the parents cannot agree on arrangement themselves or a judge determines shared custody would not be in the child's best interests based on a number of factors.
Massachusetts could be one of the first states in the country to pass such a bill into law, although it is not the only one currently considering it. The Commonwealth is one of nearly 20 states looking at shared parenting laws, according to the Wall Street Journal.
The bills propose that a child spend at least a third of the time with each parent. Their supporters say it is in a child's best interest to have significant time with both parents, and that parents have the right to parent their children.
"It's a complete rewrite of the Massachusetts custody statute,'' Dr. Ned Holstein, founder and board chair of National Parents Organization, which promotes shared parenting in child custody agreements, told Boston.com. Holstein also served on former Gov. Deval Patrick's Massachusetts Working Group on Child Centered Family Law, from which the bills' proposals come. He also testified on Wednesday.
This rewrite is needed, Holstein said, because the current law is an "ancient, wheezing machine'' that can pit parents against each other in custody arguments, leaving one parent the winner and one, inevitably, the loser. To the winner, Holstein said, goes the custody of the children, the house, and the child support, which, he said, often "vastly exceeds what it costs to raise a child'' for middle class and affluent families.
"If you run the numbers in Massachusetts, they get a windfall,'' he said.
To the loser goes child support payments, a search for a new place to live, and only occasional visits with his or her child. Also losing in these arrangements, proponents of the new bills say, are the children, who miss out on time with the non-custodial parent and the benefits of shared parenting.
Not everyone is in favor of the proposed law. Representatives from the Boston Bar Association and the Women's Bar Association of Massachusetts testified against the bills.
"It contains many problematic provisions,'' said Kim Dougherty, president of the Women's Bar Association. "It prioritizes the desires of the parents over the needs of the children.''
In the current law, judges use "the happiness and welfare of the children'' to determine custody arrangements, giving them some discretion in how to define the best interests of a child in each individual case.
The bills would more clearly define custody rights, taking that discretion away and putting the onus on a parent to prove the other parent is unfit to have at least a third of the child's time. It would also place uniform rules on what is usually a very individual, often nuanced, situation.
There is also the question of if forcing parents who cannot communicate enough to come up with their own arrangement to share parenting duties in this way is actually good for their child.
"A presumption of joint physical custody is a bad idea,'' Robert Mnookin, a professor at Harvard Law School and co-author of Dividing the Child: Social and Legal Dilemmas of Custody, told Boston.com. "It's fine if the parents agree to it, but is terrible if they don't.''
In his book, Mnookin argues that shared parenting agreements where there is "substantial parental conflict'' invite more legal conflict, not less, and children often feel even more caught in the middle of parental conflict than they do already.
Alan Pransky, a Dedham-based family lawyer, doesn't see the need for the new law in the first place. Most shared parenting agreements, in his experience, come out to roughly one third of the child's time spent with one parent and two thirds with the other.
"To me, this is what I would call a psychological change,'' he said. "My guess is that this is saying to fathers, we're giving you the sort of language that you need to be treated equally with women.''
Perceived gender bias against fathers in family courts was mentioned several times in the hearing, as was the idea that the bills would primarily benefit fathers. Though the current law mandates that parents be considered equally, Andrade, a woman on the wrong side of a custody order, was the outlier at the hearing. Every other parent who testified about his experience trying to win custody of his children during a divorce was a father.
According to the U.S. Census, as of 2009, just 18 percent of custodial parents are fathers (though these statistics encompass both divorced parents and parents who were never married, and these bills deal only in custody arrangements for divorcing parents).
The law might also reduce child support payments for non-custodial parents. As of 2013, Massachusetts determines child support based on a child spending at least a third of his or her time with the non-custodial parent. Less than that, and the court can "consider an upward adjustment'' in his child support payments — as Holstein said, a "windfall.''
Asked if the current custody law could work both ways — if a parent might advocate for shared parenting to reduce his or her child support payments to the detriment of the other parent who may need them, Holstein said that could happen, but it wouldn't necessarily be a bad thing.
"If the outcome is more shared parenting, then that's better for the children,'' he said.
"I am an equal parent in the love that I have for my daughters,'' Andrade said as she concluded her testimony. "My daughters need me to be an equal parenting in custody as well.''
Related Gallery: Top baby names in Massachusetts
[bdc-gallery id="144247″]