Local
Sorry, but people in Somerville don't feel like they're in Brooklyn
Somerville is the Brooklyn of Massachusetts.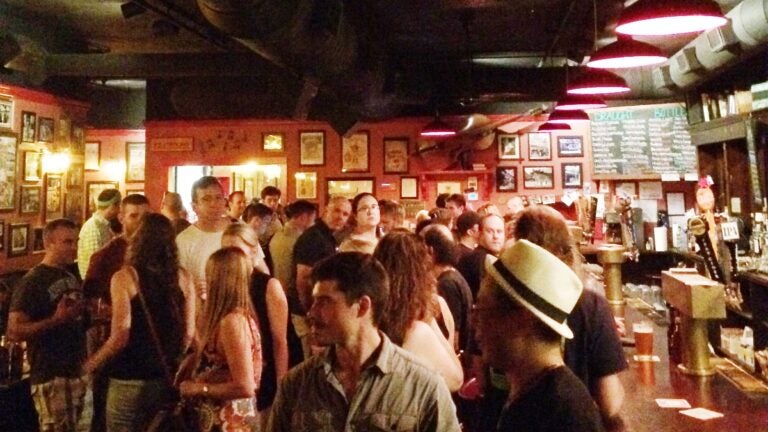 "I think Allston is the Brooklyn of Massachusetts,'' Christian Garcia said. "I lived in Brooklyn a few month ago. There are a lot of weirdos walking around. Usually, that's Allston.''
He sat at the bar inside the cool basement of Saloon on Wednesday. The cavernous room was a respite from the hot, muggy night in Davis Square in Somerville. But wait—perhaps you know it as the Brooklyn of Massachusetts. At least that's how The Huffington Post and Thrillist have decided to refer to the city of the seven hills.
The two outlets recently released a list called "The Brooklyn Of Every State,'' and went through our nation to pinpoint the hippest towns. Other New England comparisons included Munjoy Hill in Portland, Maine; Portsmouth, New Hampshire's West End; Burlington, Vermont's Old North End…you get the idea. Basically anywhere people can be seen wearing rolled pants, having mustaches, and putting the word "artisanal'' before any dish on any menu.
The thing is, Huff Po and Thrillist are about as late to the party as you can get. In fact, the party's already over—they've arrived at this conclusion around the time that your roommate's best friend is passed out on the couch, his perfectly coiffed asymmetrical haircut now limp, dangling down in front of his black, thick-framed glasses. Empty cans of ironically cheap beer are strewn about the apartment. The record—it is always a record—spins silently on the turntable. A cat is eating the party mix.
Back in 2013, The Boston Globe discovered that hipsters live in Somerville. "The spirit of Brooklyn was in the air,'' the article states. Boston magazine made fun of the discovery, because even then, only just figuring that out meant you were a step behind. And then, a year later, The New York Times got with the program.
All this is to say that referring to a place filled with young people who look like "hipsters'' as Brooklyn is nothing new, and Somerville has—for some time now—been a candidate for reasonably fitting that description.
But what do the people of Somerville think about this? I headed to Davis Square to find out.
Saloon was bumping, filled with a crowd of young—but not exclusively young—patrons sporting tattoos and tight-fitting pants. Before I talked to Garcia, I pulled up a tall chair to the high counter and Matt Mari, a bartender who was born and raised in Somerville, told me about the specials.
"We've got a swordfish taco tonight that is wicked awesome,'' he said. It was the first clue that perhaps we weren't in the Brooklyn of Boston, after all.
But did others feel like we were?
"No, but it's very hipster,'' said Rosie Wagner as she sat at the bar with two friends. "Boston hipster is very different from New York hipsters. Because here it's 400 years-old, and has an interesting mix of Puritanical conservatives and incredibly liberal Massholes.''
"Yeah, I don't think it's Somerville,'' said Wagner's friend Catherine Utt. "Southie is the Brooklyn of Boston.''
On the other side of the bar, Jake Wasserman, a programmer who's lived in the Boston area for 12 years, didn't even entertain the question.
"I don't like when places in Boston are compared to New York City or San Francisco,'' he said. "We do our own thing.'' He then went on to suggest I title this article: "Losers who can't make it in New York found drinking in Somerville basement.''
A few barstools away, Garcia's friend Brian Moeller, a professional body piercer in Somerville, also disagreed.
"No, it doesn't feel like we're in Brooklyn at all,'' he said. "It doesn't smell like it. I grew up in South Jersey so I'm familiar with the New York area. It doesn't smell the same here.''
I asked where he thought the Brooklyn of Boston could be, and he said Jamaica Plain. "If it had less trees, that is. And was more populated. It's way more diverse than Somerville. It's one of the few places where I see something new everytime I go there.''
So far, not a ringing endorsement for Somerville's being the Brooklyn of Massachusetts.
I emerged from the basement and made my way next door to The Burren. Inside, a string quartet of sorts was posted up in one of the booths, playing something that sounded like bluegrass but could've been a new kind of music, one popular among people cooler than I. Which made sense, given that patrons there seemed to be more open to the idea of Somerville as Brooklyn.
"Brooklyn is hipster central to Manhattan, and Somerville is hipster central to Boston, so yes, that makes sense,'' said Jimmy Hall, who lives up the street. He and his co-workers from Forrester Research were celebrating someone's last day at the company. Many of them wore backpacks. No one's pants seemed particularly tight.
On the other side of the bar, Tarin Nassaney, who lives in Somerville, also agreed with The Huffington Post. "I work with a lady in her late 30s, and she talks about places around her when she was growing up here in Somerville. She says it seems so different now, so yeah, I would say it's up-and-coming.''
Next door at Sligo, bartender Joe Devine, born and raised in Somerville ("I'm what you call a townie''), said it made sense that people at The Burren would've thought that Somerville was like Brooklyn.
"If you go to The Burren, you'd probably see it more there. Here we've just got some Tufts kids and townies who come in all the time. Same people, same stories, same jokes.''
So if Somerville isn't the Brooklyn of the area, where is it?
"More Cambridge than Somerville,'' Devine said. "Here it's just the same all the time. Nothing changes around here but the weather.''
So there you have it, folks. Survey says Somerville most likely isn't the Brooklyn of Massachusetts, and that no one can agree what town would be. So maybe we should stop making the comparison. It's wicked played out, anyway.
Check out these restaurants in Back Bay, an area absolutely no one mistakes for the Brooklyn of Boston:
[bdc-gallery id="121405″]