Local
Time ran out on Boston's Olympic bid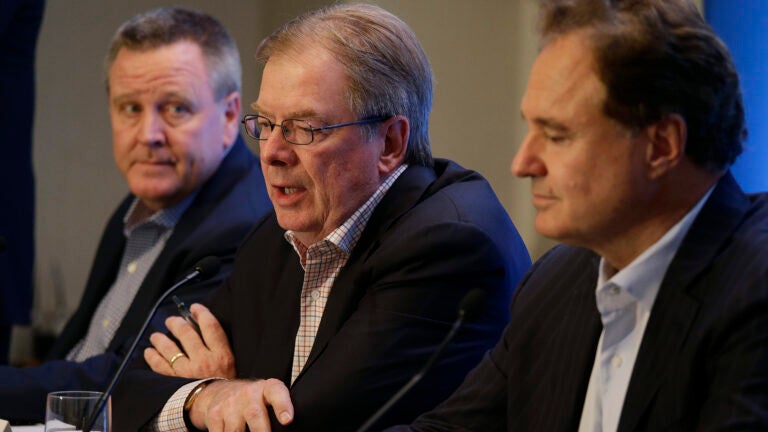 Boston's Olympic bid owes its demise primarily to a lack of public support, which was fueled largely by activist pressure and constituent concerns about public costs.
But why did the bid come crashing down so quickly this week? Everybody ran out of time.
June 30: USOC board meeting
Heading into a June 30 quarterly United States Olympic Committee board meeting, the big question was whether it would reverse course on Boston, which had been named its bid city in January. Following the meeting, the USOC said it would continue forward with the bid.
Bidding group Boston 2024 had just completed a mad six-week dash, unveiling new, detailed venue and budget plans to the public on June 29. At the June 30 meeting, the USOC lauded the plans. The committee's leaders also had kind words for Steve Pagliuca, who had replaced previous chairman John Fish after a run of controversy and sagging poll numbers.
Those poll numbers remained a major concern, though. Boston's lack of enthusiasm had been of issue for the USOC as far back as March, stirring reports that Boston could be on the outs. Public support had not markedly improved since. USOC Chairman Larry Probst said after the June 30 meeting that the national committee wanted to see public support in Boston edge up over 50 percent "relatively soon.''
Soon came fast. Boston's Olympic bid was withdrawn Monday, less than four weeks after the June meeting.
July 16: Political pressure
Two weeks ago, after a another poll showed continued weak support, USOC officials came to Boston for a meeting with Boston 2024. Boston Mayor Marty Walsh also met with the group, and Gov. Charlie Baker spoke by phone. Following the meeting, USOC CEO Scott Blackmun again stated support for the bid. He also touched on the positions of both Walsh and Baker.
"Today we reviewed the progress that Boston 2024 has made over the course of the last two weeks and confirmed that the Brattle Group [a consultant hired by Baker's administration to study the bid] is working diligently on its assessment of the financial viability of the new bid plan,'' Blackmun said. "We're pleased to have the support of the Mayor, and look forward to working with Steve Pagliuca and the entire team at Boston 2024 to make this bid a success.''
The July 16 statement, in retrospect, hinted at the USOC's play. With public support still in question, USOC leaders hoped to at least secure the support of elected leaders in Baker and Walsh. Pressure on the two apparently increased after that meeting. By this past weekend, The Boston Globe reported, it had grown clear what the USOC wanted from the two powerful politicians.
Would Walsh commit, as he had last year, to signing a host city contract with the International Olympic Committee that included a public guarantee to cover cost overruns—the Olympic requirement opponents had built their argument around? Was Baker, who had remained neutral since before he was governor, capable of signaling any support?
July 25-26: New questions
Whether their answers would have mattered is an open question. A USOC spokesperson declined to comment when asked whether the bid would still exist today had Walsh or Baker responded differently that they did. According to Walsh spokeswoman Laura Oggeri, the USOC had not directly told the mayor the bid could be pulled ahead of Monday's tumult.
But the writing may have been on the wall. The USOC had scheduled a telephonic board meeting for Monday. Last weekend, a USOC member publicly suggested it could be time to move on, and an Olympics trade publication reported that a decision on the fate of the bid would come on Monday.
July 27: Pulling the plug
On Monday morning, after spending so long as the bid's chief political supporter, the mayor essentially took the decision out of the USOC's hands. Walsh held a press conference, announced 20 minutes before its scheduled start.
Walsh stepped to the podium and said he could not yet commit to signing anything. Without that commitment, the bid became a non-starter—seven months after its start.
Walsh's position was a reverse. Last year, in a letter to the USOC, he said he understood the ramifications of the host city contract, that he had reviewed a prior version, and that he was confident he would be able to sign one. His strident support for the bid made him a target of Olympic opponents on social media and at public meetings.
In the months since Boston was chosen as the U.S. bidding city, though, Walsh sang a markedly different tune, saying he had to be sure Boston would be fiscally secure before he could commit to the contract. That, he said in statements, required time to do the proper analysis of the IOC's demands and a proposed Boston 2024 insurance package. And even if he planned to eventually sign a contract, he still expected to have a say on its terms.
"We have always anticipated being allowed to negotiate the host city contract until the IOC decides on a host city in 2017,'' he said during the press conference, solidifying the wait-and-see position.
Walsh seemed to recognize what his denial of the USOC's demand would mean, saying: "If committing to signing a guarantee today is what's required to move forward, then Boston is no longer pursuing the 2024 Olympic and Paralympic Games.''
Hours later, the USOC and Boston 2024 announced they had reached the end of the road. They characterized the decision as mutual.
Time crunch
Walsh, to note, did not reject signing a host city contract. He rejected making the commitment Monday.
"We are unable to conclude our analysis without knowing the full scope of risk contained within the guarantee for the 2024 games,'' he said.
Similarly, Baker had been steadfast in saying he would not take a position on the Olympics until after he had received a state-commissioned report meant to analyze the risks. The report he was relying on wasn't due until next month. If the USOC needed a decision, or even an indication of which way he was leaning, before the completion of the report, Baker could not oblige.
"We had a time frame. We had a time table,'' Baker said Monday. "We announced it in March, and we stuck to it, and I think in some ways, if our time frame wasn't one that worked…that's unfortunate, but there's not a lot anyone can do about it.''
The USOC was already deeply worried about low Boston public support. If it wasn't through with Boston anyway, it had every reason to pack up after hearing Walsh and Baker decline to go all-in. Especially because the USOC faced a deadline of its own.
Sept. 15: Switching coasts?
September loomed large on the calendar for the USOC. That's the last day for national Olympic committees to nominate their bidding cities, and there's no going back from there. If it was going to drop Boston and put a new city forward, the USOC—like Walsh and Baker—needed time. That meant Boston 2024 had run out of it, too.
"Boston 2024 has expressed confidence that, with more time, they could generate the public support necessary to win the bid and deliver a great games,'' Blackmun, the USOC CEO, said after the bid was pulled Monday. "They also recognize, however, that we are out of time if the USOC is going to be able to consider a bid from another city.''
Walsh, for his part, seemed angry to hear the USOC may switch gears, most likely to Los Angeles, after months of saying it would stick with Boston. If it was Boston or bust for the USOC, then maybe there would have been more time to review, to commit, and to try and turn things around.
"I was given a commitment that L.A. was not in the mix, I was given that commitment several times by the chairman of the USOC,'' he told Boston Herald Radio Tuesday, adding that if Los Angeles does wind up with the games, "somebody didn't tell me the truth.''
[bdc-gallery id="107972″]