Local
Why was the prep school girl so nice to the man she says raped her?
In her messages, the accuser calls Owen Labrie an "angel,'' and a good man. Is that evidence that he didn't rape her?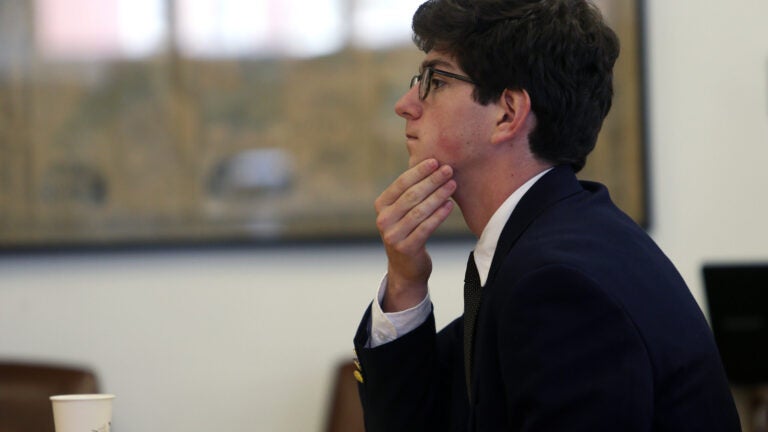 An hour earlier, the girl had been on the floor of a dark mechanical room, she told the courtroom, eyes clenched shut, waiting for her first sexual experience to be over.
Back at her dorm, when her phone pinged with a message from him — "You're an angel'' — the girl, sore and shaken, pecked out a reply.
"You're quite an angel yourself,'' the 15-year-old girl wrote. "But would you mind keep the sequence of events to yourself?''
To the defense attorneys of Owen Labrie, the now-19-year-old man accused of raping the girl last year on the campus of their prestigious New England prep school, the message and others like it are obvious evidence that she was not raped, that she was a willing participant in what happened in that dark room. Why else would she chat and giggle and seemingly flirt in some cases if what happened was rape and not a consensual encounter between two teens?
The explanation of the girl, now 16 and on the witness stand in a Concord, New Hampshire courtroom: She didn't want to offend him. She was trying to be polite. She didn't want to be "bitchy,'' or a "withering little girl.''
And so her chats replying to him in cutesy French phrases, lamenting the loss of her favorite earring, calling him a good guy, paint a blurry picture of how she really felt after what she now calls a rape.
"A lot of people do think if someone is sexually assaulted, here's what it should look like, there's a certain reaction,'' said Dr. Carlos Cuevas, an associate professor at Northeastern University, and a psychologist who specializes in helping victims of assault and abuse. "Expectations of what survivors should or shouldn't look like or should or shouldn't do misses the true nature of the impact of sexual assault.''
The girl's testimony Wednesday, her second day on the stand, detailed how she and Labrie ended up in a secluded room in a St. Paul's School building on graduation weekend. Nearly every decision she made, she said, was influenced by not wanting to rock the boat or offend anyone.
Part of the reason why she agreed to Labrie's emailed invitation for a "Senior Salute'' on May 30, 2014 in the first place was out of fear she was too rude when she initially rebuffed him.
"I felt bad I'd sent such an attacking response back,'' said the girl, who Boston.com is not naming. "I thought that I was rude and that I was wrong and I had been wrong about everything.''
The girl knew the reason Labrie sent her a flowery email asking to spend time with her. Senior Salute was well known on campus as an attempt to hook up with as many people as possible before graduation. Prosecutors said Labrie and his friends made it a game, competing to see how many girls they could "slay'' before they left school.
During the assault itself, she said, she was still thinking about him and his feelings. Right after telling him that no, she didn't want his face between her legs, and pulling his face away, she laughed.
"I wanted to be easygoing,'' she said. "I wanted to not cause a conflict. I didn't want to come off as bitchy or … I didn't want to cause any trouble.''
Wincing, walking back to her dorm, she told no one. She wouldn't even tell her best friend, whom she sat with immediately after the encounter, what really happened. She didn't want to burden her with her issues.
As she saw her sister graduate, and took her exams, she kept quiet. Her family wasn't on campus to worry about her and her problems, they were there to celebrate her sister.
"[My sister] was supposed to enjoy it and be happy that she made it,'' the girl said. "And I was not to make this weekend about me. No way I would do that. I thought in my head that was too selfish.''
Even when she asked a school nurse for emergency contraception, and was questioned about whether the sex was consensual, she said it was — because she was late to saving seats for graduation, she said.
"Are you always worried about somebody else?'' prosecutor Catherine J. Ruffle asked.
As a psychologist whose clients are often sexual assault survivors, Cuevas has seen a variety of reactions, though there are common threads throughout most survivor narratives.
"A lot of distortions about self blame and what they could have done differently are relatively common to come from survivors,'' he said. "We're taking about a child who doesn't have the psychology maturity to assert themselves the way they want, and a reaction with giggles, things like that, would not be atypical.''
Now, Labrie's accuser is answering for all her correspondence. In one exchange, over whether Labrie put a condom on, she apologized for "all the technical stuff.'' Labrie called her a gem.
"You're not too bad yourself,'' she replied.
"I didn't want to be weak,'' she explained now. "I wanted control in a situation where I completely lost control … I wanted to stay on top of it and tell myself, 'I have control in this situation. I can change. I can make it better. I can do this. It's all on me.'''
"It'll be a decision for the jury whether the explanation of all these courteous, affectionate, generous emails are in fact an accurate reflection of what the people believed that night,'' Labrie's defense attorney, J.W. Carney, told reporters, "or whether all the ones that are beneficial to Owen were simply a lie.''
How the girl felt is a classic reaction of sexual assault victims, Cuevas, the psychologist, said. They want to feel like they can do something in a situation in which they had no control.
"Just because victims react, or say something a certain way, or say something before, or don't react in a certain way, doesn't mean something didn't happen,'' he said.
In Concord, the jury of 11 men and three women will have to decide what the messages mean — and who they believe.