Local
Rain can't stop Free the Nipple day on Hampton Beach
A little rain Sunday didn't stop dozens of women from going to New Hampshire's Hampton Beach and taking off their tops to make a point.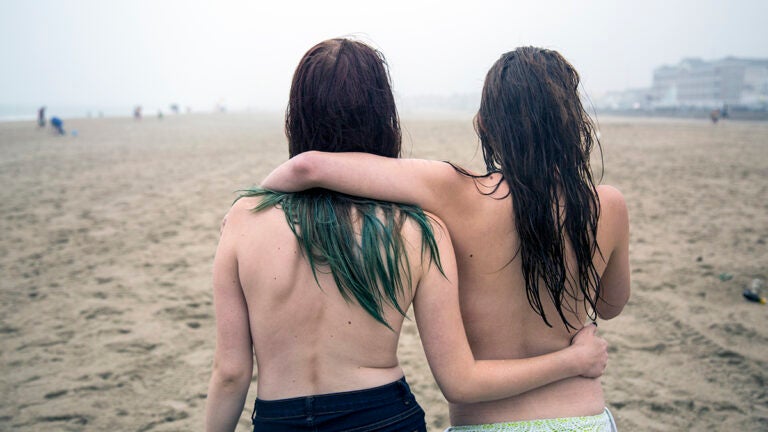 A little rain Sunday didn't stop dozens of women from going to New Hampshire's Hampton Beach and taking off their tops to make a point.
Commemorating International Go Topless Day, the participants in the "Free the Nipple'' event said they wanted to expose a gender-based double standard and simply enjoy a day at the beach in the same way men do. They say women have as much right as men to go topless.
"We're not protesting,'' said 19-year-old Emilee Hyland. "We're exercising our right to bring awareness to the subject.''
The event was part of wider demonstrations in places like New York City and even outside the White House. GoTopless.org provided a map of places across the world where demonstrations were planned.
Hyland made the 70-mile drive from her home in Bennington, New Hampshire to spend the grey-sky day at the beach with her boyfriend, and to join the movement to desexualize breasts.
"This is about equality,'' she said. "There's no problem with men not wearing shirts at the beach. I made the drive here to take away the stigma for women.''
She said she was inspired after watching the Free the Nipple documentary and seeing celebrities, from Rihanna to Miley Cyrus, battle censorship rules social media to make the same point.
Though the rain didn't help turnout — more than 1,000 had planned to attend, according to the event's Facebook page — the barren beach day meant the devoted demonstrators made up a distinct and disproportionate number of the beachgoers.
They also had to brave a number of rude observers. At one point, a middle-aged man stopped by to offer his support.
"No one really said anything, but mostly I got a lot of faces,'' she said, adding that the expressions upset her boyfriend.
Hyland said that while bystanders' reactions were largely positive, she did have a few people take her picture without her permission. (The women pictured with this article, including Hyland, agreed to be photographed by Boston.com.)
One reason the event was held at Hampton Beach is that it is legal in New Hampshire for women to go topless in public, though there are some local exceptions. Hyland said she understood her toplessness might make some people uncomfortable, so she put on a sweater when entering a private business Sunday.
A local state representative, Nancy Stiles, said she hopes to introduce a law against the nudity in the upcoming year, though the Hampton town manager said such ordinances are "technically unenforceable'' if they contradict state law.
Hyland believes history is on her side: She pointed to historical state laws before 1936 that prohibited male toplessness.
"It used to be considered taboo for men,'' she said. "They would get fined, but things changed.''
[bdc-gallery id="112247″]