Local
Here's Curt Schilling's Nazi memorabilia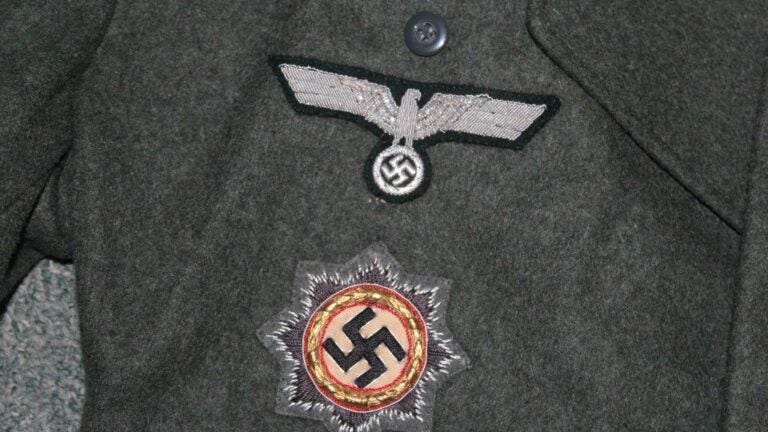 Curt Schilling is an avid collector of World War II memorabilia — and his collection includes numerous Nazi uniforms with swastikas.
The former Red Sox pitcher, who apologized for a tweet Tuesday referencing Muslim extremists and Nazis, told Boston.com that his memorabilia is "not a Nazi collection. It's a collection of World War II stuff.''
He said he did not intend for the collection to offend.
"It was a tragically horrible time in the world's history,'' Schilling said. "I have never done anything to offend anyone. I don't have a racist bone in my body. People that know me know that. I can't help what people get offended by. I can't help how people want to interpret things.''
The collection, which Schilling posted on Facebook in the spring, includes writings, uniforms, helmets, patches, and badges.
Brown University professor Omer Bartov said Schilling's collection appears to include uniforms worn by various SS divisions, including Hitler's personal bodyguards.
"I've noticed that there is some kind of fetish with Nazi uniforms,'' said Bartov, a leading authority on genocide. "If these people only knew how much innocent blood was spilled by the wearers of these elegant uniforms they might take pause. Or not.''
Of the nearly 200 photographs Schilling posted, more than three dozen include swastikas.
Nazi images are offensive enough that the sale of most Nazi memorabilia is banned under eBay's "offensive material policy.'' Amazon and auction houses like Sotheby's and Christie's have steered clear of Nazi memorabilia as well, and several European countries have restricted sales.
On Tuesday morning, Schilling tweeted a meme that compared Muslim extremists to Nazis. He soon apologized and deleted it.
Robert Trestan, regional director of the Anti Defamation League, said Schilling's tweet is "highly offensive.''
"He has a public voice, and he needs to use his public voice in a way that is both positive and educates people,'' said Trestan.
Schilling told Boston.com "it was a stupid tweet in the first place.''
"It wasn't the right forum to post that,'' Schilling said. "That's on me.''
Photos of Schilling's collection on Facebook
[bdc-gallery id="109772″]