Local
Elizabeth Warren on Joe Biden meeting: 'It was a long conversation'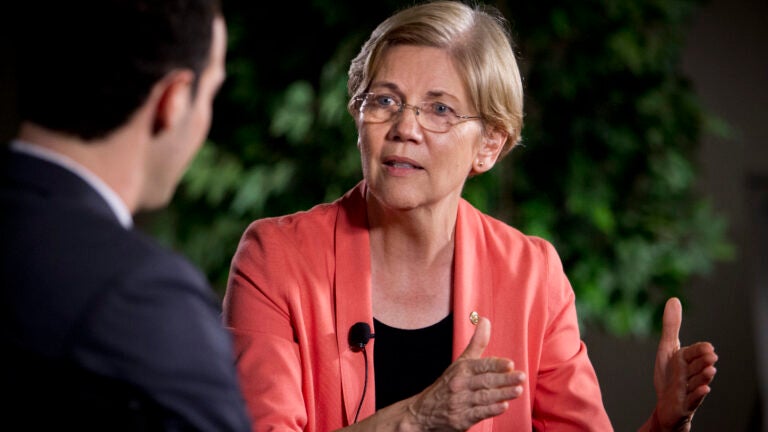 Sen. Elizabeth Warren responded cagily Wednesday evening to questions about her August 22 meeting with Vice President Joe Biden.
During an interview at Suffolk University, Warren told The Boston Globe's Joshua Miller that it was Biden who invited her down for lunch at his residence in Washington D.C.
"He actually called me twice,'' Warren said.
According to the Massachusetts senator, the conversation ranged from policy to what's happening to the middle class to the direction of the country.
"It was a long rambling policy conversation,'' she said.
Miller then pressed if the vice president, even jokingly, asked about the possibility of Warren being his running mate — as Biden reportedly considers jumping into the 2016 presidential race.
Warren paused.
"It was a long conversation.''
Asked if she would meet with Biden again, Warren said she would meet with anyone who wants to talk policy, listing nearly every Democratic presidential candidate as people she'd previously met with.
Miller asked, given the apparent veep talk, if Warren would pledge to serve out the remainder of her term.
"I truly love my job; it's all I'm thinking about,'' she answered, calling her job as the Bay State's senior senator "such an honor'' and "a treat.''
Miller then pushed her on 2013 pledge to serve through the end of her term, which ends in January 2019.
"I am where I am,'' Warren said. "There's nothing that has changed my thinking about this.''
Assuming Warren doesn't throw her hat in the ring, as she's oft-maintained, the Massachusetts senator's endorsment is apparently up for grabs for one lucky Democrat.
Miller asked later in the interview if she planned on making a primary endorsement.
"Yeah,'' Warren replied. "I imagine that's what I'll do.''
The 2016 presidential candidates who are officially running
[bdc-gallery id="140212″]