Local
Tom Brady gets a great white shark named after him, finally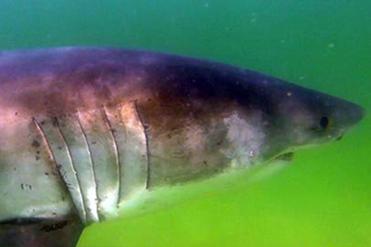 When the Atlantic White Shark Conservancy spotted a 13-foot-male off Nauset Beach in Orleans Thursday, the same day of Tom Brady's Deflategate victory, there was really no question what to name him.
Intercepting Brady the Shark wasn't much easier than intercepting Brady the Patriots quarterback: It involved spotting him by plane, then pulling up alongside him in a research vessel to photograph and tag him.
And to tell him about his new name.
"Great white sharks are apex predators and Tom Brady is an apex athlete,'' explained Ben Wingren, who founded the conservancy with his wife, Cynthia. "He's in my mind the greatest of all time, and the great white shark is the greatest of all time of the ocean.''
Wingren said it's been a good season for the organization, which aims to educate the public about sharks and keep great whites and humans from hurting each other.
"If there's something we can do to have the success of our season carry on to the success of them carrying on their national championship, that would be awesome,'' he said.
Brady was the 15th of 16 sharks the conservancy has tagged since the spring. (Yes, this would be a better story if he were No. 12. We're sorry.)