Local News
What the suicide-by-text case has in common with a 19th-century trial
Michelle Carter is charged with encouraging her boyfriend to kill himself. Just like a jail inmate 200 years ago.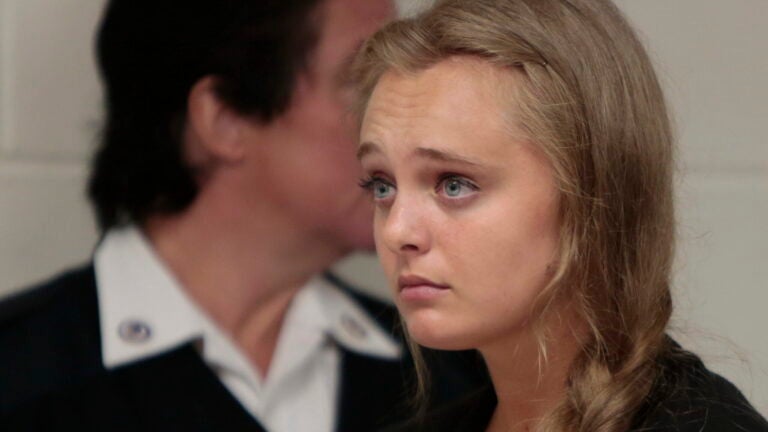 The case against Michelle Carter, a doe-eyed Massachusetts teen accused of encouraging her boyfriend to kill himself via text messages, is both disturbing and unusual. But it's not the first time this state has charged someone with inciting another person to commit suicide.
In fact, it has something in common with a case that stretches back two centuries. In 1816, a man jailed in Northampton was tried for murder after he encouraged an inmate in a neighboring cell to hang himself before the executioner could do it.
George Bowen was, by historical accounts, a "hardened and abandoned wretch'' who was locked up on a petty larceny charge. Jonathan Jewett, the man in the cell next to him, had been convicted of murdering his father and was scheduled to die by hanging the next day.
After Jewett was found hanging from his cell the morning of Nov. 8, 1815, authorities filed two charges of murder. One charged Jewett with the crime of murdering himself. The other charged Bowen as a participant through "murder by counseling.''
At Bowen's trial, the jail keeper testified that he heard chatter through the jail walls.
"In one conversation, Jewett allegedly asked Bowen how he could hang himself. The defendant replied that 'it can [be done]; I would make a string of my bed-ticking, and hang myself to these grates in five minutes,''' according to a passage in the Historical Journal of Massachusetts.
That advice, the prosecution said, would be enough to convict Bowen as a participant.
"If he took the means suggested by the prisoner it is enough. It is not necessary that Bowen should have been the sole adviser. . . . But Bowen was the most constant, and therefore, the most guilty adviser.''
The notion of a "guilty adviser'' has now resurfaced in the case of Carter, 18, who was charged as a juvenile with involuntary manslaughter in New Bedford Juvenile Court for repeatedly encouraging her boyfriend, Conrad Roy, to kill himself. Roy, 18, was found dead of carbon monoxide poisoning in his truck on July 13, 2014.
During the six days leading up to his death, the pair exchanged hundreds of text messages in which Carter counseled a depressed Roy on how and why he should kill himself, according to a court filing.
Carter's attorney has asked for the involuntary manslaughter charge to be dismissed. Prosecutors replied with a 41-page motion that included many of the text messages. A hearing will be held on Oct. 2 to decide whether the case will go forward.
Defense attorney Joseph Cataldo said his client can't be charged with any crime because she didn't cause Roy's death. At least a month before Roy completed suicide, he was googling suicide and talking about killing himself, according to the same trove of text messages.
"He caused his own death by carbon monoxide,'' Cataldo said. "He researched how to kill himself. He had a long term plan to kill himself.''
Carter only used words, which are protected speech under the First Amendment, he said. The two hadn't seen each other for about a year and lived about 50 miles away from one another, Cataldo said.
She thought he was joking at times, Cataldo said. And she was just a kid herself.
"It would be a dangerous precedent that speech can cause another person's death by suicide,'' Cataldo said.
There already seems to be some precedent, however. The Massachusetts Supreme Judicial Court gave the go-ahead to prosecutors pursuing exactly that line of criminal behavior in the Bowen case. If the 19th-century case were brought to the attention of the judge in Carter's case, it would be a good indication that the prosecution should go forward, said David Rossman, a professor at the Boston University School of Law.
"If you can be convicted of murder by persuading or convincing someone else to kill themselves, you can certainly be convicted of manslaughter for the same behavior,'' Rossman said.
Cataldo, though, called the Bowen case "irrelevant.'' Bowen was charged with murder, not manslaughter, in an era where suicide was a crime and the judge was more concerned with depriving the community of the public execution.
"It's not a case that carries any weight whatsoever,'' he said.
Carter and Roy, who reportedly met years earlier on a vacation in Florida, conducted most of their conversations via text. Many of their discussions were about the technical aspects of how Roy should die.
Back in 1815, Jewett and Bowen had some similar conversations. Like Cataldo, Bowen's defense attorneys argued that Jewett was planning on killing himself with or without counsel from Bowen.
"Before you can convict him,'' Bowen's attorneys said, "you must be satisfied beyond a reasonable doubt, and to a moral certainty, that he was the procuring cause of Jewett's death and that too with the malicious intent, which is required to constitute murder.''
Roy had been depressed and previously attempted to kill himself, Cataldo said. He had even asked Carter to do a "Romeo and Juliette,'' Cataldo said.
The prosecutor in the Bowen case argued that it was the defendant who recommended a rope. Authorities say Carter urged Roy to take Benadryl or find certain engines that might produce the most carbon monoxide.
Carter seems to have been Roy's closest confidant, and the one who knew the most about his plan. She was the one who encouraged him through moments of doubt, according to the texts.
At Bowen's trial, his attorney admitted that he was guilty in "a moral view,'' but not a criminal one.
"We do not deny that the prisoner gave Jewett 'wicked' advice, but if he is guilty of this 'foul sin' there is no law, precedent, or parallel, that exists to punish him for it,'' his attorney said. "He will receive his just punishment when he stands before God.''
The tragedy of what happened to Roy is one of suicide, not homicide, Cataldo said.
"I don't think our laws should go that far to turn those situations into a homicide,'' Cataldo said. "It's a suicide. It's sad and tragic. You may not like her speech, but that's what it was.''
In the end, Bowen was acquitted. It'll be up to a judge whether Carter's case even gets to a jury.
Read the texts in a motion filed by prosecutors:
[fragment number=0]
Read the defense's motion to dismiss the case:
[fragment number=1]